Host a home food preservation gathering
Copyright National Lilac Publishing, LLC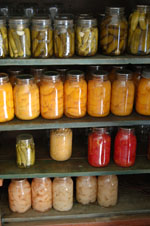 Host a home food preservation harvest celebration that takes your group full circle from harvest, to preservation to celebration feast. This article includes where to find locally grown crops for a food preserving party if you don't grow them yourself, and a complete template for how to plan the gathering.
The home food preservation group activity is great for many different reasons:

It's a wonderful group activity for groups of friends, family gatherings, or even themes for rural Agritourism events. You might choose canning, freezing, drying, curing and smoking, fermenting, pickling, or making jams and jellies. You may even want to bake muffins or breads together for everyone's freezer.
Today, with our new century's enthusiasm for locally produced food, and artisan and regional methods for home food preserving, you can re-create group activities that farm families and rural neighbors of the past enjoyed and took for granted.

Spend the day harvesting and processing a chosen locally produced crop for everyone to take a supply home (such as making pear butter, or a regional salsa recipe, or pressing antique apples for cider), then finish the day with a feast created by the whole crowd with at least one dish made from the particular crop you harvested and processed.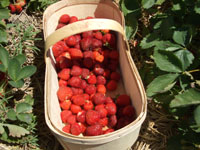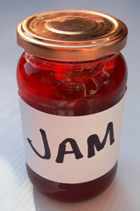 This home food preservation and harvest celebration bonds the group together, connects them to the local harvest and season, and everyone -- from the elders to young kids -- can be important contributors to a common cause.

One home food preservation and harvest celebration example:
We have a small gourmet and antique apple orchard on our farm, and as my children grew up, we and other country neighbors hosted apple pressings with various groups, where all participated in filling buckets and wagons with yellow, red-blushed, pink and green apples. Those with spots or funny shapes were all included.
Then they were hauled to the cider press and an assembly line began washing, chopping, and cranking the press. Spicy apple scent wafted through the air as sweet juice poured out of the spout.
Kids, even those who previously didn't think they liked pure apple juice, were allowed to hold little cups under the spout for taste testing, and discovered to their surprise how much they loved the juice of their own labor.
Earlier, everyone had contributed to bringing washed recycled jugs, and as time went on, many empty jugs became filled with the golden brown cider, showing our work together had been most productive. At the days' end, traditional autumn meals of cornbread, hot harvest soups, sing-alongs and a warm fire pit or bonfire for roasting apples were provided. And in years where the neighbors hosting the apple pressing themselves didn't have enough apples to harvest for everyone, the previous weeks were times for participants to go out and find unsprayed trees and orchards for picking their own bags of apples to bring to the pressing.
One little girl who participated at one of these said after she became a teenager, that these harvest feasts were one of her fondest memories, and that she'd like to relive them again.

More how-tos for home food preservation The National Center for Home Food Preservation is a non-profit government program which has some good, basic online how-tos for free. They also have a spiral bound book for sale, but it has to be purchased by mail, so plan ahead.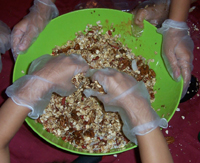 Planning the harvest celebration:
Here's the main planning template for a home food preservation harvest festival (not necessarily in this order):
1. Choose the date.
2. Choose the group that will participate.
3. Choose the crop or crops for home food preservation to harvest, and where they will be harvested if not from your own farm or garden. If the latter is the case, this could mean the whole group will go to a harvest site together which is strongly recommended for family groups.

Or, for larger and more geographically scattered groups, it could mean they will choose their own local farm to harvest the chosen crop ahead of time to bring to the gathering. Another alternative is for everyone to contribute crops from their own backyard gardens.
4. Choose the location for the event.
5. Plan how you will do the home food preservation of the crop in a way that everyone participates and can take some home.
6. Plan the finale feast.
When choosing the harvest celebration date

There are delicious foods to harvest for home food preservation in most locations from June (such as strawberries, sugar peas, herbs, blueberries) through November.

The first weekend in autumn can be a pleasant choice for home food preservation that marks the end of summer barbecues but lands well before the winter holiday feasts. The official first day of autumn varies from year to year, depending when the equinox takes place, rendering the night and day equal (or some authorities say "almost" equal) in length. It often lands on September 22nd or 23rd. Most calendars for any given year will state which date it actually lands on. Kids are usually settled into school and summer's vacations are complete. It feels good to regroup and ground ourselves into the preparation of the coming winter while some of summer's leftovers are still dangling on vines and ripening in the orchards.
Another focal date for holding a home food preservation harvest celebration is close to the Harvest Moon. This is the first full moon that occurs the closest to the date of the Northern Hemisphere's autumn equinox. If the skies are clear, the full moon can appear larger and more golden than in other times of the year.

But besides being pretty, the Harvest Moon has practical benefits to farmers. Near the fall equinox, the time difference between when the sun sets and the moon rises is very short, and traditionally, the extra light of that full moon rising was very beneficial to farmers bringing in the last of the year's harvest. Naturally, sometimes the Harvest Moon's date is very close to when the official fall begins. But it can also happen in early October.
A home food preservation harvest gathering can also be an addition to or replacement for Halloween, or be adapted as an agritourism event any time your main harvest is complete September through November. I have even turned an October wedding into a harvest potluck, and one of our Thanksgivings into an apple harvest event.
When choosing the group to participate
For many, the autumn harvest gathering will be an excuse to bond with family and close friends in a wholesome manner, and to attract help for home food preservation. It's fun to do even as a couple, as a small family, or with the addition of a few extended family members and close neighbors. If it's a theme to be used for a specific family event (such as a wedding) or as a season-end party for CSA members, the participants will have already been chosen.

For those seeking a larger group, but without enough interested family or friends to participate, the hosts can extend themselves out to other organized groups such as garden club members, scout troupes, organizations seeking to better the planet in various ways such as local Slow Food conviviums, or the families of a specific classroom at your kids' elementary school. When my family needed a great big crowd for apple pressings or outdoor holiday sing-alongs, our kids' teachers let us send home fliers for the event. The groups were huge and the families grateful!
Let the group know ahead of time what the theme will be (such as, we'll be harvesting sweet corn for winter, and having a potluck harvest feast at the end). And what they'll need to bring, (such as, we'll provide apple strudel, you bring clean jugs for apple cider, and a potluck dish made with other local autumn ingredients).

The value of a theme: When a theme is presented ahead of time, it ignites our minds with a challenge. When that happens, any initial hesitancy to participating in something that hasn't been sanctioned by prime time TV or major internet sites more easily gives way when the challenge of the theme opens up a new form of creativity. For the above mentioned wedding, there were self-proclaimed "I hate weddings" guests invited. Once they saw the invitation asking them to bring a dish that celebrated local autumn harvest in the Pacific Northwest, they enthusiastically embraced the fun of the challenge, and a spectacular wedding feast was created.
Choose the crops or crop to harvest
One reason the harvesting itself needs to be part of this harvest celebration is that the mere action will provide little surprises that could never be planned ahead. We happened by a hand-written sign one autumn for a u-gather filbert grove. The owner allowed his peacocks to browse below the filbert trees during times of the year no nuts were falling. When the kids found a peacock feather amidst the nuts, they were thrilled. The owner let them keep it.
Finding locally grown foods for home food preservation
Starting with your own farm or garden, you may already have heirloom winter squashes, sweet corn, or be trying to save the last of the heirloom tomatoes. If you don't have crops on your own farm that can be used for home food preservation, and need other farms to get crops from, find one near you by calling your local ag extension agent to see what u-pick farms are open to customers at the time you'd like to hold your event. Locally grown crops can also be found at localharvest.org. If you plan way ahead in the coming years for this type of gathering, you can also do as another group of neighbors have done: Everyone signs up to grow a garden that supplies a certain vegetable in quantity, whether that be green beans, tomatoes, carrots, onions, or some other heirloom vegetable. Then they gather together at the season's end to share and process the various crops.
When choosing the location for the event
There are alternatives for those who can't hold the event on their own farm, or just prefer a different location for the actual group food processing and ultimate feast. Do a search for agritourism farms in the area you want to hold the event, and also look into country B&Bs in your location to see if accommodations on the farm can be rented in a manner that allows your harvest celebration to take place from start to finish. Sometimes, both indoor and outdoor facilities are available with tables and a kitchen. Also, check into your local historical society to see if historical barns or other buildings are available for rent and would allow your activity. The above mentioned autumn harvest wedding was held in an old Victorian mansion owned by a nearby historical society. For the cost of the rent, we had access to certain rooms and a full kitchen. We were asked to get an additional insurance rider from our own homeowners' insurance, which cost us $12. Check also with your agricultural extension agent to see if they know of any certified kitchens for rent if you're emphasizing harvesting a lot of food that needs heat, such as with a canning party.
Plan how the crops will be harvested
There are so many ways to process crops via home food preservation, the possibilities fill volumes. Apples can be made into applesauce, apple butter, apple cider, canned apple pie filling, apple syrup, dried apples, apple granola and applesauce cakes for everyone to take home. Herbs can be fashioned into bags of tea, soup bags, miniature soup and stew wreathes, herbal vinegers, herbal dressings, herbal dips, spice jars, herb bath products, herb blends to toss onto the barbecue, and even homemade herbal incense, just to name a few. Corn can be cut off the cob, sealed in bags, frozen in jars, even mixed with other vegetables to drop into future winter soups.
Know ahead of time how you'll process the harvest in a manner that allows everyone to participate and to take some of the harvest home. In cases that seem somewhat too simple for a crowd, such as, "let's all gather to harvest dried beans," you may want to use some creativity as to how to process them in a manner that includes a job for everyone. Recycled jars can be washed and dried while beans are gathered from the barn or drying wracks. They can be shelled and sorted while someone hand-letters the food labels and sticks them on the jars. At the end, children love pouring beans into containers, which can then be lined up ready for each participant to take a designated number on their way out after the feast. See below for more possible crop and harvest ideas.
Freezing foods at a harvest celebration
Home food preservation meant for freezing can work for such gatherings, as in the case of as-yet unfrozen freezer jam or pies meant to be taken home and put right into the deepfreeze. But it can be more difficult to take home bags of already frozen berries or ice cubes of frozen herbs if the freezing part must be done during the gathering. The freezing may take too much time and there may not be enough space for everyone's share to freeze before leaving, and then guests have to get home in a hurry before it melts. This type of processing works best when it just involves the farm family or close neighbors who can pack their items home quickly.
Plan the finale harvest celebration feast
The feast consists of one or two dishes made from the harvest being processed that day, with the rest being dishes that reflect the season and local produce in other ways. In most cases, the day's harvesting will leave everyone deliciously tired with little energy to prepare a big meal, yet with hearty appetites after the day's work. Foods can be prepared ahead of time, potluck style, and brought out and warmed up, while just one or two dishes are made during the harvest processing to be the center of attention as the star dish made from the crop.
The celebrated harvest dish doesn't have to be the main dish, just the star of the feast. If garden vegetables are the crop being harvested, an autumn soup or stew can be bubbling as various vegetables are dropped in while the group works on shelling and pouring beans into jars, braiding garlic bulbs, or cleaning, drying, and chopping herbs to be labeled and bagged by the day's end. An apple pie can be made during the apple pressing, nachos can be prepared and baked during a harvest of tomatoes being made into salsa. When possible, have the group participate in some way with the making of the star attraction as well. Allow everyone to chop and add something to the soup. Let kids mix the sugar and cinnamon with the apple slices, or allow those who grate the cheese for the nachos at least be in with the crowd who's chopping the tomatoes for the salsa.
For the remaining dishes, give participants the task of making and bringing something potluck style from ingredients that are locally produced and in season. Potlucks can be arranged in various ways, such as assigning "side dish enough for six people" or "dessert that serves eight." If your main entre won't be produced by your group that day, make sure you've contacted a guest who can provide that important main dish, while the other dishes can be a surprise.
Food preservation & feast harvest celebrations as annual events
If your harvest celebrations become a yearly event, you can choose if you want the home food preservation crops to be the same each year, such as an annual apple pressing. Or, you may want to explore new methods of food processing every year. If herbs are your main crop choice, one year you can process dried herbs for everyone's spice rack, the next, you can make herbal vinegars, and the next, make dried herbal soup bags. You may also want to visit a different u-pick farm each year and harvest something brand new. But you'll likely find that each year, you'll be harvesting and processing more than the crop. A closer kinship to fellow humans, local produce, and the seasons, along with unplanned surprises, solved mishaps, and the warmth of cooperation, will have been forever harvested and processed within the hearts of those who attend.
Possible summer and fall harvest crops for home food preservation
Summer berries such as strawberries, raspberries, and blueberries, or summer orchard fruits such as apricots, peaches and plums processed into jams and jellies with a fruit pie added to the feast.
Pumpkins and winter squash made into roasted pumpkin seeds and pumpkin butter with pumpkin bread and squash soup for the feast.
Sweet corn shucked, taken off the cob and poured into bags for freezing. Cornbread made from fresh ground sweet corn for the feast.
Mixed late summer/early autumn garden vegetables, canned or bagged, with a vegetable soup or stew for the feast.
Apples pressed into cider. Bake an apple pie and/or make hot cinnamon applesauce for the feast.
Pears processed into sliced canned pears or pear butter, with pear pudding dessert for the feast.
Last of the tomatoes processed into sun-dried tomatoes or canned tomato soup, salsa, or pasta sauce. Make spaghetti from fresh tomatoes and herbs for the feast.
Though potatoes must be dug from the ground or growing medium to harvest them, some farms grow potatoes in a manner that farm customers can come dig them themselves. For children, it's as fun as an Easter egg hunt. Roasted or mashed potatoes for the feast.

Grapes processed into classic grape jelly (pretty customizable grape jelly jar labels). Press into fresh grape juice for the feast.
Herbs: Cut off edible portions of herbs and dry in a food dehydrator or oven, then put them in sterilized, dry labeled recycled jars. Make fresh herbal butters to spread on warm herbed bread for the feast.
Many Mason jar lid sticker designs to choose from and customize as your own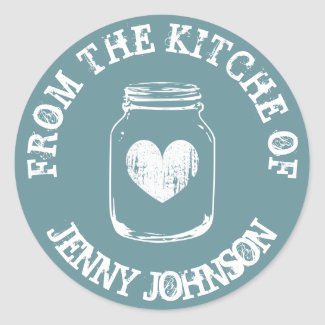 ---
Custom Search