Pumpkin Farming:

Growing a Vintage U-Pick Pumpkin and Autumn Ornamental Patch
A version of this article by Barbara Berst Adams first appeared in Heirloom Gardening Magazine.

Photos and text copyright National Lilac Publishing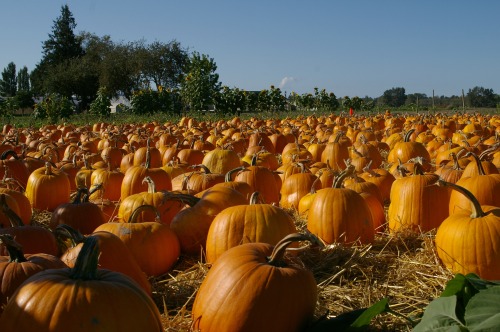 There are many faces of pumpkin farming. It can be a continual spare time small income stream all the way up to a six-digit major income source (see below).
Most of us are familiar with the traditional U-pick pumpkin patch. Outings to pumpkin farms become regular family and community traditions in some regions. They fulfill our soul's need to celebrate changing seasons and connect with a farm. Pumpkins are large plants and need space to sprawl, meaning trips to big pumpkin patches are almost always the realm of traveling to rural locations.
Pumpkin farming has even been known to save farms from selling out. The McCall Land & Cattle Company in Moriarty, New Mexico, is owned by Howard & Kevin McCall and run by Kevin & Kirsten McCall. They produce about 300 acres of alfalfa hay, corn, Angus and Limousin cattle, and pumpkins. They happily report that the extra revenue from their pumpkin patch, where they now sell pumpkins retail direct from the farm, has allowed them to keep their farm when others around them had to sell out.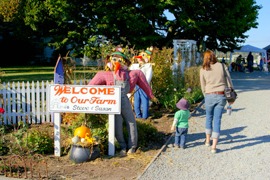 In fact, pumpkin patches with additional autumn ornamental crops can eventually become the farm's major revenue. "The October season has become big business for many farms that want to venture into agritourism," said Jane Eckert, founder of Eckert AgriMarketing. "Depending on the farm location and ability to attract customers, farms not only sell pumpkins, but food concessions, fall decorations, make your own scarecrows, wagon rides, corn mazes and other family activities. Many fall season farms are actually charging a general admission just to come onto the farm.
"While the average pumpkin sale might be $4-$8 per customer, they will generally spend at least $20 per family just to have a fun day on the farm. Fall season revenues might start for farms at just a few thousand dollars. But with a little bit of ingenuity, hard work and a good product mix, $100,000 is not a difficult goal for a farm to reach in October. After several years, many farms are approaching sales up to $500,000 and more.
"Most farms I know exceed $100,000 annually from their October season. The concept is start small with pumpkins and then start adding the products, food sales, school tours, etc. and the revenue builds quickly."
---

See our article focusing on growing the French Cinderella pumpkin

---
You can further enhance your project with fun autumn-themed activities and a unique treasury of vintage ornamentals such as decorative gourds, colorful corn, and giant sunflowers.
When I was raising my kids, our family planted a vintage harvest patch every year. In our case, we turned the project into a method for our two kids to earn money and learn about the process of planning for long-term goals, managing finances, and growing crops. We promoted it by giving a stack of fliers to our children's elementary school inviting families out to the farm usually the weekend before Halloween.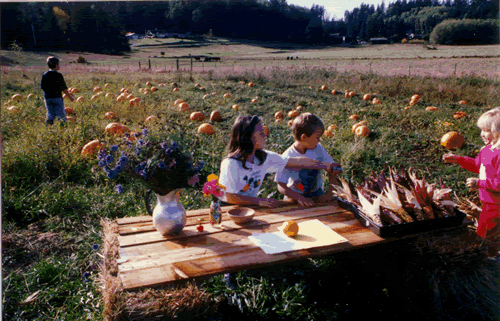 On the morning of our harvest festival, our children eagerly laid a piece of plywood over two bales of hay to make their check-out table, and turned two large buckets upside down to make their stools where they sat to take money and make change. We adults brushed our children's ponies and put them in a safe, convenient location for viewing but not touching.
Pumpkins and gourds had previously been cut from the vine but left where they'd grown in the field, and Indian corn had been harvested with husks pulled back and stacked in a pile near the table. Prices had been marked with handmade signs next to examples of each crop sold, and soon, the first customers began to arrive. As with garage sales, we advertised that our harvest festival began at a certain time (in our case, 10 a.m.), and no early birds were allowed.
Preparing and planting the patch

Each fall, we rototilled about a half acre of our pasture in a new location, incorporating dolomite lime, horse and goat manure, and a little kelp. While rotating the crops' location was beneficial, today we probably would have explored preparing future locations with a no-till method.
Dolomite is not always needed for pumpkins and gourds if you have sweeter soil, but our Pacific Northwest clay is short on calcium and magnesium. The patch was protected from winter runoff with a thick, heavy layer of locally collected mulch (old lawn clippings, straw and leaves). Black plastic was also used one year. In April, we planted small blocks of Indian corn, and two to five weeks before the last expected frost, the kids pushed big pointed seeds of pumpkins and gourds into used paper cups filled with potting soil.
After sprouting, we moved them outside for longer and longer spells to harden them off. About May, we hoed the remaining patch not planted in corn into hills to create circular raised beds about six to 10 feet apart for the pumpkin transplants soon to come. The gourds were planted around the edges of the patch. We were careful to not disturb their roots during transplanting. Once planted, the pumpkins, gourds and corn blocks were quenched with a watering can when there wasn't enough rain. They practically grew themselves.
Creating the fun of the hunt

In winter, we had chosen and purchased a collection of pumpkin and autumn ornamental seeds. See below for the multitude of choices you have today. We found the very best success formula for pleasing our customers was a combination of having plenty traditional Jack-o-lantern types like the heirloom "Connecticut Field," as well as some fun surprises: heirloom and specialty pumpkins (such as the reddish "Cinderella" pumpkin and all-white pumpkins); the popular mini-sized pumpkins, a few pie pumpkins, lots of different ornamental gourds, and more than one type of ornamental corn. When all these crops grew together creating a patchwork quilt of sorts, it created a treasure hunting atmosphere with surprises found every foot of the way. Children and their parents went wild with the "search and hunt" in the patch.
The satisfaction of collecting a load of autumn treasures made this day in the country especially entertaining and memorable for our customers. People showed up from the moment we stated we'd be 'open' to the official end of the day. Most of the crop was sold during the Saturday harvest festival. Our kids then divided the money, saving some for next year's seeds. When the festival was over, they gleaned all remaining pumpkins and ornamentals, and filled a little farm wagon we attached to the back of an old riding lawnmower that had been converted to a hauling tractor. We drove it to a safe but visible spot where there was busier traffic, and the kids sold the remaining harvest right out of the wagon.
Challenges and extra bonuses
Pumpkins are known to be quite vigorous and easy to grow. But they do have requirements, including loose fertile soil and plenty of water. One year, we tilled up an area of our Pacific Northwest clay soil in a location that was difficult to haul in much manure or other soil amendments. We had an extra dry spring and missed a couple of waterings. We lost the entire crop in spite of hindsight attempts to pour gallons of compost tea over each plant.
Also, as with any venture that calls for selling farm products or bringing customers onto your property, check zoning laws, any other local regulations that may pertain to your project, and look into added liability insurance. In some cases, you may need to mark off extra parking space, or purchase a one-time insurance rider for the day of the event from your regular home-owners' insurance, which can be less than $20.
Following our harvest celebration, we continued to get phone calls and inquiries about our other products. People asked if we had even more pie pumpkins for sale, and if they could hire us to bring our ponies for their children's birthday parties. They inquired about other produce we had for sale during other seasons. Besides being a very simple family-friendly spare time income, our U-pick harvest patch generated word-of-mouth promotion for the farm in general.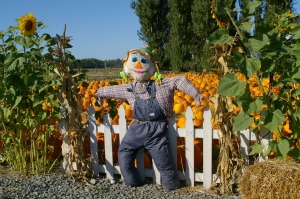 Choosing crops to grow
There are so many popular and lesser known varieties of autumn ornamental crops, especially if you choose to add gourds to your harvest patch, that some professional growers admit even they can't name them all. In Georgia, the owner of an 80-acre gourd farm reportedly doesn't even bother with a catalog or price list for her multitude of offerings. She just has people purchase by sight and general description. To add to this fun chaos, sometimes, pumpkins and gourds have multiple names for the same variety. You can conquer this confusion by searching heirloom catalogs that do offer photos and descriptions, and perhaps visiting other harvest festivals to see what you particularly like, and then grow your own unique treasury of autumn ornamentals from a collected list, perhaps adding a few new ones each year.
Even if sticking to pumpkins only, you have lots of choices. Do you want a big traditional patch of orange globes? If so, you still have decisions to make on whether to offer only large Jack-o-lantern sizes and shapes, or many sizes and shapes of orange pumpkins. Favorite heirloom Jack-o-lantern varieties include 'Connecticut Field.' But orange pumpkins also come in miniature sizes, including the deeply ribbed 'Munchkin' which we see more often now for sale in fall. And of course, there are the giants such as 'Atlantic Giant' which can mature at several hundred pounds up to a half ton. You may want to grow only one or two giant sizes for a special attraction when you open the pumpkin patch to farm visitors.
Or, if your festival is just a family affair, grow a giant for each child, their cousins, and/or grandchildren. But take it from this grandmother, if you're growing a special pumpkin for every grandchild, prepare for occasional crop failures among the otherwise healthy fruits. It's one thing when the whole crop fails, then we all suffer together. But if only one or two fruits have problems, and those were meant for specific children, well, you know how that story could end. Grow a couple extras to make sure each child gets their prize.
You can also carve each child's first name or initials into the pumpkin by scratching them into the skin's surface just as the pumpkins are starting to turn yellow and ripen. At this point in the pumpkins' lives, you can be more certain that the fruits in which you choose to carve initials will probably succeed. Use a nail or other sharp instrument that makes a wide enough cut but won't go too deep. The scratches will scar over to leave the letters grown into the pumpkin.
Other pumpkin colors besides orange include ghostly white (such as 'Lumina' and 'Casper'), reddish orange (Rouge Vif d'Etampes), blue-green (including 'Blue Lakota'), and tans which are often the color of pumpkins bred especially for pies. These various colored pumpkins also come in many sizes. 'Baby Boo,' for example, is a bright white miniature pumpkin.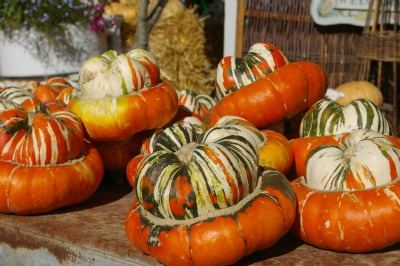 Ornamental and utility gourds can further expand your harvest crops. They have a fascinating history, having been used instead of plastics for thousands of years. At one time, the utility gourds were harvested and cured to make waterproof containers, dippers, ritual rattles and masks, dishes, cooking utensils, hats, sponges, musical instruments, floating devices for fishing nets, planters and jewelry. Today, most of us are familiar with the luffa gourd sponges and to a lesser extent, gourd birdhouses and painted gourd art pieces. So, if too many area farmers jump on the pumpkin patch idea, you may be able to tap into supplying a following of gourd artisans happy to have a grower producing rare and unusual varieties.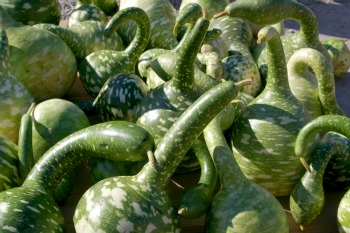 Gourds are sometimes divided into three groups. The soft shelled, the hard shelled, and the luffa. The soft shelled types, cucurbita pepo, are the ones used mostly as colorful ornaments, and are more closely related to some pumpkins. They include various warty and bi-colored gourds sold near Halloween and Thanksgiving. The hard shelled types, agenaria siceraria, are the utility ones more suitable for curing for longer term use, such as birdhouse gourds. A favorite for us was the Speckled Swan, sometimes called Gooseneck. They appear to grow a goose or swan-like neck and head out of a 'bird's' body. The necks curve and swirl in various directions.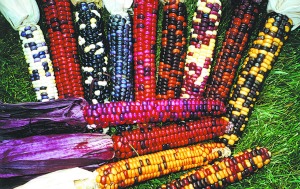 Colorful corn
Decorative corn that ripens to bright autumn colors is very fun for children (and adults) to harvest and prepare for sale. Once picked, one by one, the husks are pealed back to reveal the unique design that particular piece of corn yields. The husks are pulled back from the ears, but left attached to dry and add to the visual appeal.
The choices of Indian corn are plenty, and they come in miniature sizes with ears around four inches, up to the more traditional sized corn. The miniature varieties take less time to mature and are popular as home decorations. 'Strawberry Popcorn' is even smaller, about the size and shape of a large strawberry, with deep red kernels. 'Painted Mountain' is an especially beautiful standard sized ornamental corn that yields colors not produced by other ornamental corns. Solid blue varieties, such as 'Hopi' blue ornamental corn or 'Mini Blue' ornamental popcorn look particularly lovely along with blue pumpkins if you happen to grow them as well. And, remember that bunches of corn stalks tied with raffia or other natural material make popular home decorations and selling items. Small bundles look great tied to porch posts. One sweet corn farmer lost his food corn crop to disease right before ripening time, but the stalks themselves were unharmed, and he made plenty of money by drying and bundling up the stocks and selling them as decorations.

Pumpkin farming is a great form of agritourism, and vintage harvest festivals help revive the countryside across America, bringing urban and rural citizens together as the renaissance for local crop production and heirlooms continues to spread. They also make great themes for school tours or large family reunions where family members can enjoy harvest activities together and celebrate the joy of the changing seasons in a true and meaningful manner. They merge history with new surprises, as each year, more autumn harvest heirlooms from around the globe are rediscovered, trialed, and then offered through independent seed catalogs. Baker Creek Heirloom Seeds has recently introduced 'Extra Long-Handled Dipper' gourd which they describe as having a handle up to three feet long, and 'Dancing' or 'Spinning' gourds, which they say are two-inch gourds children of long ago played with because they can be spun like tops.
Owners can put their own signature on their pumpkin farm and harvest festivals, whether emphasizing big orange pumpkins, carving letters of the alphabet into their pumpkins, or catering to artists and heirloom gourmet cooks. But be careful. The hunt for new treasures to grow each season can almost become addictive amidst the soothing knowledge that the crisp nights and bright days of harvest time can be counted on to return again and again.
You may also be interested in:
Growing pumpkin seeds for pumpkin seed oil
Protect your farm: Insurance ideas for farmers who invite customers onto their farm
Growing the Cinderella pumpkin

Custom Search