Tomatoes -- the heirlooms, and growing them as a niche crop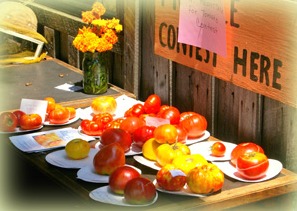 A version of this article by Barbara Berst Adams originally appeared in Heirloom Gardening Magazine.

© National Lilac Publishing, LLC


"Let them know that ugly is good," advised Mahara Mahar, owner of Fabian Farms in Northwest Washington. Mahara grows heirloom tomatoes along with other specialty crops, and finds the tomatoes to be very popular. With more than 60 million tons of tomatoes already produced each year, one might question the idea of growing them as a specialty crop. They are the world's most popular fruit (botanically, they are fruits, not vegetables), with 16 million tons more grown per year than the banana, which is the world's second most popular fruit.
Tomatoes have been cultivated around the world for centuries. During those centuries of cultivation, seed was saved year after year for next year's crop, allowing the farmer or gardener to choose seeds from plants with particular qualities. For example, seeds were saved from plants that produced an especially good aroma, shape, texture or flavor. Plants, by nature, are very adaptable. They reproduce their species year after year, but sometimes with a slight natural change, such as fruit-set a day or two earlier, or extra tender skin. This new trait can stabilize to be counted on to reproduce itself year after year in "open-pollinated plants," or plants that created the change within themselves.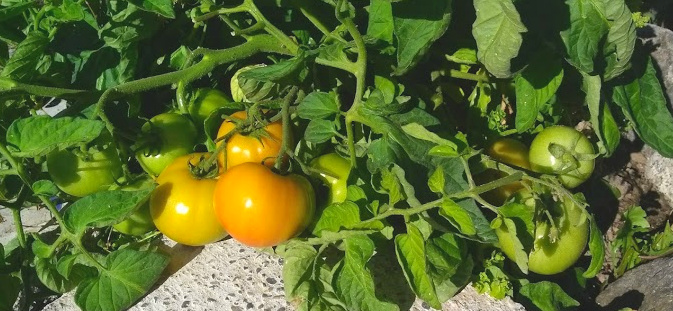 When the United States transformed from a country of close to 40 percent of its population being farmers, and the old neighboring farms gave way to centralized agricultural corporations that shipped our food supply over long distances, new types of fruits and vegetable had to be bred. Growing heirloom tomato plants went by the wayside.
The very nature of tomatoes that makes them such luscious cuisine: vine-ripened, aromatic, thin tender skin, and plump juiciness, does not lend themselves to corporate agribusiness. Corporate agribusiness needs tough skins, drier fruits, long shelf life, and quite often, uniform shape.
Agribusiness turned to hybridization in order to create the new traits as fast as possible. Hybridization crosses two parent plants to create offspring with new traits. However, seed from the offspring of hybrids will go back to one of the parent plants, rather than re-creating the hybrid. Meaning, gardeners and farmers had to re-purchase their seed from the company that hybridized them. The "new hybrids" may have seemed exciting at first, because some appeared to guarantee disease resistance and perfectly shaped uniform fruits. But as the ages-old method of selecting better and better offspring from open-pollinated seeds gave way to purchasing hybrids year after year, fruit quality was now dependent on what corporate agribusiness dictated. Growing heirloom tomatoes was now only a backyard garden hobby.
While the new hybrids were a breakthrough for commercial growers, enabling them to produce a more transportable food crop with minimal spoilage, consistent color, and shelf appeal, little by little, other qualities began to drop out of production.
Flavor, texture, aroma and vine ripening were not part of the breeding program. It is still the old-time open-pollinated and heirloom varieties that carry those highly sought-after traits.
And here is the window of opportunity for growing heirloom tomatoes as a specialty crop.
"Heirloom" tomatoes almost seem like a different fruit than their hybrid cousins, they are very tasty and popular with customers, yet most simply cannot be produced and shipped by standard centralized agribusiness. What is an heirloom tomato? All heirlooms are open-pollinated, but not all open pollinated crops are heirlooms. According to Taylor's Guide to Heirloom Vegetables, a tomato must meet these three criteria to be considered an heirloom variety:
The variety must be "true to type" from seed saved from each fruit

Seed must have been available for more than fifty years

The tomato variety must have a history or folklore of its own
Although the main disadvantages of heirlooms over hybrids are their lack of ability to ship long distances and in ripening to perfect, uniform shape, these "disadvantages" can be transformed into advantages in two markets: The local producer, and the value-added producer. Local customers are looking for quality flavor again, and purchase direct from the farmer, skipping the need for long distance shipping altogether. Also, non-uniform shape and color has become a novelty. Heirlooms come in many odd shapes, including the shape of an accordion! As well, they come in brownish purple, striped, and even green when ripe.
The University of Florida tested fifteen different heirloom tomato plants. The tomatoes in the trials were grown using standard commercial production techniques rather than organic methods. Data was collected regarding yield, fruit size, number of fruits, disease resistance and number of unblemished fruit.
The heirloom tomato plants tested proved too delicate for the picking, packing, and shipping rigors of the Florida gassed-green market. This means that in order to get the flavor of yesterday, customers must purchase them locally if they want them fresh. This is where the local hand-tended micro farmer has the advantage. "The all time favorite is 'Brandywine,'" Mahara said. Customers come specifically for that tomato. And if they can't get it, sometimes they won't buy any tomatoes."
Other markets for growing heirloom tomatoes include the heirloom tomato plants for garden starts and the seeds. According to Jere Gettle, who grows and sells heirloom produce and seed from around the world, tomatoes are not only the world's favorite harvested crop, they are, naturally, the most popular backyard garden plant. "We offer a very unique selection from many countries," he said. "The interest in heirlooms never ceases to amaze us, and it seems in the past couple of years, everyone seems to be growing them."
Non-perishable value-added tomato products are a way to reach beyond local production with heirlooms. Diamond Organics, which distributes organic products by mail from growers along the central California coast, sells "Dave's Organic Red Heirloom Tomato Sauce" and "Dave's Organic Golden Heirloom Tomato Sauce" along with its dry and fresh organic pasta.
Below is just a sampler of tested and available heirloom tomatoes, of which there are hundreds. They are available through a growing number of independent seed suppliers:
Marmande: This lightly ribbed red tomato is an old French favorite. The flavor is considered very "European," full and rich. The fruits are medium to large, and will produce even in cool weather. These heirloom tomato plants are considered productive, and are sometimes used as a market variety.
Principe Borghese: This is the Italian heirloom well known for its fruits' high quality sun-drying ability. Fruits are grape-shaped, have very few seeds, delicious flavor, and are only one to two ounces. They grow abundantly in clusters, and are also successfully used for sauces and fresh eating.
Break O-Day: These heirloom tomato plants introduced in 1931 offer uniform red fruits considered great for canning or marketing to outlets that need that smooth globe-shaped, bright red color. Flavor is described as good and tangy. Dr. Carolyn Male, heirloom tomato expert and author of 100 Heirloom Tomatoes, describes it as a "workhorse of a tomato."
English Rose: Since before World War II, English Rose had been handed down in the same family, generation after generation. Early for its large size, the ripe fruits are pink with excellent flavor. The plants are the potato leaf variety.
Thai Pink Egg: Another grape-shaped tomato, this one was found to be very popular in Thailand. The fruits are bright pink, crisp, sweet, uniform and very full-flavored. Each fruit is about one ounce.
Pink Accordion: The mild-flavored fruits of these heirloom tomato plants are slightly flat and heavily ribbed to look ruffled like an accordion. They make beautiful shapes when sliced. Because of their semi-hollow insides, they are good for stuffing.
Brandywine: This Amish heirloom from 1885 wins many taste tests, and is considered by many to be the superstar of all heirloom tomatoes. The fruits are large -- up to a pound and a half each -- and the flavor superb. Brandywine comes in a variety of ripening colors, from pink to gold to blackish purple, and the plants are potato-leafed.
Orange Banana: Here is a great heirloom tomato for paste, drying or canning. A rare orange paste tomato, the fruits are sweet and fruity. They are also enjoyed fresh and make a pretty addition to specialty tomatoes sold at farmers markets.
Galinas: This early heirloom comes from Siberia. The fruits are small, golden yellow, and a combination of both sweet and tangy. The vines are very vigorous and the yield is heavy. Growing heirloom tomatoes like these can be very productive.
Plum Lemon: From Moscow, the fruits of Plum Lemon are brilliant canary yellow. Fruits are about three inches long and resemble real lemons. They are sweet and good-flavored.

Big Rainbow: This heirloom tomato was first preserved by members of the Seed Savers Exchange. The flavor is considered sweet and delicious. The giant fruits ripen up to two pounds! What's more, the color is striking when sliced: yellow flesh with crimson red streaks throughout. When growing heirloom tomatoes like these, be prepared to take tender care of the large fruits as they ripen on the vine.
Old German: Considered one of the most exquisitely flavored heirlooms, this variety originated with the Mennonites. Fruits are large, and are yellow with brilliant red streaks, mottles and marbling that show both on the skin and within the flesh.
Aunt Ruby's German Green: Some say this bright green ripening tomato is more flavorful than those that ripen red! A family heirloom originating in Germany, it is a large beefsteak. The fruits can grow to one pound.
White Currant: Growing heirloom tomatoes sometimes means looking to the wild. This is a wild type producing huge yields of cherry tomatoes in clusters. The ripened fruit is creamy white with yellow-tinged skin. It is very sweet with well-loved flavor.
Cherokee Purple: Described as a "Cherokee Indian heirloom," by Jere Gettle, publisher of The Heirloom Gardener, this pre-1890s variety ripens to deep, dusky, purple-pink. It produces very flavorful large fruits.
Tigerella Orange Slicing Tomato: Reddish-orange, small to medium tomatoes are striped with golden yellow and are described as having a very pleasing tangy flavor. Very productive vines produce huge disease resistant yields.
---
---
Custom Search