Neighborhood potlucks can be even more fun and meaningful with a "Slow Food" theme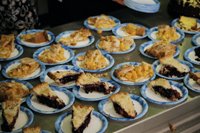 Copyright National Lilac Publishing, LLC
Slow Food Movement potlucks are themed on serving locally grown foods or lost traditional homecooked dishes from cultures that arose is eras where community and families took the time to cook delicious meals at home.
The Slow Food Movement is an international non-profit organization with chapters in many countries. And each country has local chapters called "conviviums," which means "convivial gathering" often revolving around food, as in banquets, dinner parties, or the tradition of everyone bringing a dish to share at a group gathering.
You may not believe these foods...
Ever heard of New Orleans French bread? How about "Shrub," a colonial-day sweet-tart beverage? There are various places to find recipes for traditional local foods or time-honored world cuisine.

Recipes from our affiliates Memory Lane Meals (long forgotten recipes from home) and Official Secret Famous Restaurant Recipes can be adapted to regional ingredients, and offer recipes that take regional flavors and world cuisine seriously.
And potlucks have become such popular group activities, there is a series of fiction books entitled, The Potluck Club series, which even has its own fun non-fiction potluck cookbook, Potluck Club Cookbook: Easy Recipes to Enjoy with Family and Friends (our Amazon associate link) and states that "eating in" is the new "eating out."
As well, when potluck planning, look online for your region's Slow Food list and sources for lost foods. For example, the USA Slow Food has created the Ark of Taste, and "RAFT" (Reviving America's Food Traditions) which lists culinary traditions and sources for exceptional and rare regional foods. Revolve a neighborhood cuisine party around those foods.
Tips for transporting potluck dishes
- Put potluck dishes on car floor, not the seat, with nothing on the seat above it that could topple on top of it.
- If the dish is hot, protect the floor with clean rags or newspapers before setting the dish down, and use old clothing to surround the dish and hold it in place.
- You can also set the dish inside a flat cardboard box, surrounding the dish with crumpled newspaper or magazine pages to keep it from sliding around.
For groups who are new to each other
It can be fun to purposely not assign potluck dishes to participants you already know well -- groups that already feel comfortable with each other. You don't care if you end up with three apple pies and two tuna salads.
But if the group doesn't know each other, or if there are a few people new to town or new to the group, it can really be helpful to give out assignments so there's no disappointment for the new guy if he brings his famous graham-cracker crust vanilla crisp only to find out most of the people in the group are avoiding sugar and gluten. Participants feel better if they get at least some guidelines.
I was once invited to a potluck with people I didn't know well, where I was told multiple times to bring anything I wanted, no matter what it would be fine. It was fun to just see what would show up. I kept trying to get some idea of what might be there, and there was no hint at all. So I brought a nice white wine.
When I got there, I was informed that there was already plenty of red wine, and that's the type of wine -- not white wine -- that went with what the main dishes were. I said well why don't you keep it as a gift, use it in the future anytime you want. The reply was, "No one here drinks white wine, just take it back home with you."
Awkward.

I also brought applesauce muffins to a different potluck that was "bring whatever you want," and after setting them out on the table, in walked Jessica, with a huge container of applesauce muffins. Kind of wish I'd made a yogurt fruit salad instead.
It all depends on the social dynamics of the group. Assigning dishes can be just too much of an added burden at times. But maybe just with new people, offer a few suggestions so they feel confident when they show up with their dish that it will be welcomed.

---
You may also enjoy:
Alternative healthier honeybee hive

---