The pastured products of a 21-acre regenerative farm
© National Lilac Publishing, LLC   First published by Barbara Berst Adams in AcresUSA Magazine

     What might be done to boost the economy of a tiny, economically depressed farming town? Invite farmers to move in, of course. Ruth and Lori Babcock now produce popular niche grass-fed products in that farming town with a growing list of eager customers. And their humane, regenerative methods are impressive.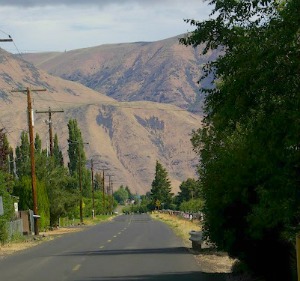 Driving to Tieton, desert hills in the distance.
     Tieton, Washington is a tiny hamlet on the dry desert side of Washington State (as opposed to the rainy, cooler western side full of evergreens and larger cities). Long ago, Tieton was a thriving little orchard town surrounded by conventionally grown orchards and grain. But as industrial farming changed in a way that didn't favor this town's economy, the town receded into obscurity, struggling financially. That is, until its inviting layout -- including a grassy town square -- was discovered by a few Seattle artists and entrepreneurs. They decided to find ways to revitalize the town, bringing arts related jobs and festivals to the community, which eventually attracted new organic and regenerative farmers, as well as encouragement for remaining established orchards to grow more sustainably. This is where I found Tieton Farm & Creamery. More about them soon.
      Although some conventionally farmed orchards still linger in the area, others are now operating more ecologically. A young generational orchardist stopped to visit with me at a Tieton cafe and explained how his orchards were grown sustainably.  Also, Tieton's Harmony Orchards has grown organically for 25 years. They produce cider under the name Tieton Cider Works, and as we shall see, some of which is used by Lori Babcock -- one of the owners of Tieton Farm and Creamery -- to make one of her exceptional artisan cheeses.

     Ruth and Lori Babcock, meanwhile, used to be software professionals. They now own and operate the 21-acre Tieton Farm and Creamery. Lori had a strong interest in cheesemaking. Ruth is a descendant of many avid gardeners and had always liked the idea of ecologically producing food from the land. The two practiced farming on a relative's one-plus acre property on the west side of Washington until the choice was made to buy their own property. For this, they quickly learned the east side of the state had better land prices. So the search for finding farmland on the east side began.

    When they discovered the revitalization happening in Tieton, they chose to buy property there and become part of the drive to reawaken a forgotten farming village. Dedicated to producing pastured artisan cheese, meat and eggs, the Tieton Farm & Creamery was born. They raise dairy goats, dairy sheep, cattle, pigs, chickens, geese, ducks and turkeys.
Happy farm dog watches over mixed breed pastures.
The pastures, and where weeds are okay

     The Babcocks not only graze their dairy animals, but they raise and finish their meat animals on grass. In order to keep pasture lush in the desert climate, they water regularly with above ground sprinklers taking advantage of regional irrigation rights that were already well established in this farming region.
     "We currently have orchard grass, alfalfa, and white clover," Ruth said. "Some sections have not been planted yet and have a lot of weeds which the goats love. Since we have a mix of animals running through all the pastures, it is great to have grass, legumes (alfalfa and clover) and weeds. Ideally we would have lots of brush and trees as goats really prefer to browse. But establishing that with goats already on the ground has proven very difficult. One escape means all new seedlings are wiped out!"
     Browsing (vs. grazing) happens when animals nibble and eat a variety of plant parts from shrubs, trees and vines which can include the plants' twigs, leaves, shoots, and seed pods. Grazing, on the other hand, is seen when the animals continually consume green pasture or natural prairie. Goats browse, rather than graze, far more than sheep when given the opportunity. It can be very effective to add browsing plants where goats are concerned as long as a less varied diet isn't called for in instances where the taste of their fresh drinking milk would be altered too much because of the browsing.
     Some farmers even establish hedgerows along fence lines with a variety of shrubs and small trees specifically for browsing. This can take the pressure off of pastures and offers a nice diversity to the animals' diet. As Ruth pointed out, the browsing plants must be strong and well-established, allowing the goats to browse them without eliminating them. "I do hope to fence off a strip in the future to get some browsing plants established," she said. "The more diverse I can make the pasture the better for the health of the animals."
     The pastures are rotated with movable fencing approximately every three days -- although the timing of the rotation is flexible. It's often a case by case choice stemming from experiments in the past as far as when to move animals not too soon, but not too late. The animals have learned to come eagerly to Ruth when it's time to switch pastures. In the winter months, the animals still enjoy the outdoors. "They are fed local hay from growers who do not spray or use chemical fertilizers," said Ruth. "I sometimes move the cattle to a stockpiled pasture area but they still need hay."
     Stockpiling a pasture means to allow it to grow tall without cutting or grazing through late summer and fall, making it possible for animals to graze it during winter in a manner that's healthy for both the animals and the pasture. In some cases, farmers have experienced their stockpiled pastures providing grazing through several inches of winter snow.
     Stockpiling does involve more risk than winter hay storage. But it can save on the cost of haying or purchase of hay, and allows animals to continue their pasture grazing status for longer into the season. Naturally, it does take planning and good timing, and must be adapted to each farmer's location, fields, and choice of animals. It becomes part of a long-term pasture strategy. For learning about stockpiling in any given region, farmers can start with their own local cooperative extension or agricultural university to see if there are studies or guides that help with timing and knowing which pasture plants do best as stockpiled pasture in their area.
Local hay is kept on hand for winter when pasture "stockpiling" needs to be supplemented.
The artisan cheese and dairy animals
     Lori became hooked on cheese-making after spending two years in France that included working alongside a skilled artisan cheesemaker. They raise both goats and sheep for their cheeses. Both types of milk add culinary uniqueness, and mixing them together results in a number of very popular artisan cheeses. Currently their dairy herds consist of mostly Nubian goats, the well-known dairy sheep -- East Friesians, as well as Katahdin sheep. The Katahdin naturally sheds its winter coat so doesn't have to be sheared. It has been bred for various qualities including its meat and healthy reproductive traits, and is known to do well with pasture lambing. But Ruth has definite dairy plans for her Katahdin sheep. "I am crossing Katahdin and East Friesians and the ultimate goal would be a cross that has less to no wool but more milk than a Katahdin typically has." Since wool production is not part of the farm and creamery's main planned products, the sheering of the heavily wooled East Friesians is not a productive chore for this particular farm.
     Also, the Katahdin sheep may have other breeding qualities that could benefit the farm's cheese-making process. "All of our cheeses are made from blending the milk from the goats and sheep," said Ruth. "It changes throughout the year to be less and less sheep milk as sheep do not give milk for as long a time as goats. So another reason for working the Katahdin breed into our dairy herd is that they are known to be able to breed year round while the dairy sheep breeds (such as East Friesians) are more likely to breed in the late summer through fall and winter. If we can breed some in the spring, then we will have more sheep milk coming on line in the fall when we need it."
     At the time of this writing, the farm owners were currently using a portable milking parlor, which is practical for starting out with a handful of small dairy animals. But their herd and business has grown, and only two animals fit inside the portable at one time. A larger milking facility is on their wish list for continuing to produce their collection of tantalizing cheeses. These include Fresh Chevre which boasts transforming from grassfed sheep and goat milk to cheese within 48 hours; Sonnet which has a spreadable rind; and Venus, which is washed with cider from Harmony Orchards' Tieton Cider Works mentioned above. There are many more.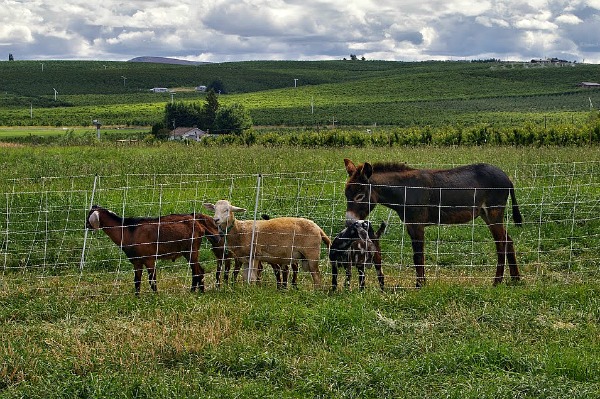 Donkey guards the smaller animals from predators. Notice the lightweight portable fencing in this and other photos here.
Their other pastured products
     Along with the pastured dairy animals, the farm produces a few grass-fed and finished cattle, meat goats which are either Boer or a mix of Boer and Nubian, plus some sheep for meat, pigs, geese, turkeys, and also chickens and ducks for both meat and eggs. The chickens and ducks are part of the rotational grazing system, helping to eliminate parasites, break up manure and aerate the soil.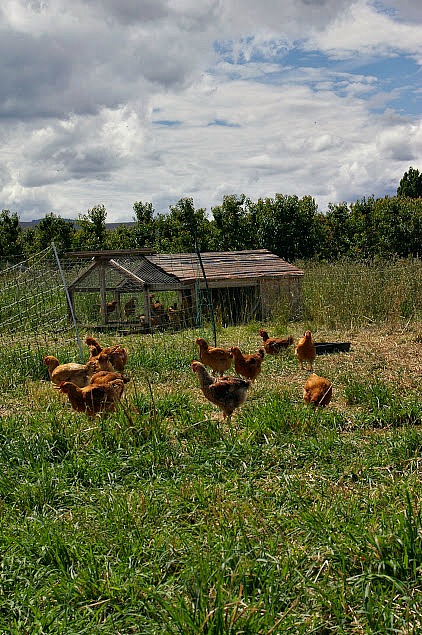 Chickens enjoying diversified pasture and sunshine.
     The farm owners have chosen two heritage breeds of cattle -- the small Irish Dexter and the long-haired Scotch Highland breeds, which are especially productive at being raised and finished on green pasture. They also cross the two breeds. Not surprisingly, the Irish Dexter originated in Ireland and is known for easy calving as well as for being an excellent mother. It is protective and provides ample milk for its young. The Scotch Highland is believed to be one of the oldest breeds in the world and was bred outdoors for centuries. This breed is also an easy calver and good mother. The meat of both breeds is described as delicious and healthy.
Irish Dexter on the left, Scotch Highland on the right.
  The pigs live outdoors, enjoying sunshine and an ample supply of leftover dairy whey. "I want pigs to be pigs," Ruth said as I watched the pigs eagerly gather while she poured the day's excess whey into their feed trough. The pigs obviously enjoy the outdoors, digging holes in the ground that Ruth eventually has to deal with when moving the pigs to different locations. But they love wallowing in the cool wetness, and Ruth allows it.
The portable fencing also works well for the pigs on this farm.
Marketing
     Three methods for marketing have especially contributed to Ruth and Lori's farming venture. It's always great to land in the media concerning a farm's food products, and the Babcock's products and farming story have been mentioned or featured in both local and regional publications. Farm websites are also useful. The folks who are implementing the Tieton revival call themselves "Mighty Tieton," and have developed artistic user-friendly websites of which Tieton Farm & Creamery is included. "Word of mouth has also been helpful," Ruth said. They sell at the weekend farmers' markets in nearby Yakima, Washington which has a larger population. Often, people discover the farm via the market. Although there are a growing number of tasting events in Tieton, those are often during the same time as the farmers' markets, so they can't always participate in every potential word-of-mouth outlet.
     "We'd like to sell to even more locals," Ruth said. She described the beginnings of a marketing plan they've just introduced. In some ways it's similar to a CSA. Customers agree to a fee for grass-fed products throughout the year. However, they may pay monthly, and unlike a vegetable CSA, they'll know upfront how much of what they'll receive for their membership.

     Like most naturally produced crops, those of Tieton Farm & Creamery change throughout the season. Besides the change in the ratio of goat to sheep milk, the seasonal changes in the pasture grasses also add variety to their products. But the farm is always there -- grazing, producing, processing. Similar to how the tiny town of Tieton was always there, yet changing, and now renewing itself with the help of Tieton Farm & Creamery.
Custom Search