More May Day activities to enjoy
Copyright National Lilac Publishing, LLC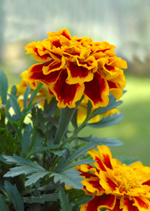 May Day activities -- along with making and delivering May baskets, and the May Pole and its dance – you can also include a May feast or tea. Plus, there are other May Day group activities revolving around flowers, including some from other cultural traditions focused on flower celebrations.
May Day activities:
Gather flowers with your family or friends at local farms: Long ago, people went "a-Maying" to gather flowers in the meadows and fields. Today, find local u-pick flower farms or go to a farmers market if there's one open on May 1st. Localharvest.org may help lead you to cut flower farms in your area.
Enjoy flower pressing: Flower pressing is an ancient hobby you might want to start up as a May Day activity. Check your local library for books on the topic. You may also find our affiliate Secrets of Flower Pressing of interest.
Hold a May Day tea party or a tea tasting table at a larger May Feast: Floral herbal teas include lavender, rose, chamomile, hibiscus and jasmine.
Plant live flowers: Make May Day your traditional day to plant blooming pansies, petunias, and other nursery flowers in pots, baskets and flower beds around your home.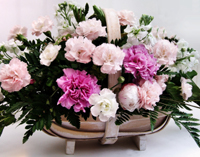 Host a more serious flower arranging workshop: Whether for a group of friends or for income, you may want to either hire a flower arranger or teach one yourself. Our affiliate Create Your Own Wedding Flowers may be of interest.
Making leis from rhododendron blooms
Add Hawaii's Lei Day to May Day: Do this by making and wearing flower leis and flower crowns from locally blooming flowers. Children the world over once made dandelion crowns as a matter of course for being a kid. When my children were very young, we made leis by stringing yarn with rhododendron blossoms.

Hold a May Day feast: A May feast was historically a major part of the May Day activities. Today it can perhaps be a potluck of foods emphasizing flowers, both edibles and just as decoration. Edible flowers have become popular in this century, but in places as far away from us as ancient Africa, flowers such as the rose, lavender and hibiscus have been consumed for centuries.

Your May Day feast today might include a huge central "Spring Meadow and Flowers" salad made with many greens, a protein of choice (such as chopped boiled eggs, meats, nuts or cheese), and topped with May blooming edible flowers such as bright pansies and early nasturtiums.

Add flower sorbets from gourmet stores, hot or iced flower infusion drinks such as jasmine tea, grain dishes such as breads and cakes flavored with various flowers, and flower-scented honey, butters and syrups.

For a larger celebration using the potluck method as the source of food, make a list of basics you want covered, and have main attendees sign up for certain choices to make sure the basics are provided. If the celebration is large enough, you can leave some potluck dishes to chance, perhaps asking only that they be healthy, include some locally produced ingredients, and somehow celebrate flowers. Perhaps an extra warning about poisonous or chemically contaminated flowers would be in order. It's fun to see the surprises people come up with.

Others can also offer flower bouquets and flower scented candles for the table. The main thing is to allow all to be part of the May Day activities in some way, and contribute to the feast so they can feel the sense of ownership and get more deeply caught up in the awareness of the season and sense of community May Day activities offer. Children can nurture certain plants and harvest flowers all year long in preparation for the festival. Participants can invent new dishes and bring established favorites year after year.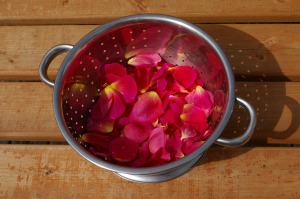 Edible flowers: Here are the common names for some more well-known edible flowers that bloom throughout the year. As mentioned, later bloomers can be dried throughout the growing season and saved for use for future May Days. Obviously, avoid commercial greenhouse varieties, or any that could have been contaminated by human or natural means.
Make sure the flowers are correctly identified and known to be edible. Some fragrant beauties such as Sweet Pea are actually poisonous. In most cases for eating, the stems and stamens are discarded, using just the petals. It's often best to remove the white tip that attached the petal in many flowers, such as the rose, as it can taste somewhat bitter. However, some flowers such as a nasturtium are more often used as the whole flower in recipes. Also in some cases, you may want to leave certain flowers intact for garnishing.

Angelica, Anise Hyssop, Apple blossoms, Apricot Sprite (Agastache), Arugula, Basil, Bee Balm,Borage, Burnet, Calendula, Carnation (as with all flowers for eating, avoid those from commercial florists), Chamomile, Chicory, Chives, Chrysanthemum, Cilantro/Coriander, Clover, Cornflower (Bachelor Buttons), Dandelion, Daylily, Dianthus, English Daisy, Fennel, Freesia, Fuchsia, Gardenia, Geraniums, Gladiolas, Hibiscus (some varieties also called Rose of Sharon), Hollyhock, Honeysuckle, Hyssop, Iceland Poppy, Impatiens, Jasmine, Johnny Jump Up, Lavender, Lemon Verbena, Lilac, Marigold, Marjoram, Mexican mint marigold (Tagetes lucida), Mint, Mustard, Nasturtium, Oregano, Pansy, Passionflower, Pea (garden peas, NOT ornamental Sweet Pea which is poisonous), Primrose, Radish, Redbud, Rose, Rosemary, Runner Bean, Sage, Savory, Scented Geranium, Snapdragon, Squash and Pumpkin Blossom, Sunflower, Sweet Marigold, Sweet William, Thyme, Tuberous Begonia, Tulip, Viola, Violet.
---
Custom Search