Diary writing, creative writing and journaling ideas for youth groups everywhere

(Adults and younger kids like them, too)



Copyright National Lilac Publishing, LLC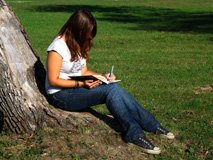 People seek journaling ideas for many reasons. For organized youth groups, and even as more casual teen party or group activities, journaling can open up something almost divine from within.

Adult creative writing groups have used these methods as well. As a writers' workshop facilitator with a number of colleagues doing the same thing, here are the best journaling ideas I've come across so far.

Making journals
Sometimes, one of the best journaling ideas starts with creating something physical with the hands. Public libraries carry numerous books with good, visual instructions for hand-made journals. Even if your youth group is older, some of the books in the children's section are loved and used even by adults (yep, guilty) because of their uncluttered, inspiring and distilled instructions.
The pre-writing clustering technique
Language is considered a left-brain event, swirling around and rehashing the same things over and over again… until it meets with the right brain where insight, wisdom and Heart are linked. "Clustering" links both hemispheres and creates a new whole. Journaling after this clustering exercise is usually far more satisfying and meaningful. To do it, hand-write a core word in the center of a page, circle it, draw a line from it anywhere on the page, and write and circle the first word that comes to mind triggered by the core word. Then continue for one to three minutes uninterrupted until a web is written out.

The classic book, "Writing the Natural Way," explains it in detail, including how and why it works so well. It's now become one of the more favored journaling ideas for many personal journalists. Youth groups can choose core words from a box to get started, then cluster for the set amount of time until the actual journaling begins.
The fantastic 826 National youth writing model you can duplicate locally
Imagine a group of youth gathered eagerly with other writers to work on various creative writing projects. The kids' group writing model, 826 National, is an outstanding, inspiring non-profit youth writing program founded by writer Dave Eggers and a group of volunteers for kids ages 6 through 18.
Their own original mission statement says it best, helping kids "with their creative and expository writing skills, and helping teachers inspire their students to write. Our services are structured around our belief that great leaps in learning can happen with one-on-one attention and that strong writing skills are fundamental to future success. With this in mind we provide drop-in tutoring, field trips, after-school workshops, in-schools tutoring, help for English language learners, and assistance with student publications. All of our free programs are challenging and enjoyable, and ultimately strengthen each student's power to express ideas effectively, creatively, confidently, and in his or her individual voice."
It started with 826 Valencia in San Francisco, then 826 National was created as an umbrella organization to help others duplicate the program. There are now chapters all across the country, and you can contact them about forming one of your own for youth aged 13 to 18, and they also serve younger kids as well.
They really know how to entice kids and youth into getting excited about writing. My heroes.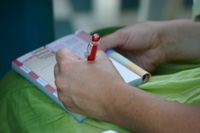 Journaling ideas for ongoing guidance on deep personal and spiritual growth
What I would have given to have this journaling experience when I was a youth!

Higher Awareness is a very well organized, deep, online or live group journaling program I've used myself and am now affiliated with which offers empowering journaling ideas and provides writing activities as a serious form of self-development. There are free resources and paid membership resources which include journaling programs directly for writers themselves.
There are also programs for those who want to facilitate Higher Awareness writing groups as a volunteer or as a well-paying business.
Higher Awareness programs include:
- Self Awareness Journey
- Know Yourself Workbook
- Journal Writing Tools
- Finding Life Purpose
- Write Your Life Journey
- Time Management Skills
- Personal Goal Setting
- Heal Your Life
- Developing Intuition
- Spiritual Awareness
- Spiritual Growth
- Learn How to Meditate
- Manifesting Abundance
- Relationship Growth
- The Soul Journey
- Women at Heart
- Facilitator Training

Combining Journaling with the Outdoors
For this project, youth groups go on outdoor hikes, then each individual finds a safe place to sit down with their journals and write for a given amount of time. Start by having them be outwardly silent, and listen to the sounds of nature around them. Have them list five different natural sounds in their journals. This gets the inner listening started by turning off the left-brain chatter. And it opens their awareness of the world around them.
Then, give them the choice of free writing on their own insights for the next five minutes, or choosing from a journaling prompt, such as, "If I saw an old man living in this wilderness, what could his story be for living here on his own," or any other prompt that better suits your youth group, whether it be a scout troupe, church group, or a group of homeschooled teens.
Diary writing for youth groups
Diary writing, though often done in private, can also be a fun and empowering activity for youth groups as well. Famous diary writers such as Anne Frank can be very inspirational for generating desire to start a diary. After a group of youth we were teaching read the Diary of Anne Frank, many of the kids wanted to buy and start their own diaries.
---
Custom Search