Farm grants

and micro loans

-- you may be surprised at what's available

Organic potato field

Copyright National Lilac Publishing, LLC
There are numerous farm grants, farmers' loans, and small business start up loans available. But their sources are dynamic, always changing, meaning new programs come and go, old budgets are cut or expanded.
So the goal of this article is to keep up with the established locations where you can go to check on a regular basis for new or less publicized farming grants or low-interest micro loans.

Some eco-farmers forego farmers' loans of any type and opt for the bootstrap method instead, (save up a little money of your own and start small scale, from that profit grow a little more, then a little more, staying out of debt from the beginning).
But farming grants don't have to be paid back as long as they're used properly. And though we're fans of staying out of debt from start to finish, on occasion there can be well-thought out reasons to obtain start-up loans upfront. Here are some sources:

- The Food Animal Concerns Trust (FACT), offers microgrants to farms in the following areas: Projects that help the farm become humanely certified, projects that help market certified humane products, projects that help convert to a pasture-based system. When they are currently closed to grant applicants, they'll post an estimate as to when they'll accept applicants again, giving you time to prepare.

- Get on the mailing list of the Center for Rural Affairs. While they offer rural home and rural business loans only in Nebraska, they keep up with and send out alerts on various farming grants across the USA and Canada.    

- The USDA Value Added Producer Grant is a popular grant for micro and small farms that need funds to turn their crops into value-added products. If they are currently closed to applicants, it's a good time to look into the program and prepare for when they're accepting.

- Check attra.org regularly for announcements on new farming grants and low interest farmers' loans. As one example, Attra once listed a program to financially reward farmers who are already sustainably stewarding their land. As another example, they keep up to date information on small business start up loans and various farmers' loans through the Farm Service Agency, which gives low interest loans to help farmers and ranchers establish farms and become financially successful.
- Regularly check your local agriculture extension agent to see if there are new, temporary or less publicized small business start up loans or farming grants in your area. For example, in New York, Indian Chimney Farm owners were given a grant to start farm businesses related to agritourism. Money was given to upgrade buildings and parking. And the Kansas Rural Center received grants to create successful farmers' markets to help local, small farms succeed. Also, go to the Land Grant University website to find local cooperative extensions in your area and to get more grant information.

- Find small business start up loans with help from the Small Business Administration (SBA). It's true that many incorrect rumors circulate about supposed funds handed out by the SBA themselves. So be vigilant and don't fall for online "free SBA money" scams. They don't give out money, but there are legitimate financing programs they can help you research and connect with. Go to sba.gov, click "Funding Programs."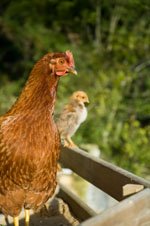 - Check USDA Rural Development. They offer information on grants and farmers' loans which have included finances for those bringing small business to rural areas and to help rural people own their own homes.
- Go to sare.org. If your micro eco-farm consists of new research that could help other farmers, such as growing a new crop in your region's micro climate or creating a new market on your farm via an innovative roadside stand, this organization allows you to apply for farming grants to help pay for the program. It also gives farming grants to increase farm production, educate on farming and more.

- Check the Farm Service Agency at fsa.usda.gov. They have offered farmers' loans to family farms that can't find funding through a regular bank. They help both established farmers and new ones, so their funds could possibly act as small business start up loans.
- Whole Foods Market Local Producer Loan Program Whole Foods Market is providing up to $10 million in low-interest loans between $1,000 and $100,000 to independent local farmers and food artisans. Producers must meet Whole Foods Market's Quality Standards and standards for animal welfare, and they must use funds for expansion and capital expenditures. Applications are accepted online on a rolling basis. (Once again, do be careful of any type of debt, especially loans coming from large profiting corporations.)

- Look into the USDA Natural Resources Conservation Service for grants for farmers setting up programs that mutually benefit wildlife and conservation.

- Look into the Slow Money Movement. During COVID-19, they were even offering 0% loans. Their mission statement reads: "Slow Money Institute is a non-profit organization dedicated to catalyzing the flow of capital to local food systems, connecting investors to the places where they live and promoting new principles of fiduciary responsibility that "bring money back down to earth."
And also:

- Obtain free mentoring to secure your farm grant or loan. Once people find potential appropriate small business start up loans, farming grants, or specific farmers' loans they want to apply for, they need to "get" them by applying properly and being accepted. The sites listed above are loaded with free tutorials and information on how to do this. You can often read past winning applications, also. If you want a free experienced business mentor to help you create a business plan or whatever the small business start up loans or grants require from you, go to score.org where you can choose a mentor who will guide you at no cost, and you can also take free online tutorials to help your business succeed.
See also our articles on how farmers find ways to fully protect and insure their farm businesses with sometimes very low (or even free) yearly insurance costs:
Beyond homeowner's insurance: When your private family home and acreage first steps into the arena of being a business.
A collection of farm business insurance ideas that might save costs for independent eco-farmers, including farmstay, u-pick, and other agritourism farmers.
Truck insurance for an unregistered and unlicensed farm truck that stays mostly on the property, but needs to drive safely and legally on the road at times.
Insurance for a single truck that's licensed and registered that both works the farm and is used for personal errands as well. A money saving possibility.
Custom Search