Hosting barn dances
Copyright National Lilac Publishing, LLC

Barn dances were enjoying a revival pre-Covid, and happily returned to post-Covid. Rural folks once gathered regularly to share music, food and dance. Today's barn gathering may purposely replicate old-time hoedowns with traditional Western or Southern decor, barbecues, barn dance bands, and line dancing or square dancing (see video below).

Others are more themed around the hosting farm's current lifestyle. For example, they may include local artisan cheese and wine tastings, world beat music, and décor that reflects the current farm – meaning their barn will have overturned apple crates for seating if they produce apples, instead of straw bales for seating if the farm doesn't actually grow straw.
These barn food and dance celebrations are also a very fun attraction for on-farm weddings and farms involved in agritourism.

Highlights for planning barn dances
The barn:
If you don't own a barn suitable for a dance, realize that some farmers today are genuinely using tents for barns, and you can rent one temporarily just to hold your barn/tent dance. (See the article on tent chicken coops at How to Keep Chickens.)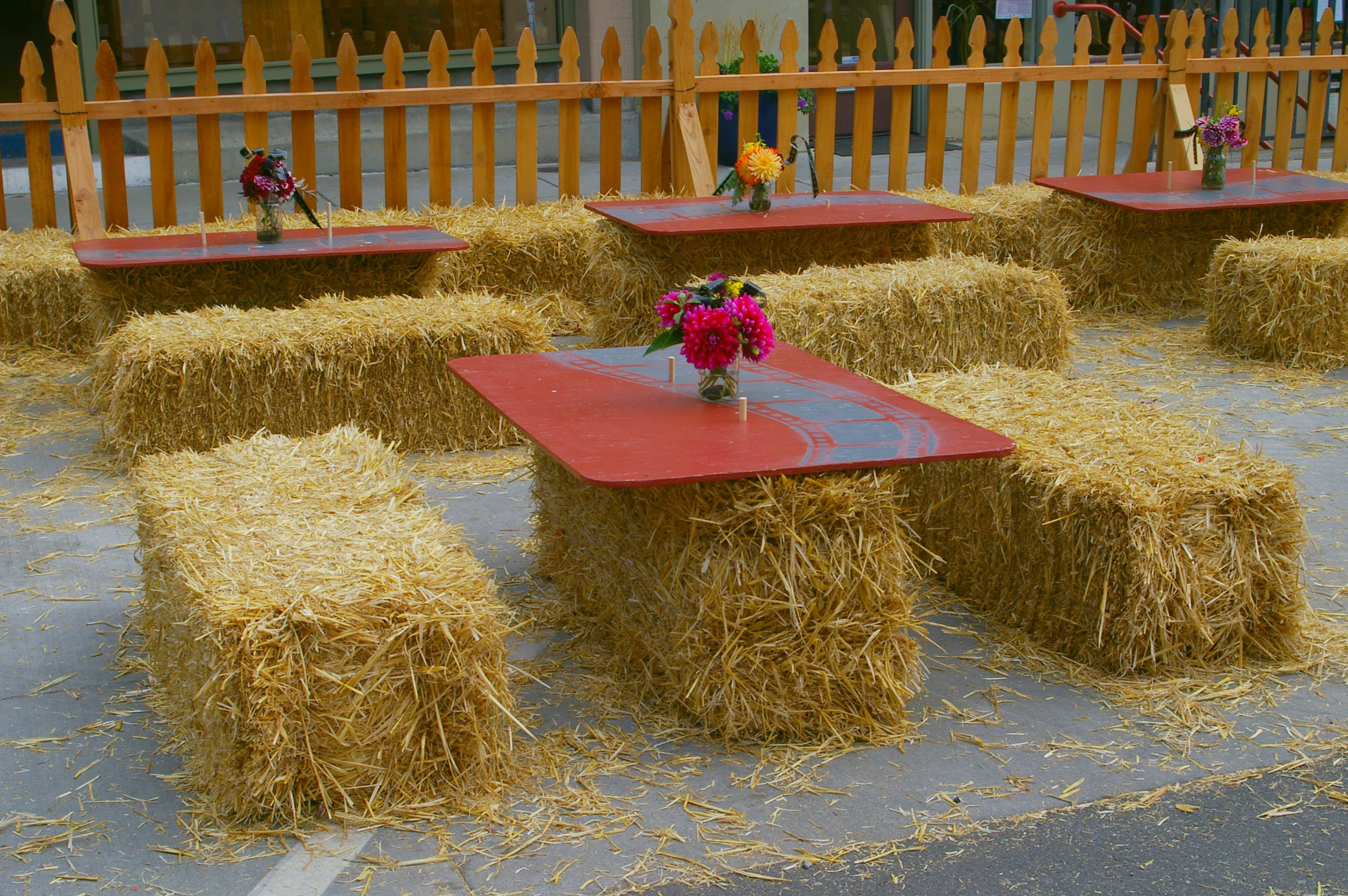 Decorations: Traditional decor includes straw bales for seating, corn shocks (bundles of dried corn stalks) here and there for decorations, and gingham cloth to cover tables for eating.

Spring and summer dances could skip the corn shocks and decorate with tulip or sunflower bouquets in rustic tin bucket containers. Old-time food and dance gatherings were held in real barns, so the décor needs to appear as though tables, seating and decorations are make-shift and temporary, using farmhouse and real barn objects. Other table and seating options include overturned barrels, metal livestock watering containers filled with ice to hold canned and bottled drinks, wooden crates and old quilts for seating and table covering.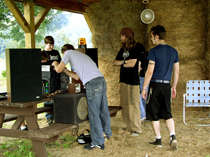 Barn dance bands and other barn dance music: Fiddles, barn dance bands, and barn dance callers are traditional, favoring polka, country, cowboy, and bluegrass music. Today, there are amateur associations for just about every type of live music you may be interested in, from country rock to New Age spiritual to Celtic. Search online for an organization that celebrates the type of music you may be interested in for leads on musicians.

Barn dance video:
Just a single fiddler or banjo player could also work well. And today, it's also okay to set up a karaoke event or a recorded music system in the barn, allowing a mix of different kinds of music to please your guests.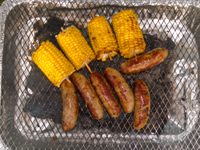 Food and drink: Traditional barn dance food was usually via either the host farm, potlucks, or barbecues and other outdoor cooking near the barn if there was an outdoor area to fire up the barbecue or cooking campfire. Western themes would include fried chicken, corn on the cob, potato salad, watermelon wedges, baked beans, cornbread and beer. Today's eco-farms might consider rounding up local artisan foods, ciders and wines prepared by local farms.

Or, if this is an agritourism event to promote your own farmed culinary products, then by all means, turn the food portion of the barn dance into a taste testing of your best offerings, with a booth to purchase more of your value-added crops near the barn. Some people also enjoy the family oriented barn dance free from alcohol. Plus, when serving alcohol, you'll need to get a liquor license and liability can be too expensive and too much of a burden for your event. So consider a beverage table that offers artisan hand-crafted soda pops, herbal and organic traditional iced teas, and of course, lemonade and local soft apple cider.
Barn dancing: Traditional dances of rural folk involved square dancing, line dancing and polka, and it seemed everyone from age two to 102 knew how to do the dances and participated. Today, the dance floor could be left open for people to dance any way they choose according to the music being played. Or, hire a local dance instructor to teach simple dance moves, and ask him or her to bring a partner to demonstrate at least once to get people energized and inspired. Dance trends come and go, and local regions have their traditional favorites as well.

Western line dancing, Irish dance, free dance, or Dances of Universal Peace are a few possibilities. I even enjoyed a "Long House Dance" where our local Native Americans invited us to their community long house (the traditional cedar gathering places and homes of Pacific Northwest Indians), where we ate, listened to Native music, and joined in the group dances they taught us.
For non-dancers: People who want to enjoy others' company, but just plain don't want to dance, thank you very much, will feel welcomed and relieved if there are alternatives to dancing, eating and small talk. Tossing games like cornhole, which is portable and fun for all ages, can be played either in the barn if it's large enough or right outside. A table with a farm scene jigsaw puzzle partially started and two or three chairs around can attract those who don't want to compete, and don't necessarily want to start with a partner. They can just sit down, begin, and others can join at any time.

The barn dance schedule: One possible schedule is 45 minutes of dancing, 45 minutes of eating, then back to a final 45 minutes of dancing. Look for a balance between trying to encourage dance participation and forcing those who just can't stand to do public dancing, and came to just enjoy the music and socializing. Though it's traditional to line the barn with seating and keep the center open for dancing, consider a few niches here and there where two bales are facing each other, and an old quilt on the ground off in a corner, plus a few seating bales outside the barn door to offer little nooks for people to escape and have more intimate talks. Just keep the nook numbers low in comparison to the group atmosphere, and things should balance out nicely.

CORNHOLE! -- The fun, wholesome all-ages barn or outdoor game made popular by an American farm, now spread across the nation. Personalize with your own family or farm name. For a longer name, try lower case after the first letter for more room.

Custom Search