Workshop facilitation: Teach workshops for profit or promotion
Copyright National Lilac Publishing, LLC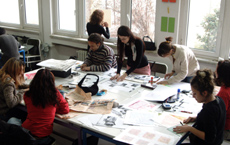 Workshop facilitation has been a great second stream of income for me. It can also be used as promotion for your other business (see below) or simply as fun volunteering. Some people turn teaching workshops to groups into a full time home based business (business office at home, but workshop facilitation itself can take place around the world, depending on your goal for teaching workshops.)
Here's Amy Rose's template for starting a DIY workshop facilitation business.
People from CEOs to senior citizens to children want to learn:
time management
ancient folk arts
new computer skills
organic cooking
transformational personal journaling (here's our affiliate link to Higher Awareness's home training for journaling facilitation as a self-owned business. Click the "facilitator's training" link)
public speaking
entrepreneurship
making wreathes
yoga
how to build an outdoor brick oven...
(As we can see, the list is endless)

Create the rough draft time frame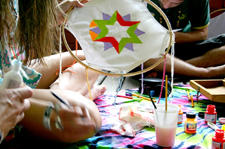 You may not yet know exactly what will be included when you teach workshops, but you do know it has to start, stop, and have breaks every 1 ½ hours, plus a lunch break if it's an all day workshop. Write down your start time, end time, and the chunks of time between breaks you have to conduct the workshop uninterrupted. If you don't know this part yet, just estimate. If needed, see what other similar workshop's time frames are.
Fill in the time chunks
Start a rough draft of what you think the content could be to fill in the allotted chunk (or chunks) of time. Then, for every one hour of workshop, choose an estimated 15 minutes of something that could be cut if it had to without destroying the workshop. Then create an estimated 15 minutes of something that could be added but wouldn't destroy the workshop if left out. With workshop facilitation, you want to be covered if things go faster or slower than planned, and group activities such as these are somewhat unpredictable.
Choose a proper title
When you teach workshops, a title is a huge asset. Avoid a romance title that doesn't tell what the workshop is or what its benefits are (such as "The Wings Shall Forever Light the Way") unless it's a play off a nationally known term that will draw students and that you're allowed to use regarding copyright and trademarks. Avoid using your own name in the title unless you're a popular household term (Joe Smith Workshops). Instead, title the workshop with the exact targeted benefits the workshop attendees will receive. (Time Management for CEOs).
Practice teaching workshops before charging fees…
… but do begin promotion at this stage. Teach workshops for free for friends and family, a local charity, or as a one-time tithe to a senior citizen or low income group. When there is less pressure because you're not taking people's money, you can feel more relaxed while you build up confidence, and not feel so bad that there really were first time quirks that you just can't see in the planning stage that were worked out during the practices.
But, make the practices seem real. Set a specific time, location, and workshop timeline that must be followed. Learn from what went wrong, but also begin promotion for paid or more serious promotional workshop facilitation by taking note of what went right, and using that in your future promotion. Did people leave satisfied? Did they contact you afterwords about what a difference it made? Ask for privately written feedback with a place to check to give permission to use any positive comments as a testimonial.

Start small when it's time to teach workshops for profit
Once you're ready to charge for giving workshops or seek a more serious audience, consider starting small as one more step towards building a solid foundation beneath you and gaining even more material for promotion.
Examples of smaller workshop facilitation include contacting your local Parks and Recreation, local food co-op, local hospital, senior citizen center or continuing education department of your closest community college to teach a workshop through them.
The pay for these can range from medium to only receiving money for materials, but you will get your first paycheck and they'll do much of the promotion for you, which is important when you're first starting out on a low budget.
Ask how they handle money, if they choose the fee and give you a percentage, or if you simply charge your own fee and collect the money yourself. You may find that:
- Food co-ops are happy to have someone give workshops on cooking, soy candle-making, and gardening.
- The Parks and Recreation might like workshops on beginning quilting, fitness, rock collecting, yoga, basketball skills, and public speaking.
- Hospitals sometimes seek those who are experienced at giving workshops on how to do relaxation techniques, yoga, desk-side fitness and eating more nutritionally.
- Senior citizen centers might want workshops on folk arts, flower arranging and creative writing.
- Continuing education organizations may need workshops on time management, public speaking, beginning dance, travel, or workshops on business plans.

At these first "real" workshops, also hand out questionnaires for further improvement and to get promotional testimonials.
Promote and grow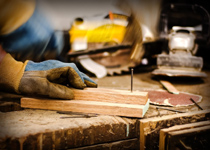 Now you have a solid foundation, testimonials, and serious professional experience on teaching workshops and are ready to start charging your own top-dollar fees or to be hired by larger well-paying entities to put on well-received workshops.
You'll need a web presence and possibly printed brochures and business cards. Your online and printed promotion needs to list the benefits that future workshop students will gain. Make sure this list is the minimum you know you can fit in for sure, something that should already be worked out from your above practice and starting small - don't get caught promising too much that can't be delivered if students ask more questions than planned so the workshop has to be crunched or goes overtime.
Promotion material should contain little samplers of what "goes right" at your workshops (such as that people leave excited or with a finished product they're proud of) and actual testimonials written by past attendees, along with obvious things like workshop dates, fees, payment methods and your qualifications.
If you grow (or even start out) to the point of needing a business license, a business name, and wanting a solid business plan for your workshop facilitation business, you can obtain free help from professionals at score.org.
---
Custom Search