Pacific Northwest heritage grain and bean farm serves local staple food niches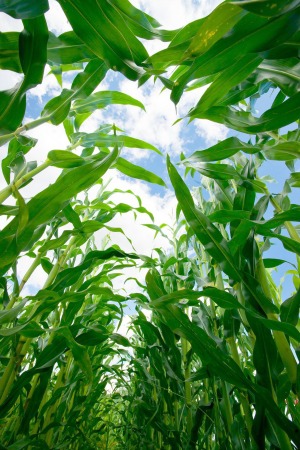 Copyright National Lilac Publishing, LLC  -- A version of this article by Barbara Berst Adams was first published in AcresUSA

     Innovation and persistence have generated some eager customers for Jeff Broadie and Kasey White, husband and wife owners of Lonesome Whistle Farm, LLC in Oregon's southern Willamette Valley. They have a willingness to consider the potential of untested crops in their area and to push through the tough times. This resulted in some surprising customer responses (including those customers going bonkers! -- see below) which has helped shape the success of this farming business.
     Broadie and White currently farm about 60 acres, which includes acreage on their own home farm in Junction City, Oregon, and an additional 28 leased acres in nearby Springfield, Oregon.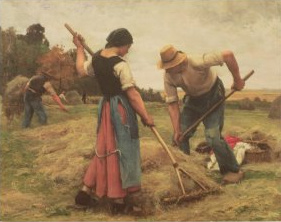 Sustainable wood wall art "Haymaking." Eco-friendly inks & a tree planted for every wood print created. Unique wood grain for each print shows through subtly in areas of white in the original painting. Made by a happy USA company.
     From their beginnings, their goal was for all their crops to be certified organic. But they had to start out as transitional because of the previous farming methods on the land they work. This past summer, 58 acres of their crop ground became certified.
     Previous to 2009 they grew more perishable crops, but decided to focus on storage crops instead that could be grown with less hand labor on a larger scale. They started with a few rare dried beans and purple barley. The choice to focus on heritage grains and dried beans automatically came along with challenges for growing such crops in their unique Pacific Northwest climate. But today, Lonesome Whistle Farm produces einkorn, Maris Widgeon wheat, Red Fife wheat, emmer, Abenaki corn, Dakota Black popcorn, Streaker hulless oats, Purple barley, Dark Northern rye, Sweet Lorane fava beans, classic pinto beans, Red Jewel beans, Black Turtle beans, and Vintage Pink beans.

     They sell their grain and dried bean crops both whole and turned into value-added products such as polenta, flour and rolled oats. White even makes attractive heirloom bean earrings. Their retail and wholesale market outlets include online sales, a CSA program, two farmers markets, a Fill Your Pantry program and they sell seeds for growing dry beans, flint corn, popcorn and their grains through Adaptive Seeds. Adaptive Seeds is a project established by Andrew Still & Sarah Kleeger to steward and sell what they describe as rare, diverse and resilient public domain seed varieties, most of which are adapted to the Pacific Northwest and other northern short season climates
     Broadie and White's goals, along with using organic farming methods, include contributing to building healthy, food-secure communities with more localized food sources. The willingness to be new at something and embrace self learning are remarkable traits of this farming couple. Traditional pre-industrialized farming once pulsed with individual farmers' land-based ingenuity to improve, invent, persist, but also to know when to move on when something isn't working. As we will see, Broadie and White have walked right into various challenges with the same fortitude.

The hunt for happy customers
    Crops which may not have been grown in a region in a long time (if ever) not only need to eventually produce well enough in a specific bio-region, but sales to customers who already have other pre-established buying habits need to be opened up and remain consistent. Broadie and White have, indeed, landed some current crop favorites produced by their farm. "Our top three sellers are Dakota Black popcorn, Abenaki corn polenta, and Jeff's Rolled Oats, pretty much equally," White said. "The polenta is red flecked and orange flecked with a yellow background. Our oats are a hulless oat that we roll with a roller mill we bought new this last fall from Canada, an Apollo machine." Hulless oats can be valuable within the local and smaller farm food community, and are becoming slightly more widely known and available. Regular oats have a tight, tough hull that can't be threshed off like wheat and rye. So, an extra step for removing those hulls before human consumption is involved. But hulless oats are almost free of the tougher outer hull of regular oats, so they can be threshed without that extra step. Also, commercial oats for oatmeal are often steamed before rolling which can help the oats from breaking into very small bits after going through the roller. But Broadie and White discovered that traditional steam rolling is not necessary for their oats. "We do not steam them beforehand, just roll them in the raw form and people are bonkers over them, which surprised us," White said. Their resulting rolled oats are well shaped and just take a little longer to cook, which is reportedly, flavor wise, very worth it.

     The other customer favorite, Lonesome Whistle Farm's Dakota Black popcorn, took a unique road to stardom. "The popcorn has a great flavor and a striking look," White said. "Bright white with a black hull." But even though Broadie and White can now provide this favorite and other crops to eager customers, finding the right crops at the beginning of a farm's business can be rather like an individualized treasure hunt for growers. Many farmers have stories of their particular hunt, and how they came across what worked for their bio-region's climate and their unique customer community. White shared her story about their discovery of what a treasure Dakota Black popcorn became for their farm. "We saw the Dakota Black popcorn in the Seed Savers Exchange catalogue and thought it looked really cool. We bought two pounds and planted a patch. We then planted the harvest from the first year into a bigger plot the next year. We loved the taste, loved that it was storable, and really, who doesn't like popcorn?"
     White commented that they learned how to grow corn by reading books and from their friends at Adaptive Seeds. So, after they learned to grow the popcorn, they then had to present the unique variety to potential customers. "At first people thought the popcorn was burned because of the black hull," White said. "The bright white also threw them off.  When we told them the story and showed them the kernel and also informed them that we are growing it in the Willamette Valley they loved it. Our friend Ralph Simpson from Paduka, Kentucky suggested we buy a popcorn machine and start selling popcorn at the farmers market. So we did. It was a huge success. We now make about $150 in popped popcorn at each market and have several people addicted to it, including a motley crew of about 15 pre-schoolers who come with their parents to the market."

     Broadie and White's Dakota Black popcorn is also sold beyond the farmers market through their CSA and to various restaurants. "The $6 per pound price was sticker shock, but soon we had them all hooked and the rest is history. We sell out of about 7000 pounds every year. Several restaurants use it in their kitchens to make small appetizers. Grit Kitchen in Eugene, Oregon, a Farm to Table restaurant, serves it before every meal free of charge with smoked paprika from another farm in the area."
     A skill for generating loyal customers from within a farmer's own community can include the willingness on the farmer's part to seek understanding of their customers' unique values. In other words, each potential customer may have a different entry point regarding their reasons for purchasing from local and regional producers. Some customers may come from a great culinary background, for instance, but not have as much awareness regarding topics like socially responsible farming or the preservation of future public owned seed supplies.

    Black Dakota popcorn, for example, is a designated Open Source Seed Initiative (OSSI) variety. The OSSI (article in January 2016 Acres USA) is the initiative working towards making sure the genetics of certain seed varieties can never be restricted by patents or other forms of intellectual property rights. Although the OSSI's methods of operation and the value of its mission are catching on in the mainstream, individual farming communities and customer niches across the country are all different regarding what aspects of the eco-farming movement have been assimilated. When farmers interact with their customers, they can help them make the connection if they don't already understand how, for example, their OSSI purchases help protect the environment and food supply. "I do tell customers about seed issues and rare corns and such," White said. "They are very interested and seem to want to support us because of our focus on that."
Adding a stone mill

     Along with the couple's oat roller and popcorn machine, they've added a 12-inch small stone mill from Meadows Mill, allowing them to process their wheat, rye, barley, and flint corn into value added food products more readily available for their customers' use. "I think it's nice for several farms to have their own little mills and be able to produce flour locally," White said, "not relying as much on the industrialized food system. Freshly milled whole grain flour is healthier than commercial flour that has been de-germed, bleached, etc."
     Bargain hunting can be valuable to those working on a non-conventional project who know what they want and are willing to look for it in unusual places. Broadie and White discovered a stone mill had been salvaged from an auctioned off bakery in another neighboring Pacific Northwest state. White said the current sellers at the time didn't even really know what it was. The couple was able to purchase their mill for $1000 which they felt was a very good deal.
     Although there aren't a lot of stone mill how-to courses readily available, self-learning can prove more than adequate in some cases. The farmers learned to operate the mill by watching Youtube videos and by trial and error. The mill itself has worked well for them, but White said the sifting was more tricky. "We had to build our own sifter out of a Black and Decker hand held wood sander and screen," she said.
Experimenting with dryland farming

     The couple has worked with dryland farming practices over the years as part of their efforts to learn the best ways to produce storage crops in their climate on a size scale that can use combines and less hand labor. For the most part, all of Lonesome Whistle Farm's grains are now dryland farmed. But their experiments with beans and corn revealed their Pacific Northwest climate may not be suited for dryland growing for as many of the crops that might otherwise work for local homesteaders growing their own dry beans and corn for drying. Homesteaders can influence the growing conditions on their smaller plots by creating raised beds, for example, and bringing the harvest into their own homes or small outbuildings for drying when wet autumn rains appear.
     Those involved with larger scale dryland farming know it's more complex than just growing crops that don't need a lot of water. Soils can't be too dry nor too wet during seed planting time. Dryland-adapted crops can struggle if spring weather is cool and damp. Long hot autumns, rather than cool wetter ones, can benefit some crops that are best dried in the field after their summer growing season. Otherwise, such crops need to be brought into drying facilities.

     Broadie and White experimented with a variety of dryland beans and are involved with the Southern Willamette Valley Bean and Grain Project. This project is a coalition of farmers, business owners, and community and non-profit organizers. They are working to bring organically grown grains, dry beans, and edible seeds into their local and regional food economy to contribute to year-round food sources that don't have to be imported from outside their region.
    Broadie and White's own contributions to the research, and those of others involved in the project, helped weed out dry bean varieties that can't grow well enough in their climate and/or don't lend themselves to larger scale production that calls for less hand labor. Continuing research by the couple and the Project include crop acclimatization efforts with the goal of creating the best regional larger scale production of staple crops possible, and to what extent dryland farming fits into that picture.

Exploring crop rotation, livestock integration, and future plans
     The Lonesome Whistle farmers describe the soil on their home farm as Malabon silty clay loam as well as Chapman loam. On their leased acreage, they describe it as similar river bottom soil that's a bit more sandy and light, which they appreciate.

     When a region's goal is to become less dependent on outside food imports, that goal goes along with aiming for the region's farms themselves to operate without dependency on outside inputs. Broadie and White have experimented with a number of ways to achieve this goal with a willingness to share what they discovered so others can learn what worked, what didn't, and what still might work if tweaked or further refined.
     With their main crops being a combination of legumes and grains, at first glance, a crop rotation with additional cover crops could seem nearly ideal for soil rejuvenation. Broadie and White attempted such a rotation. However, issues arose that can be hard to see until one is actually engaged in the growing and selling of crops.

     "Our rotation plan is proving to be a challenge on many accounts," White said. "First of all, our markets do not demand each of the crops equally. For example people love the popcorn, but not so much the wheat, so growing equal acreage in rotation leaves popcorn sold out and an over supply of wheat.  
     "It's difficult to gain on organic matter in our current rotation. Fall planted grains have a chance to get larger and provide more biomass while spring grains do not grow as tall or as lush in our climate. We have to get the timing right in the fall in order get our popcorn and flint corn out of the fields in time to work the ground and put in the fava cover crop. But some years due to being busy or due to rain, this proves to be a challenge."

     The farmers are now looking into other solutions. "We plan to try undersowing with clover into the corn this year around the time of the last cultivation and see if that helps," White said.
     The farmers had also considered incorporating farm animals into the soil-replenishment system. At one time, they offered grazing ground to a nearby sheep operation. But the sheep didn't spread their grazing around evenly enough, staying more in just one location and trampling that area down. The farmers were sure this wasn't helping their soil or compaction problem. They also know that keeping their own animals, which would require studying animal husbandry along with continuing their plant crop operation and all the learning that already goes along with that, would stretch them too thin. Yet the potential benefits of animal manure being supplied either from nearby or from the farm itself haven't been discarded. "We are currently looking for someone or a couple to come and live in another house on the farm and do an animal operation that might be a win win," White said.

     Successful farming includes realizing unknown wins and losses are on the horizon, but that one moves forward, regardless. When eco-farmers are trying to balance their own bottom line while exploring uncharted territory that can take an entire growing season or more to reveal the outcome, the going can get tough. But they are doing it, anyway.
     Though the Lonesome Whistle Farm owners' northern bio-region's climate is unique, the farmers themselves share certain pioneering qualities with many eco-farmers across the nation dealing with their own regions' challenges. Those qualities include innovation, the sharing of knowledge, fortitude, community connection and a humble and fun attitude. The title on their website's  "All Products Page" reads, "Really good food, from some really questionable farmers." There is no question that something really good, productive and promising is coming from their acreage in the Pacific Northwest's southern Willamette Valley.

------
RESOURCES:
Heritage Grain Conservancy: www.growseed.org

Organic Growers Research and Information Network with information on growing grains in the northeast: www.ogrin.org

List of project documents from the Willamette Bean and Grain Project:  www.mudcitypress.com/beanandgrain.html
Adaptive Seeds: www.adaptiveseeds.com

The Open Source Seed Initiative: www.osseeds.org
Restoring Heritage Grains: The Culture, Biodiversity, Resilience, and Cuisine of Ancient Wheats: by Eli Rogosa, paperback, July 2016
Custom Search