Down on the farm:

Day spas are finding successful, one-of-a-kind locations in rural settings



Photos and text copyright National Lilac Publishing. A version of this article by Barbara Berst Adams first appeared in Day Spa Magazine.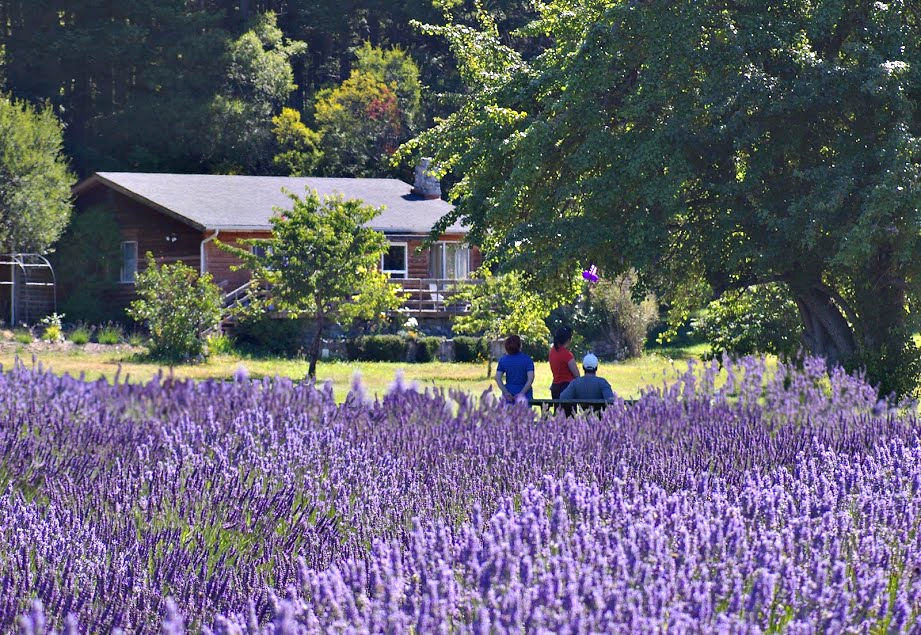 Building in the distance is the original location of Lavendera Day Spa on Pelindaba Lavender Farm
     Farms are the natural birthing places of spring lambs, new apple blossoms, and heirloom vegetables. But the birthing place of day spas? New trends are causing day spas to spring up on farms, including the day spa on a beautiful island lavender farm you'll read about below. As a past bodywork and Reiki practitioner, some of my most enjoyable treatments were given to clients on working farm locations, including my own farm. Can your current or planned day spa benefit from this unusual farm/day spa union?
It starts with a great farm in a great location
     A trip to Washington State's ferry landing in Anacortes takes loads of tourists to a group of emerald islands accessible only by boat or plane. On one of these spots of paradise named San Juan Island, the summer explodes with the heavenly scent of lavender grown on Pelindaba Lavender Farm, Pelindaba meaning "place of great gatherings" in South African Zulu. The farm's owners have succeeded at creating a destination farm complete with a lavender gift shop and on-farm activities for guests. Visitors, from children to elders enjoy walking amidst blooming lavender sprays, picking their own varieties to take home, observing lavender cooking demonstrations, and participating in herbal craft-making. The farmers extract the essential oils from these flowers in their own on-farm custom-made distillery. From the lavender and its essential oils, they handcraft products for culinary, personal, therapeutic, household, and even pet care.
---> Healing studio wall clock comes in sage green, gray, burnt orange and sky blue:

    Pelindaba's success with drawing visitors is fueled by a trend towards eco-tourism, and in their case, a branch of that called agritourism. Visitors and local community alike are trading generic resorts and fast food for chances to really get to know the local environment--its seasonal foods, flavor, scents and culture--that can be found no where else in the world. Whether Washington's lavender, Vermont maple sugar harvest festivals, Texas flower and herb farms, or Midwest pumpkin patches -- farms are cashing in on this trend, and so, perhaps, can your day spa.
     Bill Varney, owner with his wife, Sylvia, of Fredericksburg Herb Farm in Texas, grows organic herbs, flowers and vegetables, and also offers an on-farm restaurant, bed and breakfast, and a day spa named Quiet Haus Day Spa that offers aromatherapy with Swedish massage, body wraps, and European facials. Bill agrees that an on-farm day spa can be a win-win situation for both businesses. "It is a more laid back feeling," he said about the experience customers have when coming to an on-farm day spa, "and many people are inspired to walk the gardens, relax, and feel closer to nature." And it's no wonder that visitors to Quiet Haus Day Spa are inspired. Among the farm's charming old German garden ambiance, they'll find clusters of buildings bustling with farm and garden activity, such as the Poet Haus, where candles are handmade from plant extracts, herbs, oils, and beeswax.
     And it was Pelindaba Lavender Farm's beautiful purple fields and views that inspired massage therapist, Ciely Gray, to envision an on-farm day spa. "The farm was the inspiration for the spa," Ciely said. "I had been doing chair massage at the farm in the summer and saw what a beautiful destination it was. I approached Stephan Robins, the owner of the farm about the idea, having no idea where this massage venue could be located on the farm property. He owned a private home on the property which was being rented at the time. A few months later the renter decided to leave, and the home became available. I then approached some key therapists on the island to help develop the concepts and services. Thus the spa is therapist owned & operated." It operates in collaboration with the farm to evolve both businesses by sharing advertising. Ciely found the house to be exceptionally welcoming to visitors of the day spa. Initially, it needed new paint, some new electrical outlets, and of course, some decorating by the day spa owner. But even furniture, in this case, was provided by the farm owners. "It was amazing how beautifully the house was set up to create a spa," Ciely said. "When clients walk in the door, they walk into a cozy living room. It's very humble in that sense. They are then offered citrus water or hot tea in the winter while they fill out a health history form for us, and take a minute to relax before their treatment."
     While a farm location came upon Ciely as the initial idea for a day spa, this idea works for day spas already in existence whose owners are looking for places to expand or relocate. If you already have a good reputation in another location, you can bring your reputation as a new "crop" to offer customers as an enticement for the farm to allow you to operate there, thus drawing more customers to the farm. In Ciely's case, she took advantage of being brand new, and allowing the farm's customer-pleasing crops to actually inspire the day spa's name. "We wanted something unique, pertinent to lavender, and simple," Ciely eventually chose the name, "Lavendera." "I found out after we came up with the name that it means washer woman in Spanish. I liked the humble reference this implied. I also liked the international flavor and sound of Lavendera."
     This day spa now offers regular services as well as a seasonal menu and package specials that include services from other local businesses, such as bed and breakfasts and kayaking tours. The regular services include relaxation massage, reflexology, body exfoliation and energy work such as Reiki and polarity.
Sharing promotion with the farm and others

     When asked about the benefits of overlapping the marketing with the farm, Ciely responded, "It can boost both businesses, save money with shared advertising, and has double the draw." Pelindaba Farm gave Lavendera its first exposure. And now, the day spa is connecting with other local businesses to create packages and share advertising. "We have worked with the B&B's and the motels on the island," Ciely said, "creating packages such as a 'Couples Getaway,' that include nights at their establishments, possibly a kayak trip, and a voucher to be used at the spa. We share links on our web sites if we have created a package together." Next, Ciely said she is looking into collaborating with the local bike tours, Elderhost tours, and more kayak tours.
Seeking a farm near you…

     If seeking a farm day spa location, look towards the smaller, innovative and eco-friendly farms operated with entrepreneurial spirit. These farms draw crowds interested in health and escaping the rat race. Yet accessibility is also important. "I would say to be sure that the farm is easy to locate and get to for customers," Bill Varney said.
     It can be very helpful (if not imperative) if the farm you're considering is already participating in agritourism. The owners may, in that case, immediately see the mutual benefits of your day spa operating on their farm, drawing new farm customers to them, as their farm draws new clients for you. Some farms throw many festivals around the year, or already operate bed and breakfasts or teach on-farm herbal cooking classes. Such operations are more apt to have such issues as parking and crowd control already under their belts.
     Plant-crop based farms will be less of a concern as far as human/animal safety and cleanliness issues, and will provide a peaceful setting and seasonal display along with nature's sounds of birds and crickets. "As soon as people arrive on the property and see the fields, they sigh, as it is breathtaking." Ciely said. "People begin to relax immediately. I've had people arrive and start crying, as it supports the much needed break that most of us yearn for. In the summer, when the lavender is in full bloom, arriving at the farm is like walking into a dream that we usually only see in the movies. Here, it becomes real for a brief time and can be returned to again and again. I believe healing is enhanced when the outside environment supports the inner state one is looking for. The farm provides this opportunity."

     Farm animals can, however, also be a huge draw to your customers. Studies have shown that merely watching animals graze can decrease heart rate and blood pressure. Animals' acceptance of us just as we are, and their attitudes and antics, can draw us from our inner turmoil, allowing inner pressure to find relief so our bodies can begin to resolve some of their own issues.

      Local flavor is also an important customer draw for the crowds seeking authentic eco-tourism. Be careful of the generic "pretend farm" that poses as a farm and is actually a theme park. While this could work economically for some audiences, the draw for eco-tourism crowds is, again, authenticity and local culture… another reason your day spa, when located on such a farm, may benefit from picking up some local farm inspired day spa offerings, making your day spa one-of-a-kind while also offering familiar and popular brands. For example, a farm spa bonus could include freshly prepared natural skin treatments, such as facials made with the healing ingredients of fresh farm-made yogurt, fresh-picked organic pumpkin, or cucumber right off the vine, all of which have been shown to be exceptional ingredients for the skin. Herbal aromas grown on the farm can also add to the overall one-of-a-kind healing sessions. Ciely suggests collaborating with the farm in this effort. While her day spa offers other popular product brands, lavender is definitely a big part of this day spa. "Create (the day spa) as a cooperative effort to enhance both businesses," she said. "The thrust should be the brand of the spa -- lavender is our key presentation even though we have unscented & alternative aromas available."
     Below are suggestions on creating a smooth business agreement between you and the farm you'd like to operate on, especially if it will involve renting a building on the farm. But stay open to other possibilities if the farm doesn't already have a potential building to operate in. Depending on the services you provide, yurts, portable "mother-in-law" cottages, and even sturdy wall-tents can provide unique atmospheres for day spas, to be owned either by you, your business or the farm. Several agritourism farms I've visited, including a farm in Idaho, use wall tents for visiting farm guests, and their tents stay up year round even in snowy weather. A tent could offer the opportunity to try out the farm-spa idea temporarily before investing in a permanent situation, or to just operate on a farm seasonally during the most tourist traffic.
     While walking amidst Pelindaba's blooming fields, one can almost feel the vibrations of the huge numbers of buzzing honeybees. When operating a day spa in a natural environment, it's helpful to think ahead on many issues, including insect and fly control, which can need different approaches than for city problems. But keep in mind that day spas operate successfully amidst city pollution, traffic noise, pigeon-covered parking spaces and questionable neighborhoods. A farm's atmosphere, with a few adjustments, may be just what the client's inner doctor ordered. As I was giving a Reiki treatment to a client in a healing room in my farmhouse, I panicked as the loud shouts and rumbles of the farm's haying operation going on outside penetrated though the open window, drowning out the usual sounds of wild birds and softly clucking poultry. I hadn't expected the farm workers to arrive until tomorrow.

      "Hey, John! (amidst excited barking farm dogs) the top bails are about to tip, hold on!" The window needed to stay open for a cooling breeze, so I just continued with the treatment. After it was over, the client stretched and smiled. "I grew up on a hay farm," she said. "Those sounds took me back home like nothing else can. That was the best treatment I've ever had!"
The Legalities

     All individual business owners should consult their own attorney and other legal advisors about their unique situations. Gregory (Greg) J. Lawless of The Lawless Partnership in Seattle, Washington, is (in spite of his eye-catching last name!) a reputable attorney with much experience in business enterprises. Here, Greg contributes points you may want to cover with your own attorney, advisors, and with the farm owner.
Start with zoning: "A property zoned agricultural and or residential may not be zoned to allow some types of businesses to operate," Greg said. "Usually the answer can be given by the local planning department."
     Once you have the correct property location and description, either ask your planning department directly, or, just request a general list of what's already allowed in that location. Local planning departments can usually supply you with a list of all the types of operations, from bed and breakfasts to dog kennels that can be operated on that property. Don't give up immediately if you don't see day spa on the list, especially if your day spa is still in the planning stages. Some locations only allow homeowners to offer massage from their own home and they can license that business and give it a name. Find out how much can be added to this simple structure to create your day spa. For example, if a separate permanent structure isn't allowed, maybe a temporary structure, such as the wall tents described above, would be. You may find you can operate it after all, but may have to make just a few adjustments.
    Your attorney can then help you decide if you'd like to incorporate your business, and if it would be beneficial to allow the farm owner to purchase a share.

Length of Lease: While a residential tenant may rent month to month from a house just as it is, businesses may be putting a lot into their advertising address and building improvements, and they need to know that they have a reasonable length of time to be able to operate there. Also, from the farm landlord's standpoint, a tenant may need changes made in the building in order to operate the business, and if the farmer pays for these changes upfront, he or she may want the lease amount to include payback, and to be long enough to eventually receive a full refund. For both the landlord and tenant in such a case, a longer lease is usually needed. "Most commercial leases are designed to make sure the landlord gets back their tenant improvements," Greg said, "Plus a certain rate of return, along with, of course, their rents. For that reason commercial leases tend to be longer. So, the length really will depend a lot on the number of improvements the landlord will have to make." Of course, if the farm will be gaining larger amounts of customers because of the day spa's presence, this factor may be considered when negotiating any payback for changes the farmer made in his or her building.
Upkeep and Maintenance: Who is responsible if the roof leaks or the sound system falters? "Usually the landlord is responsible for the basic, fundamental aspects of a building, such as roof, foundation, walls, and basic code compliance," Greg said. "However, anything associated with the tenant's proposed use is usually passed on to the tenant by either having the tenant pay it directly, or amortized over the course of the lease by higher rents."

Hazard and Liability Insurance: Farmers certainly want to be protected from losing their property to claims made by their tenants or your clients. And your business needs protection as well, so how do the two of you work together? "Normally the landlord carries hazard insurance on the building," Greg said. "Most leases are triple net, meaning that this cost is passed on to the tenant.  In addition, most leases require that the tenant maintain liability insurance, typically for at least a million dollars, and name the landlord as an additional insured. Usually the tenant will also maintain leasehold insurance on their personal property, and some leases actually require that they do so. People don't realize that not all insurance policies are alike, so you can't generalize on what is or is not covered. So it would be wise to sit down with your lawyer or insurance expert to determine, given the policies you are acquiring, what is and is not covered. If there are gaps in coverage, normally there is a way to expand a policy to cover those gaps. 
     Do keep in mind that if insurance and its costs seem overwhelming upfront, an on-farm day spa can often try out the territory before committing to such expenses if an insurance "rider" is offered by the day spa owner or even the farm owner's insurance. Riders charge a small amount (sometimes as low as $20) for a very short term additional million-dollar coverage. This could allow, for example, a temporary day spa to set up during a long festival weekend held on the farm. That could help determine if more time and expense are worth investing. The farmer just has to be absolutely certain the rider -- whatever company offers it -- will protect what is sometimes a family's generational farm from succumbing to a lawsuit.

Fine Tuning: "Most agreements need to be fine tuned to the specific situations," Greg said. And the day spa/farm partnership will certainly be unique to each situation. "Often, landlords have a set of rules that have to be followed. In (your day spa's) situation, you would concern yourself with meshing a farm with a day spa business. So, livestock would be an issue. Odors could be an issue (manure next to a hot tub could take away some of the ambiance). Electrical loads could be an issue. Tanning beds, for example, need huge circuit breakers that may not be present in the small house. Noise could be an issue. There are a number of examples that should be thought through, depending on what the parties intend, and the details of the property."

UPDATE: This article was originally written for the day spa audience vs. the farmers themselves. But we've put it here pretty much as it was written because it shows farmers the viewpoint of the spa owner or bodyworker, and because it can be adapted by farmers, including farmers who have their own day spa or bodywork skills they want to weave into their farm's agritourism offerings. Since this was written, a previously unknown ordinance on rural businesses disallowing day spas in that location caused Lavendera to move to a small town location on the island instead, where it still thrives and uses the farm's products. All is well now, but it does illustrate the importance of knowing local ordinances upfront.
Though we will shift and learn from Covid-19, humankind is wired for gatherings and human touch. The need and market can never be removed forever.

___________________
You may also be interested in our article on natural horse farming, which includes stories of horses and ponies used in healing workshops and customer viewing on the farm.
And coming soon, an article focusing on goat yoga and other on-farm human-animal connections as forms of agritourism farm income.

Customize non-toxic, beautiful yoga mats with your farm's name, slogan, other text, and/or image:

Custom Search