Lavender farm succeeds with unique marketing strategy and agritourism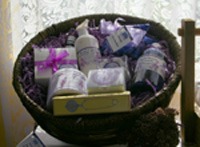 Display of Lavender Wind's products in the on-farm store
A version of this article by Barbara Berst Adams first appeared in Acres USA Magazine. Text and photos copyright National Lilac Publishing, LLC

     It was a breezy blue-sky day when my husband and I visited Lavender Wind Farm, a certified organic 8.75-acre lavender farm on one of Washington State's evergreen islands. The owner, Sarah Richards, who was gradually filling her acreage with her chosen lavender varieties, uses the system of vertical product expansion more than horizontal expansion to help the farm revenue reach its goal.
     In other words, Sarah stacks her lavender crop and farm with a diversity of many value-added products and agritourism activities rather than simply spreading out to more and more territory growing a single-variety lavender for wholesale.  The value-added products and services range from a unique product called a "piano tube" (explained below), and an on-farm lavender labyrinth for agritourism guests.
      "My ultimate hopes are to have this be a significant income for me as well as for my staff," Sarah said. "This is not a hobby operation." And each year, she got closer to her goal. "This farm is (currently) a major source of income for three employees who are employed almost full time. I still experience red-ink in this business. But, each year our gross income grows."


Location: Historical Farmland Reserve

     Lavender Wind Farm is located on Whidbey Island in Washington. Visitors can access this island by ferry and bridge. Though this very long island has many micro climates, the farm's exact location receives about 18 inches of rain a year, plenty of sun and lots of wind. Perfect growing conditions, according to Sarah, for healthy crops of lavender. The soil was originally rich prairie land, a valuable loam Sarah recognized immediately when first looking at the property.
     But along with taking advantage of near perfect growing conditions for lavender, Sarah is also tapping into her property's unique situation to attract visitors to the farm. The land is part of a national historical reserve, reportedly the first of its kind, set aside by Congress nearly 30 years ago to preserve and protect a rural community. Its intention is to "protect what is timeless while accommodating change." Various working farms and other historical and rural enterprises thrive here, and buildings as old as 100 years are preserved and given new life as homes or businesses. Most of the land is privately owned, and it retains its historic landscape with the help of the reserve's trust board, which makes sure the land is used in a way to ensure historic and natural resources are protected.

     With a location like this to help attract visitors, Sarah not only sells to locals and various retail outlets, she also sells to agritourists who visit the island and farm.

The making of the farm

     "I didn't buy the land with the idea of a lavender farm in mind," says Sarah, "though the field we bought had been farmed for over 100 years. Turning the land into fields has been a slow, evolving process. I (first) bought a 5-acre piece, of which maybe four of the acres were a hayfield, the rest in woods. The soil is sandy loam and doesn't need much amending, if any, at all. The reality of a lavender farm slowly grew and took over the place.

     "After buying the hayfield, we built the house and garage, and I started the first lavender field. I covered a small section with black plastic to kill the grasses and weeds underneath. The plastic stayed in place for about four months over the first summer after the house was complete."

     Sarah hadn't yet felt the need to amend her soil to a large degree. "Sometimes," she explains, "we put some lime around the drip line of the plants, but not every year. And we do when we first plant them. This is great soil, and the crop is perennial, so we don't have to do much. Lavender thrives in adversity and neglect, don't forget its native habitat is the harsh chalky cliffs of the Mediterranean. We will be branching out with other herbs and a few vegetable crops. At that point we will analyze the soil to see what it needs. So far, in our small garden areas we can get by with our own compost and mulch."

Products
     Sarah and her crew produce a treasury of lavender products. They include live lavender nursery plants, sachets, lavender wands, lavender-scented goats' milk soap, hand lotion, gardener's hand cream, lavender cleanser, Herbs de Provence, lavender spritzer, fruit and lavender jelly and jam, eye pillows, honey, cookies, muscle soothers, massage oil, lavender shampoo, dried lavender bunches, wreaths, and dried lavender for cooking and crafting. Some of the culinary lavender is made into mixes such as a lavender lemon shortbread mix and a lavender chocolate chip scone mix. The farm's most unusual product is something called a lavender "piano tube" which is meant to be placed inside a piano to keep mice away.
Product Markets
     Sarah's diversified marketing strategy is a perfect example of market variety, and tapping into local niche outlets. Lavender Wind products can be purchased online, direct from the farm, or at a growing number of festivals and retail outlets. For example, the farm's products are part of the Uniquely Whidbey Trade Fair, where local products, services and foods from Whidbey Island are featured. Anna's Tea Room, a tea house in a nearby tourist town, serves the farm's lavender tea and jams. Even one of the island's hospitals carries Lavender Wind items in their gift shop. Other farms also carry Lavender Wind's  products. When owners of another lavender farm from Ohio visited the farm one year, they showed Sarah their cookbook, and she showed them her culinary lavender products. They both now carry each others' items at their farm store.

     "Lavender and herbs are really a year around crop," Sarah explains about her marketing strategy. "They have their relatively short fresh season, then they are dried. At that point they are preserved and can last for the rest of the year. It's not like growing vegetables for market. So, we work hard to dry and process the crop, then make the value-added products. Getting attention is a constant struggle. There are many little lavender farms, they are really a dime-a-dozen. Trying to make it only on the internet with just lavender items for sale won't produce the kinds of sales needed for slow season stability. After all, our internet competitors are in Texas, Sequim -- Washington State, Australia, New Zealand, Ohio, New Brunswick... with the exception of the deep South, there's a lavender farm everywhere - even in Hawaii! So we do a lot of marketing -- brochures, ads, articles, website, personal phone calls. The phone calls are the hardest for all of us. But we are constantly amazed at the reception we get. The people we call have often heard of us and more times than not are interested and friendly. Who knew?"

Agritourism

     Agritourism could be one of the main strategies that set lavender farms apart from each other. "What makes each of the farms special is the place, the people, and the feeling you have when you're there," says Sarah. "The products vary somewhat, so it can be fun to discover what the next farm is doing. But, for the people who can come visit our farm we reserve the best -- the view, the farm, and the warm welcome. These are all available year around, even when the purple in the fields is just a memory. We feel so lucky to be here and are glad we can share it with others. Sounds rather hokey, but it's really how I feel. I grew up on an island where there is so much private property that it was hard to get to a beach in some parts. I thought that was ridiculous, so when I found myself with a piece of property with an incredible view -- I knew I was going to share."

     Sarah has made her farm very attractive to farm visitors, whether they are the product of  planned visits or spontaneous stop-offs by those who see their farm signs along the main highway.

     She had recently opened her farm up for event rental, such as for weddings. Word of mouth generated from people stopping by for short-term reasons can be an excellent source of future rental income. Guests stop off to buy nursery plants, to walk the labyrinth (which is intriguing even when the lavender isn't in bloom, which was the case when we visited), or to browse the on-farm store. For the summer bloom time, Sarah holds a formal event which drew more than 3000 the summer before our visit. Now named "Lavender & Wind Art Festival -- with a Taste of Provence," Sarah invited local artists and musicians, and sold her own products at the event. "The festival brings a lot of attention to the farm," she says. "We started it to do that, plus provide a venue for artists to sell their art. We also provide a fundraiser for our local county extension service. We don't charge admission, but if it gets too crowded, we will."

     Sarah also offers a series of classes. These have included one on making your own lotion, in which she teaches how to use a lotion base along with chosen essential oils and colors, and a class on making lavender wands from her farm-grown crops, and for which she also serves lavender lemonade to the students.
    The addition of agritourism and on-farm visits evolved gradually, and weren't free of challenges, especially when it came to children. "Having visitors come onto the farm is an ongoing issue," Sarah says. "Each year we try to improve the experience. We started having a port-a-potty when people asked to use the bathroom and I (realized I) didn't want them coming into my house. Kids are always going to challenge us, so we now ask them not to throw rocks in our pond. They are like little testers to see how secure our system is. If they can find something to do that is hurtful to themselves or our farm, they will. Usually it's minor the first time, so we get to fix things up to take care of what they just discovered. We work hard to make this a fun place for kids, but not in a Disneyland sort of way. Rather, we let them see and discover the beauty and fun stuff of nature and farming. They love our tractor (which they can't climb on)." 

     But Sarah has had enjoyable encounters with young kids as well. "There is a language school on Whidbey, and the woman who runs it is French," she said. "She wanted to have a summer camp group of French students come for a visit to the farm. So we arranged a tour for them. Several carloads of people came with about eight kids, maybe 10. They ranged in age from about four to nine. I'd spent a school year in southern France when I was in college so I took them around and tried to explain it all in French. It was a challenge. At the end, some of them helped with screening some of the lavender, and I took a picture of their hands. I love that picture because it reminds me of the importance of all of us working together and that we are all from various backgrounds."

Hired help

As mentioned, Sarah employed three people full time. But during the summer, about nine people work the fields, help make products such as wreathes, care for the nursery and staff the shop.

     "The transition into hiring employees came slowly," Sarah says. "I started with just me and occasional friend volunteers doing the work. In my second year I realized I wouldn't be able to do it all myself, but was uneasy about committing to employees who would be dependent on the farm to any significant degree. So, I found a high school girl who was an excellent worker and we both trained each other. I'd not had employees when she arrived and was frightened by the thought of dealing with any. But she had a great work ethic and she loved people and was charming to the people who came by or who came to our booth at the farmers market. This combination of hard work and pleasant attitude raised my expectations. I learned how to guide her and listen to her ideas."

The next couple of years I hired more high school kids to work. Some of them were really great, some were problems. Since I like kids, it was good either way because I felt I was able to help both kinds of kids."

Sarah also tried using contract labor organizations as a source of crews to weed the fields. She said they were very good workers, but now that the farm's revenue has grown, she'd stopped using them because she has now committed to employing the three workers full time, and she uses them to weed, which worked out for a while. But even that situation is evolving. "Now," she says, "I am considering a hybrid of full-time managers and occasional weeding crews."
Future plans

Sarah stewarded  Lavender Wind Farm towards a healthy bottom line. Each year, they also finished the planting out of that second 3.75 additional acres purchased after the original five. "One year our neighbors had free roaming chickens," Sarah says. "They'd come onto our property and roam the fields, picking out bugs and little shoots of weeds. I loved having them there. At the same time the sunflowers I'd carefully planted along the boundary and between some sections of the fields weren't growing. And our honeybee guy told us to make sure they didn't go near his hives because they'd eat the bees. So, reluctantly, I had to ask the neighbors to fence in their yard to keep the chickens on their own property. I hope to have a small section of property for my own chickens someday."
Update: Since this writing, Lavender Wind Farm has expanded by turning a quaint bungalow in the nearby historic town of Coupeville into a manufacturing kitchen and gift shop.
Custom Search
---