Growing olives in cooler USA and Canadian temperate climates

Copyright National Lilac Publishing, LLC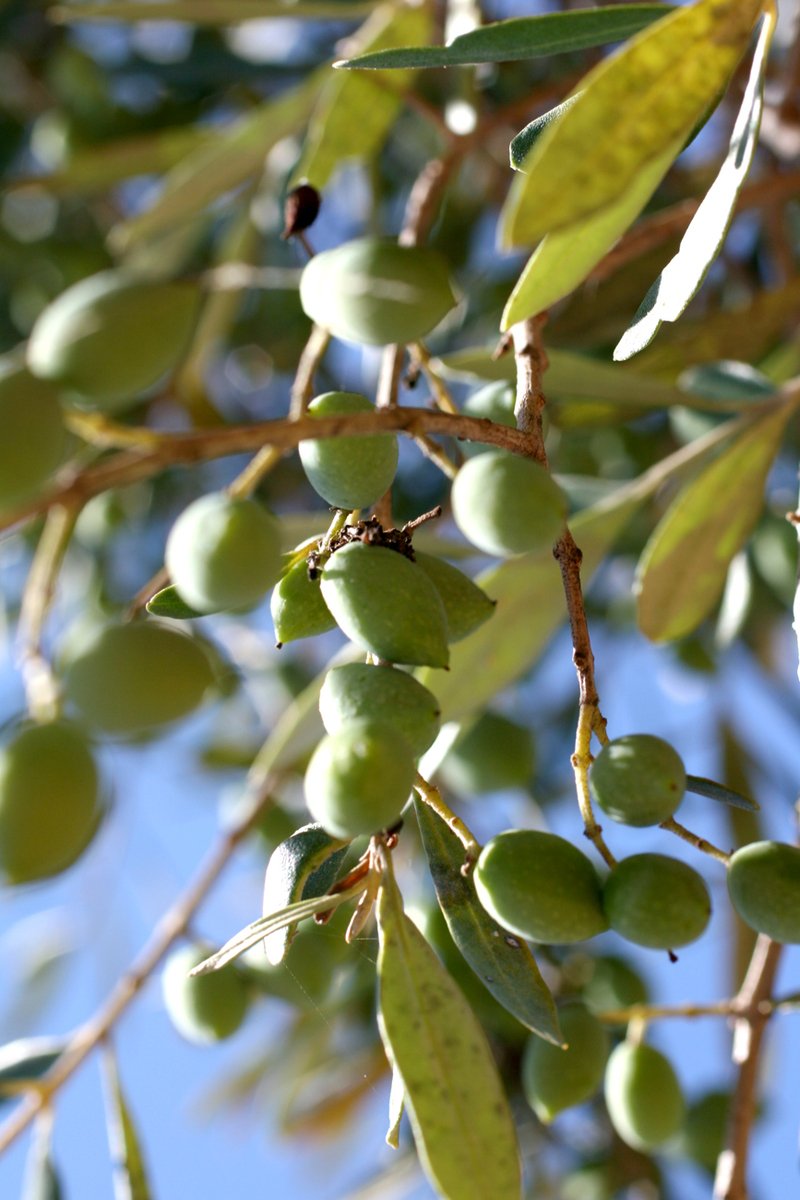 by Barbara Berst Adams   A version of this article first appeared in AcresUSA

In the USA, olive trees grown to produce quality extra virgin olive oil (EVOO) or table olives are spread throughout warm weather regions including California, Texas, New Mexico, Arizona, Georgia and Florida, with most grown in California. In general, olives do well in a Mediterranean climate with growing seasons that are long and hot balanced by somewhat cool winters. But a seemingly unlikely olive growing territory is emerging in the green, moist, cooler summer climates of the Pacific Northwest USA and western Canada.

In areas starting at USDA hardiness zones 8b that reach into western Oregon, Washington, and the western Canadian coastal areas, outdoor olive orchards have begun producing olive fruit which can be processed into quality extra virgin olive oil or table olives.
David Lawrence, owner along with his wife, Carmen, of Oregon Olive Trees, has farmed and evaluated many cooler weather olive varieties on seven acres for the last ten years. Currently with about 70 different cultivars, his goal has been to discover which varieties grow the best in this type of climate. Amidst his in-ground olive tree varieties, he grows cooler weather nursery olive tree cultivars on the acreage in Amity, Oregon. He installed one of the smallest centrifugal oil mills available at the time of purchase, and now produces 100% Oregon grown and milled extra virgin olive oil and table olives. The olive products are for evaluation and home use, as this is not a licensed production facility. However, the Lawrences sell a large variety of olive tree nursery stock from their in-ground mother trees.
As well, the owners of Red Ridge Farms of Dayton, Oregon tend their vineyards, winery, nursery and, as a destination farm, are heavily involved in agritourism. They have planted about 17 acres of olive trees and installed an olive mill they've aptly named, Oregon Olive Mill, which can produce 1000 pounds of extra virgin olive oil per hour. The owners of Red Ridge Farms are Ken Durant, Penny Durant, and their son, Paul Durant. Paul is general manager of the entire operation according to Libby Clow, olive oil program ambassador at Red Ridge Farms, and she reports he is a certified master olive miller. They have been pressing oil from their own Oregon grown trees since 2008. Today, the farm presses and sells extra virgin olive oils from olives sourced from nearby northern California, as well as those they harvest from their own Oregon olive groves.
Examples of olive cultivars that produce in cooler weather

Though some olive cultivars are favored specifically for oil vs. table olives (and visa versa), other varieties can be dual-purpose, meaning they can produce fruit for both oil and table olives, and growers can choose which value-added crop product they want to produce.
Among David Lawrence's many cool weather olive cultivars, one variety he has used for table olives is Amfissa. "Amfissa is my most productive traditional table olive cultivar," he said. "Even the Greeks prefer Amfissa:  80% of the Greek table olive crop is Amfissa (not Kalamata). Since the goal this year was to learn how to make Oregon Farm Direct legal table olives, makes sense to start with what would make the most money!"

As another example, he has also used Frantoio to make extra virgin olive oil. It is not, by any means, the best or the only variety that he uses to produce quality oil in the Pacific Northwest. "Frantoio is problematical in several ways," Lawrence said. "but is outstanding in several more. It is one of my most cold hardy trees, and hence they are -- tree for tree -- the biggest in the groves. And while usually a shy (low production) bearer, after last year's intense cold it was just dripping with fruit. The cost of picking is directly and inversely related to how much fruit is on the tree, hence it made sense to mill the most productive trees. And, another advantage to Frantoio, according to judges at olive oil competitions, Frantoio grown in long cool climate growing seasons makes for oil with one of the best chances to win gold medals at competitions."
Though northern California olives are sourced for Red Ridge Farms' oils along with the addition of their own Oregon grown olives, several of the olive tree varieties they do grow in Oregon include Arbequina, Leccino, Mission, Pendolino, Koroneiki, and Picual.

Aspiring growers in cooler summer climates who want fruit production need to be aware that just because some olive types grow well in cooler summer areas doesn't mean they will actually produce fruit in, for example, every Pacific Northwest climate. Cloud Mountain Farm Center is a non-profit community farm located in Everson, Washington. It started as a private farming enterprise in 1978 and expanded into research and propagation of various plant varieties that thrive well in the Pacific Northwest. However, Everson and its surrounding area averages more than a foot of snow in winter, and has less heat and a shorter growing season than some other areas of western Washington State. Cloud Mountain offers a single olive tree cultivar, Arbequina. "We sell these more for their ornamental value than for the fruit, and we tell our customers just that," said Terry Maczuga, spokesperson for the farm. "They are hardy enough to grow here."
When choosing olive varieties for planting, pollination needs must also be considered.
Maczuga, for example, said that the Arbequina variety is self-fertile. So even though they don't produce fruit in their climate, if the single cultivar was planted in a more favorable location, or given micro climate protection, fruiting could occur. "They can also be grown in large containers," Maczuga said, "and our stock plants that live in the greenhouses do fruit most summers."
According to California Rare Fruit Growers (CRFG), olive trees are mostly wind pollinated and many varieties are self-pollinating. However, CRFG also states that even self-pollinating cultivars might do better with a pollinator, and compatible pollinators need to be chosen for that purpose. As well, Lawrence states he believes all olives grown in his cooler weather need cross pollination.

Soil conditions for cooler weather olive trees
David Lawrence shared insights on both the type of soil his own large collection grows well on, as well as thoughts on other types of soil conditions. "I have only one basic soil type," he said. "Jory, silty, clay loam of varying thicknesses." He recommends anyone considering growing olives get a soil test, hopefully specifying their chosen crop. "My soil test came back recommending six tons an acre of lime, about three times what the Ag supply company had ever previously done! I settled at four tons an acre."

As far as other soil types, Lawrence said that olive trees are thought to be pretty similar to their wild and tough ancestors, not having been altered much by humans through the centuries. "They do tolerate almost the full range of soil types, from almost pure sand to soil so rocky it almost isn't soil. Of course, what is probably best for them is the same as for most anything you grow in your garden: good well cared for organic garden soil."
However, Lawrence points out that soil drainage is important. "Olive trees definitely have problems with poorly drained soils," he said. "If there is ever seasonally standing water, don't plant an olive tree there!  Of course, the best land for olives is sloping hillsides at least 100 feet above the 'flatlands.' Given that, standing water is rarely an issue in the best groves."

Acid soils can be a problem, also. "The worst mistake I see people making when planting olive trees," he continued, "is to plant olive trees directly into an old run down flat and compacted pasture. Not only is there high risk of root asphyxiation, but olive trees just won't tolerate a really acid soil."
Processing table olives  

Table olives can be processed from fresh olives for home use. And, if interested in processing them for sale, olive growers can contact their county extension agent to find out what rules and regulations apply for legally selling on-farm processed olives. Small-scale food production regulations are always being updated, and each county is unique in how it interprets processed food sales. So, it's important to keep up to date locally when selling is involved.
Whether table olives are made from green or fully ripe black olives, or somewhere in between, the fresh olives need to be preserved as soon after harvest as possible. Black olives, especially, need to be processed within a few days of harvest. Some growers believe fruit  processed within hours of harvest would be even better.

Olive fruits bruise easily, so gentle handling is necessary. Because of the bitter compound, "oleuropein," that fresh-picked olive fruits contain, they are first cured to remove the bitterness before being placed into their final preserving medium and containers. There are numerous ways to cure fresh olives, each with unique pros and cons. Four popular ways are by soaking olives in water alone, in a brine solution, in a lye solution, or using dry salt to leach the bitterness from the fruit.
A free PDF from UC Davis -- http://anrcatalog.ucdavis.edu/pdf/8267.pdf -- describes the process of safely making table olives from fresh olives.

Producing extra virgin olive oil
The typical operation for processing extra virgin olive oil without excess heat (cold pressed or cold extraction) as a value-added product for sale is quite involved worldwide. Many EVOOs produced for sale, including regional and artisan varieties, are produced in mills using a centrifugal system which does not involve excess heat (though there can be some warmth involved) nor harsh chemicals for the oil extraction. And the mills must be licensed in order for the resulting oil to be legally sold.

In rarer cases, some extra virgin olive oil sold in the USA is still produced closer to the ancient ways with stone presses that, though they are usually mechanized, also use zero or very little heat to produce oil. Bariani Organic Olive Oil of Central Valley in California, for example, uses a stone wheel and hydraulic press. That family-owned business produces large enough amounts of oil for their farm's customers with their stone press, although their oil is offered in limited quantities.
But even in Crete, Greece where olive oil has been produced for thousands of years, there is no current "tabletop" micro-scale production of extra virgin olive oil, at least not when extracting oil for sale. Nikki Rose is the owner and founder of Crete's Culinary Sanctuaries which offers interactive educational programs in Crete, focusing on culture, nature, sustainable organic agriculture and traditional cuisine. She described it this way, "Here in Crete, we have village-based licensed olive oil factories. Though their equipment varies, these days it's primarily the centrifugal system. If a family has a small grove, they make an appointment to press their olives at the factory. If there is a factory they prefer further away from their groves, they can opt for that. The disadvantage of that is it's a trek, and harvested olives wait for no one (oxidation sets in quickly).

"In the USA," she continued, "the situation is similar. Olive growers who don't have their own mills take their crops to the nearest mill. If a new grower in the Pacific Northwest has no "community factory" they incur massive costs to build their own factory and embark on all that goes along with selling/distributing their product."
Lawrence, who has offered community milling days on his property for producing oil for home use only, further explained: "(Olive oil) presses are considered obsolete in the olive oil world. Centrifugal mills are now almost universal." And while "cold pressed" is a customer valued label that people associate with literally pressing the fruit, the centrifugal mills are also considered a cold processing method when they're operated properly.

While Lawrence purposely chose a small centrifugal mill and originally paid around $10,000 for it, the cost of larger systems can easily reach into six digits (see below). If aspiring cool weather olive growers want to produce enough extra virgin "cold extracted" olive oil as a value-added product, it currently appears the growers need a licensed mill nearby if they don't invest in their own. And it has to be close enough to press the olives quickly after harvest because of the above mentioned oxidation that diminishes their potential oil quality very quickly.
Yet with the recent awareness of adulterated olive oil in the marketplace, locally or regionally produced eco-friendly quality EVOO could see an upsurge in popularity. But precautions before jumping into any olive oil niche must be taken. A productive olive orchard grown for oil, for example, will not be of much value if its neighboring licensed mill closes down. One source of commercial sized olive mills listed prices ranging from $60,000 to more than $300,000. Other additional milling equipment such as tanks and scales are an added cost. As far as other regulations regarding the sale of locally produced EVOO, such as bottle labeling laws, one's county extension agent may be able to point out where to find the appropriate information.

Although there are very inexpensive small hand cranked wheat grinders and tabletop apple juicers, equipment for home olive oil production is a little more involved. Homesteaders who just want oil for their own use and who live too far from a mill can purchase hobby sized presses from olive wholesalers such as Olive Oil Source which has a warehouse in California. Their hobby press is priced at just under $3000 (not including shipping or taxes). Or, smaller producers can search online for "making olive oil at home" where people share how they put together their own presses and show the process they go through to extract oil for their own use.
Beyond oil

Growing culinary olive tree varieties for other farm revenue sources other than oil could also be considered. Olive trees have an ancient history with an exotic appeal to those who live outside their normal growing climates. Olive groves may attract agritourists for farmers who  want to generate a customer draw for a variety of other products the farm offers. Libby Clow of Red Ridge Farms explained it this way, "As far as the olive trees and mill are concerned, we see a lot of interest, which certainly translates to agritourism on our property. The trees attract people from traditional olive growing cultures around the world. For people who have immigrated to the US and haven't seen an olive tree here --- something as simple as walking the olive grove can bring back a sense of place or a connection to 'home' that had previously been missing for them here.  
"Others come to see the trees because of an experience they had traveling abroad and tasting fresh extra virgin olive oil," she continued. "They want to relive that experience in a local context. We also see a lot of visitors who come simply out of curiosity. Our annual Olio Nuovo Festival to celebrate the completion of the olive harvest and milling season attracted 1500 in 2014. The trees, the mill, and the extra virgin olive oil bring a lot of people up to the property, and we encourage people to explore the property, to taste the product, and to get to know the people and operation on a personal level."

Because olives worldwide are already one of the most cultivated fruits in the world, those seeking to plant it as a future revenue stream do need to be aware of market niches within the world of olive production, such as the cool weather cultivation described here as well as other possible olive voids that need filling. "We have now obtained Kosher certification for our 2014 extra virgin olive oil production," Clow said,  "which came out of a need that was expressed to us for a kosher certified high quality extra virgin olive oil."
Although extra virgin olive oil is a trendy (and massively and sometimes fraudulently produced) product, as mentioned above, locally produced table olives could also be explored as a unique homegrown crop that might appeal in a grower's area, such as the Pacific Northwest, that's not well known for producing local table olives. Commercially canned olives line grocery shelves, and a lot of the USA commercial table olive crop is reportedly used in the pizza industry. But a unique, locally produced artisan table olive product could be researched as a value-added product for a farm. It could be valuable for those with CSAs or other direct marketing summer crop farm businesses looking for preserved food products to extend the yearly cash flow. With the growing interest in fermenting and naturally preserving local foods, on-farm demonstrations of the table olive process could also possibly serve as an agritourism draw. Even though, as with any crop that's further processed into a legally sellable food product, one must check with authorities to find out what regulations must be adhered to,  at least with table olives, the expense of an oil mill is eliminated.

As well, olive leaf extract for its reported health benefits is another value-added possibility. Or, even just the leaves themselves sold to other individuals or entities to extract the leaves' properties. Some directions for making olive leaf extract suggest using fresh leaves whenever possible, although dried leaves are also said to suffice.
But regardless of whether one is interested in outdoor grown olive trees for oil, table olives, nursery crops, olive leaves, or just the agritourism draw of a fruit producing olive grove, thanks to the years of work by some patient and dedicated Oregonians, olives are spreading into new and cooler territory.
_______
For incorporating agritourism into your olive ranch, be sure to see our various farm insurance and home business insurance articles. Depending on your goals and the state where you live, there may be ways to safely protect your property for very little cost.

Custom Search