Fun with May Day baskets
Text and photos copyright National Lilac Publishing, LLC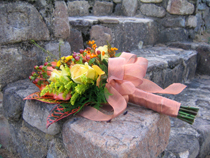 Some of us are restoring the beauty and magic of old-fashioned May Days in various ways, including the making and giving of May Day baskets. They had been an American tradition for a long time. No one agrees exactly when the May 1st tradition started of placing bright, hand-made baskets filled with flowers on the door handles or porches of neighbors. But the idea was to position the May basket, knock, then run to hide before getting caught.
Perhaps it was simply a natural outgrowth of spreading the joy of flowers during this beautiful springtime month.
And see this article for how to make and dance around a May Pole!

Making May baskets:
The paper cone May Day basket: Making these types of May baskets has been a favorite of children for a long time, including during the 1950s and 60s. The classic simple door handle May basket is made by rolling square sheets of colored construction paper or thin paper plates into a cone, then stapling near the pointed end to keep the cone closed. For the handle, either staple the ends of a one inch wide strip of construction paper to each side of the wider top, or punch two holes to tie on ribbon for the handle that allows it to dangle from the door knob. Flowers are stuffed into the cone, and the adventure of delivery is ready to begin.
The ribbon tube: These work especially well with bouquets that have long smooth stems (see photo at the beginning of this article). Just wrap stems with wide ribbon, then tie a bow at the top. This method works best when the May flowers will be laid on the porch instead of hung on the doorknob.

The fancier cone: For making May Day baskets along with the fun of using a compass, draw a nine-inch diameter circle with a compass onto construction paper, cut it out, and decorate one side of it with markers, lace, sequins, any bits and pieces that have been stored up for this special occasion. When complete, cut a straight line from the outer edge to the center, and shape the circle into a cone with the decorated side on the outside. Staple the bottom and open edges together, and attach the handle, which can also be long pieces of scrap lace, shiny cord, ribbons, or even approximately one-inch wide strips of more paper.
An even fancier fancy May basket cone: To get even fancier than that, beg last year's wallpaper remnants from your local home improvement store. The beautiful squares are too small for the entire basket, so you can first make a large enough circle from construction paper as described above, then a smaller circle with the wallpaper remnants which are glued to the larger circle, then formed into cones.
Making May baskets with recycled materials: You can also fashion May baskets from very clean used berry baskets (see photo at left), yogurt cups, juice cartons, large paper cups and tissue boxes. This project turns May Day into a lesson on recycling and reusing.

Flea market May Day baskets: Flea markets and second hand stores are often filled with used vases and baskets, but avoid the temptation to put May Day flowers in a glass or ceramic breakable vase on the porch. It can too easily tip and shatter before it's discovered and brought inside.
Extras to put inside the May Day baskets: You probably want to avoid turning the May basket tradition over to the fate of the Easter basket. It has gone from a basket that reflected spring: eggs, grass, baby chick, duckling and bunny trinkets -- to a day for kids to expect to receive more video games and electronics, with grandparents mailing $100 gift certificates for the nearest electronics store. But a few flower-related hand-made items might be appropriate for some of your deliveries. Here are some possibilities:
- Pressed flower gifts such as bookmarks and cards, perhaps even using hand-crafted paper made with flowers.
- Handmade floral soaps
- Flower seeds inside hand-folded envelopes
- Flower sachets
- Flower scented candles
- Live potted flowers from a garden store such as petunias or pansies. Just make sure they're already in bloom.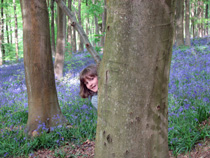 Delivering May baskets: May baskets are traditionally delivered to neighbors. It's great fun to sneak up to the door, either hang the basket or set it on the porch, knock or ring the doorbell, and then run and hide where you can peak out and watch the recipient enjoy the surprise. Tradition states that if the recipient sees the May basket giver, he or she gives them a kiss! May baskets can also be delivered to nursing homes, and one group of 4-H-ers made May baskets and delivered them to a mapped out group of senior citizens living at home.
In today's world, sadly, unexpected knocks at doors can cause anxiety for homeowners, and children should never be allowed to go to strangers' homes alone, if at all. But with proper supervision and knowledge of which homes would welcome a May basket and be a safe recipient, the tradition can continue to bring joy. Also in today's world, porch areas are often recorded by the homeowner for safety reasons. So make sure you feel safe if a video of your child's delivery goes viral. If not, a straw hat and avoidance of looking at the camera might be a fun disguise to protect the child's identity enough from an online audience, but for the homeowner to still feel safe and be pretty sure of who it is.

See if there's a local flower farm for part or all of the flowers you plan to deliver: It's fun to gather flowers from our own backyards and gardens. But another option is making arrangements to go to a nearby micro eco-farm that either sells bunches of flowers from a flower stand, or even better, has a u-pick flower patch.

---
Custom Search