Adventures for knitting clubs –

knitting for charities and far beyond

...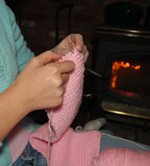 Copyright National Lilac Publishing, LLC

Knitting clubs are very popular group activities that transcend generation gaps. There are even men who knit on their own or join other groups of knitters.

As you'll see, knitting for charities is only one of many group activities knitting clubs are adding to their fiber adventures.

Knitting is considered meditative and even healing. Its rhythm allows the hands to create a new physical reality on earth while the mind is free to visit and socialize. When learning new projects, the mind is challenged and enjoys the satisfaction of conquering a new skill.

Additional fun for knitting clubs:
Go on grown-up field trip adventures to regional fiber farms. Did you know a type of Angora rabbit called the Silk Angora produces a fiber similar to real silk? Discover the life of animals that produce specialty fibers such as mohair, angora and alpaca. Fiber farms in your location that allow visitors can be found at localharvest.org or agritourismworld.com.

If you buy any products from local eco-farms, it's another way (along with knitting for charities) to give back by supporting local farmers.

On an island near my home, a group of nuns operate a fiber farm and allow visitors to see their llamas and other wool animals. There are actually American citizens who've traveled to Europe just to check out the fiber animal from which they planned to eventually purchase wool! But many locations offer surprising fiber animal adventures near home.
Knit in new places. Knit in the ballpark. Either do it independently as a group activity for your knitting club, or connect with the Stitch and Pitch program for starting something larger. Gather in coffee shops, parks, beaches, aboard a ferry boat, or take a short train ride to knit as a group (believe me, for the latter two, you can't have even a smidgen of motion sickness).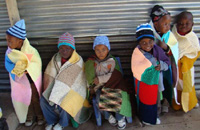 For teachers: Do Knit-a-Square for African orphans as a lesson plan

The Knit-a-Square program is great for using knitting in the classroom as a lesson plan.
School kids (great for homeschoolers, Sunday school or camps, also) knit squares that are made into blankets for orphans.

The link provided here leads to our Clickbank affiliate where the founder of Knit-a-Square has all the lesson plans and instructions laid out for you, even information on the orphans the kids will knit blankets for, and ideas for raising funds for the yarn.

Search for a handspinners' group in your region, and invite a handspinner to lunch to share her spinning skills while your group knits and enjoys her knowledge. Pay her in some way, if possible, and purchase some of her items if she has them for sale.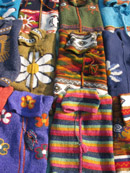 Contact your nearest farmers market about setting up a booth to sell hand-knitted items if your knitting club is large enough. Farmers markets are very careful about adding too many handcrafts and want products from local farmers, but they sometimes allow a percentage of locally hand-made goods as well. If your products are made from local farms' fiber, all the better.
Teach knitting to kids as a group. My kids enjoyed a knitting class for both boys and girls ages 9 to 12 in which they knitted sports headbands. Kids would also love knitting for charities, especially for babies, children or abandoned pets in need (see below).
Contact a homeschool group, private or public school, or local Parks and Recreation and ask about a need for an afterschool, summer or weekend enrichment class on teaching knitting.
Even if just one person in your group does most of the teaching, it's very soothing for kids to be amidst a whole group of other adults who are busy quietly knitting various items. Once everyone is knitting together, individual kids can ask questions or get encouragement from different personalities in the group, allowing for a more natural village-type of learning.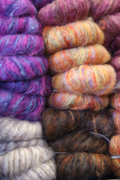 Teach recovering patients as a group. Contact Knit for Life which already has an organization for this project.

Knit-tourism: Make a list of many knit-related interests for your knitting club: fiber farms, knitting shops, and knit fashion stores in a nearby town (or your town own if it's large enough to have knit-related places your group hasn't seen yet), then create a self-guided tour for the day.
Re-enact one of the steps of pioneer knitting – dye your own yarn. Check out a natural dye book at your public library and dye white cotton yarn or other yarns the book suggests. Interweave Press has fascinating books on natural dye and other knitting projects.
Knit vintage items: Contact a local theater or costume supplier to see if there is any need for costume knitted items such as historic socks, scarves, and so on.
Also, Iva Rose Reproductions not only has beautiful vintage patterns re-purposed for today's knitters, it has a place under "opportunities" for people needing (and sometimes paying for) people to knit vintage items. For example, at one time, someone involved in a historical re-enactment group requested the replica men's sweater vest and scarf knitted by volunteers for the World War II Royal Air Force.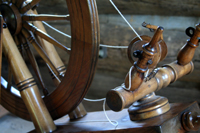 Enjoy a fiber fair demonstration. Contact your local agriculture fair organizers (fairs are usually in August or September) to see if there are any hand wool processing (carding, spinning, etc.) exhibitions going on at the fair this year. They should be able to provide you with a schedule of events.
Knitting clubs can go as a group to enjoy, then knit together afterwards while at the fair. You may want to bring a blanket you can all sit on together to knit. Picnic tables are usually available for eating, but they'd prefer you just eat at them and then quickly make room for others to sit down and eat.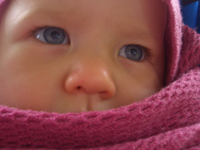 Knitting for charities: Locally, look for women's or family shelters, adopt a family during the holidays to knit for, knit for the homeless and deliver the items yourselves during safe daytime hours, look for local drives for foster kids, or sell your knitted goods at a farmers market or bake-sale style for a charitable local cause you want to earn money for.

Knitting clubs can also enjoy knitting for charities from these organizations:- Adopt a Native Elder (Utah)
- afghans for Afghans
- Algerian Action
- American Red Cross/Web of Hope
- Blankets for Deployed Daddies - Blankets for the Gulf
- Caps for a Cure
- Chemo Caps Cornerstone Crafters (Ohio)
- Cubs for Kids
- CureCaps Hat Project
- Forever Warm Halfknits (Dallas)
- Hat Box Foundation
- Hats For The Homeless
- Heart to Heart Angels (Boston)
- Heartmade Blessings
- Knit With Love
- knit4charities (Australia)
- Knitting for Brisbane's Needy
- Knitting For Marines
- Knitting for Noggins (Arkansas)
- Knots-of-Love
- Lilybugs (San Francisco)
- Mother Bear Project
- Newborns in Need
- On-line Angels
- Project Linus
- Rectangle 6 X 9
- Red Scarf Project
- Shawl Ministry
- Snuggles Project (for lonely shelter animals)
- Socks for Soldiers
- Stitch For A Cause (Louisville, Kentucky)
- Stitches From The Heart
- The Preemie Project
- The Ships Project (knitted items to deployed troops)
- TLC For Angels
- Touching Little Lives (Ohio)
- Warmblankets.org
- Warm Hearts Warm Babies (Colorado)
- Warm Up America
- World Vision

---
Custom Search