Kitchen cosmetics for fun or profit
Copyright National Lilac Publishing, LLC

Kitchen cosmetics made with a group of friends is similar to cooking clubs except instead of food, you find hand-crafted spa and cosmetics recipes to make, try out, and use (and sometimes give away or sell).

Anti-aging facials, herbal hair treatments, handcrafted soaps, bubble baths, pedicures… This group activity's interest might spring from wanting pampered luxury evenings with the girls to wanting to save money on bath products, or just desiring handmade natural bath and body products for yourself and family, and wanting to make them in a shared group environment.
Groups who make kitchen cosmetics together may also have the goal of making them as gifts or using them as fundraisers. And some may want to pursue earning a home-based profit from them with their group of friends. Urban friends may want to start an online handcrafted bodycare business. Small scale farming readers may be looking for value-added products to create from their organic herbs, goat's milk, and other crops.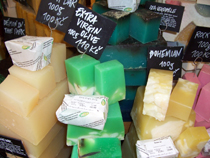 But, wait a minute, who said men can't enjoy this as well? There are backyard farm and small scale farming couples who earn a living together from herbal bath and body products they both make from their crops, and they love what they're doing. Links or stories about some of these micro eco-farms can be found at the Center for the Micro Eco-Farming Movement.
Fun kitchen cosmetic group activity variations:

Research favorite kitchen cosmetic recipes made for fresh use, then gather to both make them and use them together. Bring the ingredients potluck style and make the bodycare products. Then light an aroma candle and start a movie, put on favorite music or meditation audios, and enjoy foot soaks, chamomile hair dressings and facials together.

Naturally Skinsational – Rejuvenating Skin Care Recipes, a business affiliate which the author says was featured on the Morning Program (I don't watch that show, but she plays a video of it on the book's website), emphasizes freshly made kitchen cosmetics. When made fresh, she and I both believe their anti-aging ingredients, such as vitamin C, are at their highest capacity with no industry chemicals to try to stabilize them.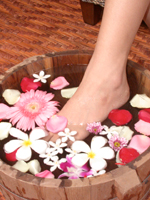 Choose recipes for next week's gathering, and do it all over again. As time goes on, you'll find ones that work particularly well, and you may want to stick to these and just gather to make and apply them as a group activity.

Leons Anti-Aging Beauty Secrets- DIY Anti-Aging Skin Care Recipes, another of our business affiliates, emphasizes recipes from around the world using carrier oils, essential oils, kitchen and organic fresh ingredients for products like eyelash serums and Ayurvedics from ancient India.


Choose and make homemade bath and body products that the group members need to use at home, (bath balms or herbal toners you use on a daily basis) then report back on your experiences during the next gathering (sort of how book club members discuss the latest chapter), then make more of what you liked, and research new products for future gatherings.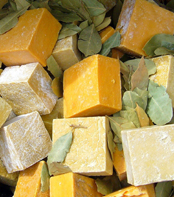 Make non-perishable bath products in bulk together to save money and/or provide more natural bodycare necessities for yourselves or your families. These might include hand crafted solid soaps, perfume oils, homemade liquid shampoos, dried herbal bath teas, and bath salts.

If you make enough products together as a group activity, you may even be able to purchase wholesale ingredients for luxury perfumes or other spa treatments. Our affiliate downloadable book, Sweet Smell of Success tells how to get ingredients for making your own fragrances.


Make non-perishable kitchen cosmetics as above, but for the intention of making gifts or fundraisers. Plan to make them for everyone's immediate family for the holidays, give them to women's shelters whose residents could use some luxury, or make gift baskets for a fundraiser. For example, grow chocolate mint (easy to grow even on a porch) to make kids' natural castile soap bubble bath, or chocolate mint scented clear glycerin soaps with surprise toys inside.

(If you want to look into selling handcrafted cosmetics for profit, it's a good idea to start out with just giving them away or donating them as fundraisers at first. The "energy" is different when making them to please others, but your actual business reputation isn't yet on the line. It's great practice.)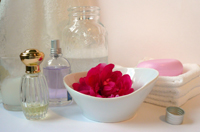 Explore the idea of turning your kitchen cosmetics club into a group activity business.

Possibilities include:

- Making exclusive bodycare products for local B&Bs and independently owned inns. They use them in their bathrooms and sell them retail to guests.
- Setting up a web store.

- Contracting to make fresh facial and other bodycare products for weekend guests at high-end spas. Locally grown, fresh and "live" ingredients picked and whipped up just hours before use are in vogue at some of these destinations.

Some local day spas may also be open to the idea. You may be able to find certified local farmers in your area for extra special ingredients. The Handcrafters Companion: Create Spa-Quality Products for Fun & Profit is a favorite of our Clickbank affiliates which tells about many possible spa products such as masques, bath bombs, exfoliating body scrubs, bubble baths, handcrafted soaps, lotions and so on.

- Selling from home. As my rural readers know, they can be sold direct from the farm store, roadside stand, farmers market or as an option in your CSA.

- The author of Sweet Smell of Success which shows readers how to make and sell their own perfume oils also discusses selling at arts and crafts fairs, out of your own home, or starting a boutique.

- Teaching kitchen cosmetics to others as a group business. Some in your group might prefer the backstage marketing or accounting jobs while others enjoy direct teaching. For rural folks, such classes are great agritourism draws for eco-farm owners who grow the crops for these products and are looking for fun activities to attract people onto the farm for direct sales.

More thoughts on kitchen cosmetics as a business

Group activities that lead into earning income often start out as just-for-fun projects that turn into home businesses. Once you make a commitment to at least exploring the possibility, I strongly suggest getting a free small business mentor and making a business plan with a free tutorial through the non-profit S.C.O.R.E. These wonderful people can help you make sure you're following regulations in your location, help you through your business plan, and even help you with liability questions and setting up a mini-corporation to help protect your assets, if you choose. And all for free!

The Handcrafters Companion: Create Spa-Quality Products for Fun & Profit mentioned above also thoroughly discusses legally labeling your signature products, wholesale and raw ingredients for packaging and making the spa products and creating a brand image. As well, it goes over free or low-cost ways to promote your niche bodycare business. (Photo to the right by Dominik Gwarek)
---
Custom Search