Start a publishing company on a shoestring
Copyright National Lilac Publishing, LLC

I first learned to start a publishing company when I was eight. Making books and magazines just seems to be something I have to do. Since then, I've done it for profit as well as hobby and for groups of kids.

Does your family or group of friends want to start a publishing company? Maybe self publish books on a niche, boutique level; or eventually sell books big-time mainstream.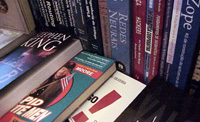 The print on demand bookmaking method
Many who are looking for how to start a publishing company come across the print on demand method. I've used this method and it can be a stepping stone for starting your book publishing business. Basically, a company with a huge, expensive print on demand machine charges you a few hundred dollars to do a "set-up" of your book. Then, you only order the number of books you need, one or ten at a time.
The quality is "okay" as long as it's black and white inside. The odor is sometimes a little strong, but quality is getting better. The price per book, though, is pretty high, so you have to charge quite a bit per book to make any profit, which cuts down on the number of buyers.
The offset or letterpress method
Other artist or author publishing cooperatives sometimes print books in quantity with offset or old-time letterpress printers, paying for several hundred or several thousand books upfront and finding a place to store them until orders come in. Book printers like these cannot print just one or a handful of books at a time. They will quote you a price once they know the number of books, pages, size, chosen type of paper, etc. At that point, you can figure out the price per book to see if you're able to profit. Realize that unless you only plan to sell books directly yourself (people come to you and pay you directly) sometimes more than half of the book's price goes to middle men and women who distribute the book to stores and libraries around the country. So if it turns out 1000 books will cost $5 per book to print, and you decide to charge $15 per book retail, by the time the middle people take their cut of $6 to $9 per book, you'd end up with $4 to $1 per book sold.

I've used this process also. The quality of books is very high. You do have to buy many books upfront and hope they sell, as well as find dry storage until they're sold (which can further cut into your profit if you have to pay for the storage).

The e-book method
E-books started out pretty flimsy. They were for folks who couldn't get the real thing -- a book in print. Most people didn't want to sit at a desk to read a long book from a computer. Eventually, e-books morphed into an additional option to the print book. Today, with the sophistication of electronic reading devices such as the kindle and nook added to the online reading ability of desktops, laptops and even smartphones, Amazon now sells more e-books than print books.
People starting their own publishing company will now sometimes start out with e-books because there is so little risk upfront, no storage necessary for unsold books, and so on. Ultimately, they usually prefer to give readers an option -- an e-book plus a handsome perfect bound print book edition. And for the latter, they'll usually choose the print-on-demand option rather than printing many books upfront, seeing as though sales for print versions may be low, and updates to the book may happen before old editions are sold out.

Selling your books

When you start a publishing company, you're not just "making books," of course, you're also selling them.

Today, while book authors still do traditional book signings, speaking engagements and press releases, much advancement has been made in home based business website ownership as a way to draw your books' audience from around the world.
To oversimplify, you create a website with articles that would lead people via search engines interested in your book to your website to read the articles, and then they see the books on that same topic for sale.

The website method has been my most successful method for selling my print books, even those published by royalty publishers. Though I do speaking engagements, am interviewed by the press and so on, the website method by far has been the most productive. I even put up a website for a non-fiction children's book that hadn't been released yet, and people from around the world were finding out about it and inquiring before it was even off the press!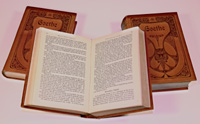 I use two website methods for books. One is the SBI method which teaches you how to take your website to the top of the search engines while you're building it, and has tools that come with it to keep you at the top. They're now an affiliate, and I like them because they show you how to make your website earn income on its own on top of your book sales. You can learn online, or it's also taught at some colleges and universities.
One woman who started a print magazine was sinking financially. She decided to use the SBI method for an online magazine instead, and it made her so much money that it now funds a print version of the magazine again.
My other website system is to have my husband, who's good at html code and web building from scratch, be my webmaster which is hosted at just a regular web hosting company, and he manually does a lot of what the SBI system does for me.
Starting a publishing company for books and magazines
For those who want to start a publishing company for books, an ideal set-up might be a website that operates like an online magazine to attract your books' fans and that also draws additional income on top of book sales, while making quality books as orders come in.
For those who want to start a publishing company for a magazine, you may want to do as the lady above did, build an audience and income with an online magazine until you can afford a print version.

Magazine publishers may also end up in the book publishing business with e-books or even print books as their magazine audience grows. Collections of past articles can make highly desirable books, and a popular magazine already has a willing audience, something traditional book publishing companies envy.

The publishing cooperative
For cooperative author publishing or groups who want to start a publishing company together, some of the jobs needed can be broken down into personality type… who likes to work with their hands while their minds wander, who likes computers, numbers, marketing… and so forth.
Tasks include:
Making the books
Business, legal and accounting
Mailing the books out
Marketing, customer service, and website
---
Custom Search