Youth group fundraisers and causes: Make good money, mold good minds
Copyright National Lilac Publishing, LLC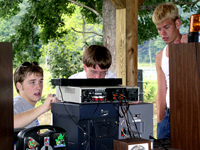 Youth group fundraisers and causes are spectacular group activities for today's youth. They learn process, delayed gratification, money savvy, and a new way to be happy without junk culture and substances.

In fact, studies show that human's greatest yearning is to be valued and have a life of meaning. Make it real for them with youth fundraisers and causes.

Favorite causes:

For the below local causes, kids get to see the faces of the people they actually help. Contact the particular non-profit or organization involved and ask how a youth group can help out. They can be done on their own, or matched with a youth group fundraiser (see below) if they want to earn money to supplement these activities.
- Babysit or just give attention to younger kids in homeless shelters.
- Prepare and serve food at a local soup kitchen.
- Tutor young children at an elementary school.
- Teenagers from Windemere Park Charter School take a quilting class (which is a great educational and group activity on its own), then present the finished quilt to a local homeless shelter.
- There are many ways to help animals in need. This article for parents looking for ways to improve family dynamics can be adapted to causes for youth group activities.

A sample of youth group fundraisers:
Some of these can be used as fundraisers for youth groups on their own. Others have a cause attached to them already, but you can adapt and choose any cause you want.
- Adapt Megan's fundraising and cause: She sells cider and hot chocolate at Christmas and earns hundreds of dollars to buy fleece for blankets and scarves which she makes and distributes to homeless people on the street. Here's her full fundraising story.
- Teach your youth group to knit as a fundraiser. This article on Knitting Clubs has many ideas for fundraisers and causes youth would enjoy.
- Make handmade Valentine's as a group activity to sell as fundraisers: Valentine Ideas: Historic Valentine Assembly Line.
- Youth groups, especially girls' groups, might love to make kitchen cosmetics as a youth group fundraising product. Here's our article on this possible activity and fundraiser for women which can be easily adapted to youth.
---
Custom Search