Small home business ideas for yourself, for groups to start together, or for individuals to earn income by working with groups
Copyright National Lilac Publishing, LLC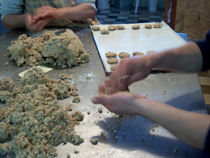 Is your group of friends seeking small home business ideas you can start together? Or, are you seeking home business ideas that allow you to work with groups of people?

Throughout the Great Group Activities site we mention ideas here and there on how some people turn fun group activities into profit. But this hub really focuses on that aspect.

Below, Amy Rose provides you with an overall template for your group-related home business. (See further below.)

Maybe you're already involved in hobby-only group activities with friends such as jewelry-making, backyard farming, knitting or your kids' sports, and would like to consider earning a primary or secondary stream of income from your group's activities. Numerous shared-interest groups have turned their hobbies and friendships into sideline or even full time incomes. You may be able to do the same with your shared-interest group activities.

Or, perhaps you're an individual who loves being involved in family or friendship group activities (teaching craft workshops, putting on kids' parties, running summer camps, facilitating events) and now want to earn income from them. You may offer group activities from home, or just have a home office and teach or facilitate outside the home. The template below gives a general overview of the process with a little "pretend" success tip that can make a big difference in your success.

But first, here are some tips and detailed resources for specific unique group-related small home business ideas and how-tos:

- Start a publishing company with friends or family: Overview of ways to make print books and e-books and start book or magazine publishing on a shoestring.

- Want to sell crafts with family or friends? Here are lesser known methods for this most desired career among small home business ideas, plus ideas for more crafts if you need them.

- Want to start a home food business with friends or family? Food products are becoming popular among small home business ideas.

- Start a dog walking business with your friends: A great group cooperative example and tips to succeed.

- Profit from Knitting: This article shows many fun activities for your knitting group, along with ways to profit from knitting as a home business for your group.

- Selling hand-made jewelry: Do you and your jewelry-making friends want to earn income from your creations?

- Selling hand-made day-spa products: Do your friends love kitchen cosmetics and would they enjoy starting a business together?

- Start a kids' camp: Do you feel you run a kids' camp anyway as a parent, so why not turn it into a business?

- Life Coaches: Consider "group life coaching," or start a group life coaching cooperative

- Teaching writing workshops: Transform students of all ages with these tips.

- Teaching other types of workshops: Do you have a craft, skill or unique knowledge you'd like to earn income from by teaching workshops? -- perhaps fly-tying, ancient pottery techniques, guitar, or the Gaelic language.

- Seeking rural or farm small home business ideas? This link takes you to one of our editor's book's on "agritourism" which is bringing people to your farm or rural area for food festivals, cheese-making classes, workshops, B&Bs, gardening tours, farm camps and so on. See also our link to the Center for the Micro Eco-Farming Movement below under backyard farming.

- Backyard farming: Join with your friends to start a backyard farming business.

---------
-Work at Home Moms (or Dads) Free Master Course: Any of the small home business ideas above that your group starts will benefit from its own website. Here, real, successful work-at-home parents show how their websites turned their small businesses into successes, with additional income streams coming from just the website alone. This is our affiliate offered by the Solo Build It company, but you can learn from it whether you use SBI or not.
---------

Start to finish general template for group activity-related small home based business ideas:
First, brainstorm how you could monetize what your hobby group makes (jewelry, knitted items, quilts, dried herbs, candles, etc.), what activity your group does (coach kids, walking club, gardening), or the topic of the group you'd like to teach or facilitate (children's crafts, gourmet food parties, personal journalists).

Just start a list of related small home business ideas regardless if any ideas are plausible, and that will start the pouring out of more ideas, one of which will eventually be the diamond in the rough.

Here are some for starters: Could your walking club lead walking tours to tourists in your town? Could you teach workshops in private homes, after school to children, through your town's Parks & Recreation, or at senior centers?

Could you monetize your creative writing skills by organizing a creative writing retreat, offering evening home journaling parties to women's groups, or could your cooking club demonstrate gourmet or seasonal cooking at various kitchen shops or parties? Could it start a catering service? How about selling tangible food products?

Could your quilting group contract remarkable one-of-a-kind quilts for every B&B's bedrooms in your region? Could your gardening friends meet regularly at a certified kitchen (churches and schools have them for low rent) and make non-perishable salsas or syrups for sale at your local farmers' market or a roadside stand?

2. Narrow down the small home business ideas. Narrow down the list to 3 to 5, then think on them for a week or so. Thoughts will surface when you least expect it and when you're not trying.

You'll also come up with ideas such as, "Start slowly with a one-week kids' day camp, then grow it into a full summer kids' enrichment school." Then, make the one final starting choice from those few small home business ideas.

3. Choose jobs. If this is a group effort, have each commit to specific jobs. What role would each person involved in your group activity want to play? Some may prefer the backstage organization and marketing to actually teaching the classes or making quantities of products for sale.

4. Become the great pretenders. This is one of the greatest yet most overlooked tools for success with small home business ideas. "Pretend" you have a business going first with actual deadlines and volunteer customers before your real business' reputation is actually at stake, and see how it feels and see what little quirks need to be smoothed out.

For example, if your cooking club wants to sell jars of salsa from your home-grown heirloom tomatoes, first give your group a solid goal of 25 jars of salsa to create by a specific date, but give them away as gifts or to a food bank that accepts homemade foods. If you want to teach personal journaling to small groups of people, offer one of your workshops for free as a fundraiser for a charity so you can practice with real students before you actually begin.

5. The small home business plan. Unless you already have a business guru in your group, write a business plan with an experienced mentor. You can contact S.C.O.R.E. and obtain a free business mentor and go through their free business plan tutorial from beginning to end. Don't rush. This is a big step.

By the time you finish with your mentor and plan, you should have a legal name for your business, a bank account, an operating plan (such as whether you want to form a small corporation), marketing plan, and should have all legalities taken care of such as rules on selling homemade food in your location.

6. Start your small home business! Now it's time to open up shop. The above business plan will have smoothed out office and marketing details for you. So turn the key on your marketing plan whether that's putting up fliers, sending out press releases, or advertising your classes through the local Parks and Recreation fliers. Enjoy your first customers and first paychecks.

You can tweak your business plan here and there because things never go exactly as planned. But if your accounting plans created from your business plan say to return most profits to the business for the first year, stick with it rather than splurging so yours will be one of the small home business successes.
---
Custom Search