Small group activities for short get-togethers
Copyright National Lilac Publishing, LLC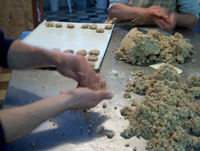 Looking for small group activities for just a few friends or a family for the afternoon or a couple of hours?
Take them back to the area of their minds that loves to explore, experiment, and make something together

When group activities include making something by hand, a surprise innate contentedness that comes from creating with the hands with others almost always shines through. Even when the activity is at first done tongue-in-cheek, such as the macho friend of one of my relatives who ridiculed the idea of sitting down and decorating easter eggs, found himself not wanting to stop and talking affectionately about the activity for weeks to come.

Unique small group activities:

- Find a craft book at your public library, or shop at a nearby craft store for short projects appropriate for activities with small groups, such as making ornaments, painting glass bottles (save wine bottles for this), making beads and jewelry, or building and painting wooden boxes from kits.

- Find a homesteading skills book at your library instead and choose one of the how-tos for your group project. Look for how-tos on food preservation, dyeing yarn, baking bread, making noodles from scratch, woodworking, or making quick cheese, and so on.
(Another article meant for teachers or homeschooling parents has fun, quick, small group projects related to homesteading you can adapt for your gathering.)
- If kids are involved, make "real" playdough (recipe below). This project is great for small-number group activities of mixed ages, because kids ground their energy by working cooperatively with adults first, then feel safer to go off on their own with their new playdough so parents can then have quality adult time. This could also be an activity just for adults if making the playdough as gifts for kids. Or, find a recipe online for making dough that can be fired, decorated and glazed to make beads for adult costume jewelry.

Playdough recipe: In a saucepan, mix 1 cup flour, ½ cup salt, and 1 tablespoon powdered alum (in grocery store spice sections or craft stores). Then add one tablespoon of oil, one cup of water, and mix thoroughly. Cook over medium heat until mixture reaches the consistency of mashed potatoes. Remove from heat, let cool to where it's still warm but can be touched with hands, and add 2 tablespoons of vanilla and a drop or 2 of food coloring. Work the color in, and if you want more color intensity, add another drop and work in until you have the color saturation you like.

Make a new batch for however many colors you want. Store in airtight containers.

To make the above project into a small group activity, have participants help measure and stir the ingredients, then have them help work the colors in once the mixture is cool enough.
Make sure the timing of the group's project is relaxing

Choose a project that fits your time frame, but assume it will take a little longer. You could mix more than one project as well, such as making homemade crackers and then making butter from heavy cream in a jar while the crackers bake. "Jar butter" always takes a group to make it work because it involves shaking a jar of heavy cream non-stop, and participants need to take rest stops. Group activities like this should be seen as experiments, and if the results are a disaster, all the better.
---
Custom Search