Tips for planning family reunions
Copyright National Lilac Publishing, LLC

Planning family reunions can be stressful. But our assistant editor, Amy Rose, gives you lots of tips on how to create a very fun and special family reunion, with ideas for games, great food, family reunion T shirts and alternatives, a fun and beautiful location, lots of photos to enjoy afterwards, and a sense of family unity.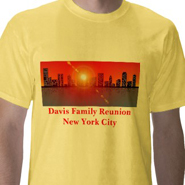 Family reunion T shirt ideas, badges, game prizes, take-home gifts

Traditional T shirts for the reunion: Often, planning family reunions means creating and ordering a family reunion T shirt for every member of the family to wear on the day of the event. Today, with family members sometimes spread out across the country, our affiliate print-on-demand online T shirt services give you a lot of reasonably priced options for making the reunion T shirt idea a success.

You can, of course, upload any images or text you want on any style or color of T shirt you choose and order all the sizes you need in one large order, passing them out at the actual gathering. However, you can also design the family reunion T shirt online and then have family members go to the site and order their own from their own computers wherever they live, putting in their own sizes and paying for just their own family's shirts. The former method means collecting money from family members (one of the least liked activities when planning family reunions), but there's only one large order to worry about arriving on time. The latter method makes money collection obsolete, but there can be concern that some of those leave-everything-until-it's-too-late family members may arrive apologetically without T shirts.

A family reunion T shirt alternative: If you want to combine the family reunion T shirt idea with an activity, consider printing just a black and white outline family design onto white or light colored T shirts, then bring fabric markers for everyone, or just for the kids, to color in the black and white design on the T shirts as a fun art group activity.

Another T shirt alternative… skip them altogether: Consider trading family reunion T shirts for family reunion badges. It can take a lot of time for one person to figure out T shirt sizes for everyone when planning family reunions. Plus, not everyone always likes to wear T-shirts. Yet, it's fun to have each family member wear something that unifies the group. Family reunion badges are one-size-fits-all and can cost less than $2 each. They allow family members to wear whatever shirts they want to the gathering.

Family reunion take-home or prize gifts or other forms of customized clothing: The same affiliate print-on-demand company that can create your family reunion T shirts online and custom badges of your very own design allows you to make custom family reunion hats, mugs, jackets, totes, posters, sweatshirts, hoodies, ties, calendars and barbecue or chef aprons. For all of these, you can order just one or many, there's no fee for designing, even if you don't order.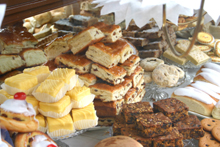 Consider a themed potluck: Planning family reunions often means one person or a small group is mainly in charge, but even those furthest away and the busiest like to feel they've contributed something valuable. Potlucks can save hundreds on catering and much time on picking up bulk foods at warehouse stores when each person or family contributes one simple item.

And when you add a theme to the potluck, the challenge makes the planning for food even more fun. Come up with a theme such as something that celebrates the season, the local family reunion destination, or the range of ethnicities that make up the family. Then ask the distant relatives to bring something lightweight, non-liquid and nonperishable, ask the very busy ones to bring pre-made drinks such as sparkling juices, and those nearby with enough time to bring homecooked main dishes, side dishes, munchies, desserts or to bring their own barbecue and be the chef in charge.

More thoughts on food when planning family reunions: If you want to plan a family reunion that makes everyone feel welcome, plan more than one main dish, more than one dessert, and more than one drink option at your main meal so those with diet health restrictions, allergies, registered carnivores and confirmed vegetarians can feel as though their food choices are important and valued. The barbecue can easily accommodate both hamburgers and vegetable kabobs. Drinks can include an array of choices from commercial soda pop to organic sun tea, and desserts can include at least one suitable for diebetics, a wheat, gluten and dairy-free choice, and organic apple pie made with unrefined sweeteners.

Do your own amateur photo shoot or put together a digital family reunion collage instead of hiring a professional photographer. When planning family reunions, you don't want it to end and realize there was never a photo of everyone together. Professionals are good at making sure hordes of people are all represented well in a single family photo. But with digital cameras, even the small, inexpensive digital cameras, you can set up your own photo booth area and take multiple photos without cost, which assures you will find at least one photo of each person that's useable.

Or, to help get teenage boys away from their portable video games and teen girls away from texting their friends back home during the gathering, give them the job of taking digital photos of the reunion, making sure there are at least three front shots of every person who attends. Delegate one adult with a digital camera to make sure to get at least three front shots of the teens as well. This helps assure there's at least one good photo of everybody. After the reunion, have a digital collage or digital album made up with a shot or two of everyone and put it up on a free private hosting site such as Shutterfly, allowing individuals to view it online, and at their own expense and under no pressure, purchase (often very inexpensive) prints from their own computers.

Take a game or craft activity inventory of family members: Ask them what interactive non-video games they already have laying around their homes. Crocket? Scrabble? Jigsaw puzzles? Frisbees? Lawn golf or plastic baseball sets? How about surplus activity materials? Colored chalk for the kids? A shoebox full of crayons and unused coloring books or posters? Then schedule in time for various family reunion activities.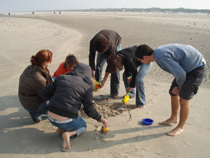 Look into state parks when planning family reunion locations: State parks can offer some of the least expensive yet most beautiful places for family reunions as compared to privately owned commercial destination sites. Some even have covered or indoor facilities. Do a search of your chosen geographical area's state parks to see what they offer. Realize, though, that you may not get the same guaranteed spot reservation options as you would a private, higher priced destination.

Plan activities for all personalities: Keep in mind when planning a family reunion that not all people are comfortable being forced to be the center of attention, and some get overwhelmed in crowds after a certain amount of time -- but it doesn't mean they don't want to be part of the family reunion!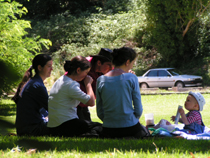 Therefore, plan ongoing activities for many personalities. A plastic bat and ball softball game is good for those still physically active, group activities for the less active can include board games such as scrabble that allow conversation and observation of the larger group while still involved in the game.

Set up situations for quieter one-on-one or small group conversation and catching up with others' lives with groups of three chairs set up in nooks here and there, and/or blankets spread on the lawn for small chat groups to gather. Plan for activities that allow even a single person to remain in the midst of the reunion yet become involved in an activity, such as setting out jigsaw puzzles. You can find jigsaw puzzles that represent family interests or family histories, and you can even have last year's family reunion photo made into a puzzle.

Plan a unifying project that allows everyone to contribute on their own terms: For example, lay out a large unbleached muslin tablecloth and ask everyone to sign his or her name with provided permanent fabric markers, then use the tablecloth for the main meal.

Represent family history: When planning family reunions, be sure to give everyone a sense of roots by somehow honoring the family's history. This could be as simple as a card table set up with flowers and the wedding photo of the patriarch and matriarch of the family, an area of older photo albums, or a family tree poster.

If planning family reunions for blended and/or adopted families, you may be interested in our article on Adoptive and Blended Family Bonding Activities.

Allow flexible family reunion accommodations: When planning a family reunion's accommodations, offer places for everyone, but don't insist that specific people be put where they're told. Some people need privacy at night and don't want to tell everyone the reason why. Others get overwhelmed by constant busy-ness and need to take little private breaks now and then. Yet others feel left out if they're not in the midst of the crowded bustle both day and night! We're all different.

As one example for planning accommodations for family reunions, tell extended family what spaces are available at the chosen campground, what bedrooms, backyard tents or couches are available for those who need them, and yet also what nearby hotels are available for anyone who wants to make their reservation there. As couches or tents fill up, check them off and send updates via e-mail if you don't have a family reunion website planner.

Remember that family reunions are for supporting individuality, and aren't meant to be restricting "tribes" that ban the non-conforming outcasts! The tension that comes from Uncle Tom and Aunt Mable forcing everyone to sleep in the single-room 12-bed camping lofts they arranged can lead to future family reunions where certain people stop showing up. Nothing can unify a family as much as support and love for everyone's need to be an individual.
_______________

Throughout the Great Group Activities site there are many articles from treasure hunt planning to creative group beach activities that can be adapted when planning family reunions. For example, you may also be interested in our articles on:
Kids' Tablecloth Bee, which can be one of the fun family reunion activities for the grandkids and young cousins.
---
Custom Search