Outdoor activities for kids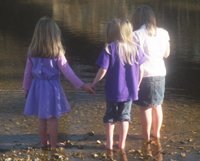 Copyright National Lilac Publishing, LLC
Looking for outdoor activities for kids' groups? If you're a parent, teacher, camp director, or anyone seeking new ways to take kids into the outdoors and nature, you've come to the right place. Here you may discover ways to restore this missing link in today's childhoods.

You may be surprised at what's available for your group of kids
Concerned about Nature Deficit Disorder? While some simpler times of an earlier century may be gone, some old past treasures can be resurrected for today's young minds if done properly. But even more exciting, the post-modern green movement has opened new doors for many fun children's outdoor adventures and gatherings that restore health, happiness, imagination, and even increase intelligence.
Your group can achieve remarkable changes with nature
With articles such as Creative Beach Activities and Local Farm Activities Safari, you may notice our activities are presented in a unique way. They're our favorites for helping restore some of the childhood joy and desirable qualities many kids no longer experience or learn in this new "nature-less" era. Yet, they prepare them for a future in an incredible new global, electronic and green world.
Here are some of our favorite how-tos for outdoor kids' activities you can use with your group of kids. We'll be uploading more regularly.
---
Custom Search