Online drawing lessons and other resources for making art in groups from teens to senior citizens
Copyright National Lilac Publishing, LLC

While online drawing lessons (see resources below) certainly weren't part of historical art gatherings, people interested in various arts used to gather in "salons" to discuss, practice and perfect their shared artistic interest.

Now, non-artists who just want to "play artist," or serious beginners, and even more serious self-taught art groups can gather as a group activity to either use art as a form of healing self-expression, or to better themselves in art as a talent.
Making art as an adult or teen is an important expression not meant just for professionals. It can heal emotions and expand the brain's intelligence. I've facilitated various art groups for non-artists and I remember one left-brain oriented man who was drawing and finally felt that "shift" that comes in the mind from drawing. "G___ this is fun," he said, as he kept focused on his drawing, lost in a new world he previously didn't know existed.
Online drawing lessons:

With video or online drawing lessons, your group can gather around the screen with their art supplies and paper, and follow along. Your public library may have various beginning art and cartooning videos available. And here are a few from our affiliates:
- Downloadable tutorial on drawing 200 different animals, step by step. Very fun!

- Beginning watercolor and beginning realistic oil painting online art lessons. Taught by a master artist.


Tips and resources for adult and teen beginning art salons

Mandala drawing or coloring:
Mandalas are sacred geometrical designs usually composed with the use of various circles. They're a popular activity for small groups and considered an art that can help access higher parts of the brain.

There are simple downloadable mandala coloring pages, books on how to draw your own, and online drawing lessons for mandalas. Health food stores and spiritual book stores sometimes have bulletin boards where local people who teach mandala art put up fliers. They might be available to be hired to come teach your group.

Adult paint by numbers art:

Paint-by-number is fun for hobby artists and beginners on its own, and is also an art learning tool. The hands develop some of the control needed by artists, and you gain experience with how to work with paint and color. It's very good for practicing focus and some feel it's almost meditative. Paint by numbers art comes either in kits for oils, watercolor, and pencil, or single paint by number canvases and pages for those who already have their own coloring supplies. Both are found in local and online craft stores. For an adult paint by numbers art group, each member chooses his or her own paint-by-number project, then the group gathers indoors or out to work on their projects together. It's fun to play classical music if working indoors.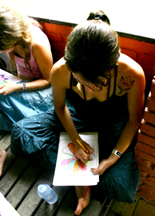 Coloring for adults:
This is one of my own favorite hobbies, and I know I'm not alone with it, because there are adult coloring books and downloadable adult coloring pages widely available. I even choose older child coloring books sometimes, as I like more detail and different subjects than very young children, but larger coloring spaces than some of the intricate art meant for coloring for adults.

You can find beautiful art, even in poster size, for coloring in the subjects of birds, butterflies, flowers, fairy and fantasy, and animals at online and local craft stores. Dover publishes irresistible coloring books for all ages, including adults.
---
Custom Search