Living in Port Townsend, WA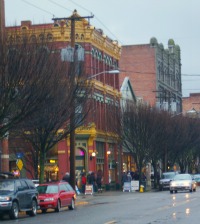 Living in Port Townsend, WA, has so many perks, it's hard to know where to start. I spend so much time there, including doing an in depth tour of the homes and history and spending time with long-time residents, I could call it my sister home town.

First off -- it's a Victorian seaside small town on the Olympic Peninsula in Washington State's "blue hole" that gets more sun and less precipitation than surrounding areas such as nearby Seattle and the temperate rainforests on the other side of the peninsula. The photos here are taken during the darkest winter days near the winter solstice when I recently visited.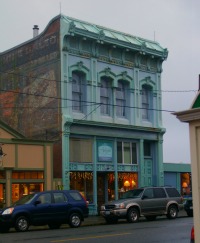 Each time I've been to Port Townsend in spring, summer and fall, it sparkled in the sunshine, and there's just something long-established, time-honored along with forward thinking in this seaside community. On the long-established side, there are old refurbished Victorian era buildings everywhere. Among the many restaurants, there's a 50's style ice cream soda fountain and hotdog/burger parlor that takes you instantly back to that Happy Days era. You can eat on its deck looking out over the sea and boats on warm days.
There are lovely steepled churches and a used bookstore to die for that seems very popular and well-supported each time I'm there. Here are a couple of shots of it when I visited on a deep, cold December winter day right before the New Year.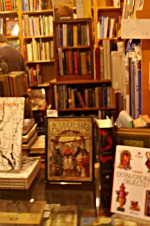 Along the lines of forward thinking, there's yet another bookstore loaded with books on various eastern and New Thought philosophies, as well as eye-dazzling displays of amber, crystals, singing bowls, and so on. I've enjoyed an enthusiastic Course in Miracles group here back when I was studying that text, and there's a happy Unity church community.
Those living in Port Townsend enjoy a remarkable food co-op with a deli and locally produced and bulk foods. I'm a fan of raw pasture-raised milk from Jersey cows like what I and my dad grew up with, and they even carried bottles of that from a local farm! And you know -- the idea of fresh milk from heritage breed cows on pasture -- doesn't that kind of blur the lines between "time-honored" and "forward thinking?"
I was impressed that on the cold rainy winter day that I visited Port Townsend, the locals were out on the streets enjoying and supporting the businesses. It wasn't tourist season, and the streets weren't crowded, they were just "small town bustling."

The group activity I took part in which brought me to Port Townsend in the dead of winter for the first time was held in a lovely yoga studio in the residential area of town. It was a three hour gathering where we first did body movement to help shake loose areas where emotions can get stuck. Then we brought ourselves into the "now" with breathing exercises. And after a break, we gathered to practice a way of allowing ourselves to let go of "stuff" and expand our ability to be free of its grip. It was an amazing process that, after it was over, I was left feeling as though some part of me that felt lost or forgotten had been welcomed at last, and that there was now more space inside me for joyfulness, understanding, and less clutter so whatever that Loving Source is could reach me easier. Answers, empathy and understanding for others flows through so much easier.
When living in Port Townsend, one has a choice of lots of ferryboat routes to choose from going to various destinations. One is a short drive up to Port Angeles where you can take a ferry to Canada's beautiful Victoria, British Columbia.

Here's a photo of the ferry approaching on an early, darkish winter morning before complete sunrise. It connects Port Townsend to Whidbey Island -- which is the island below my Fidalgo Island.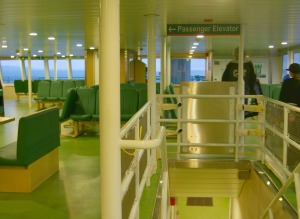 To get the Port Townsend from Anacortes, I drive down beautiful Whidbey to this ferry terminal. I park there for free as long as I display my Parks Pass (if you don't have one, they charge $10 to park at this writing), then just walk onto the ferry. The crossing time is 35 minutes. Here's a shot of the inside of the ferry before most of the people boarded.
Once in Port Townsend,  I walked a short distance to the Water Street Creperie and enjoyed hot tea and a cinnamon crepe while waiting for one of the studio owners to come pick me up for the gathering (the studio is too far to walk to). Here's a shot of the cozy creperie on this late December day. It was fun to experience Port Townsend in the short days of winter!

---
Return from Living in Port Townsend, WA to Small Towns in the US