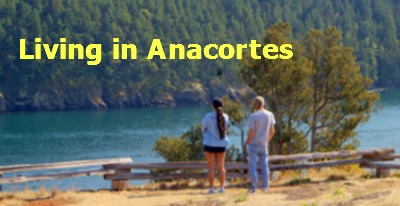 ---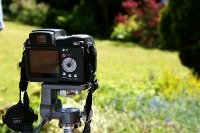 EARLY JANUARY: Small town living sometimes produces group activity gems that take a while to discover. This month I went to a free photography class at the Anacortes public library. Tony and Karla Locke operate a photography business, Alternative Focus, out of their home in Anacortes, where their beautiful photography extends out to the world in various ways. At this class, I was reminded of the "rule of thirds" in photography, and Tony told us about the "golden hour" right after sunset,  the "blue time" when, after dark, the sky is dark blue for a while before it turns black, and about the softness of morning light. We learned about ways to purposely soften or blur the focus, and tricks for taking shots of beautiful architecture when there are too many tourists coming and going through the scene to block the view.

The Lockes also offer professional classes on photography, and further, they go out to various locations on and near Fidalgo Island for photography shoots, and invite the local photographers to join them. They call them "Spur of the Moment" outings. People can sign up to be alerted to them by e-mail. It's a fun way to pick up photography tips and spend time with other local photography enthusiasts.
---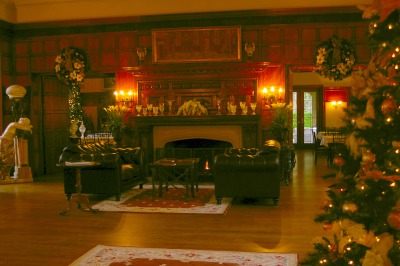 LATE NOVEMBER: Castle exploration! Living in Anacortes also means fun excursions to nearby romantic locations via Recreation Without Borders. For little more than what one might pay for gas to do the driving themselves, the RWB van took us to Thornewood Castle near Tacoma, WA. Built around a hundred years ago, parts of the castle actually existed closer to 500 years ago and were shipped over the sea to become part of the beautiful Thornewood Castle. It's now a B&B and event destination, but we were lucky to get a full tour by the owner herself the day after Thanksgiving when the rooms weren't occupied.

---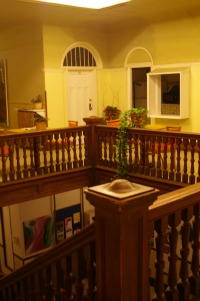 MID AUGUST - Up in the ballroom of the historic Keystone Building on mainstreet Anacortes there is a meditation group that starts at 5:45 p.m. each Monday. The photo to the right is a shot of the third floor of the building that leads to the ballroom. We usually take a bit to chat and settle in, then meditate in silence for a half hour. Afterwards, we slowly come out of meditation and chat for a few minutes. Someone often has brought a small treat to share. On this evening, we were marveling at Fidalgo Island's late sunsets, still light until well past 9 p.m. But we can tell the days are getting shorter, because when we looked out of the ballroom windows at 8:00 after meditation, we could see a golden-ness to how the sun lit up the tops of the trees and the town below. I love Augusts in Anacortes. Some days start sparkling blue, others with fog (and distant foghorns) that burns off to warm sunny days, and very golden evenings.
A couple of us decided to do a twilight walk along the Tommy Thompson trail right after our meditation. It's a wide, paved trail for walking, jogging, and bicycling and part of it crosses the Swinomish Native American lands. There's a totem pole along the trail the tribe created and erected in a ceremony my husband and I attended a few years ago to honor the families of people who had died in an accident at a nearby refinery.

---
FOURTH OF JULY - The 4th of July celebration in Anacortes is classic small town America. Above is a recent video of one of our 4th of July parades. It starts out, as you'll see, with our Town Crier, and then lets the little kids parade down the street with their bikes, trikes and wagons all decked out for Independence Day. Then come the classic cars, horses, tractors, shared-interest group marches or floats, firetrucks, and so on. It's a great community event.
Later in the evening, there's the first of several free outdoor concerts on the big open green lawn at the Port of Anacortes. Water, boats and ships are the background as people listen to both local and nationally known bands. Some are original, some do covers of the Beattles and other popular oldies bands.
Then, of course, we have our beautiful fireworks display every year at dusk. Lots of places to gather in town on public green areas. All ages come out to enjoy the show.
---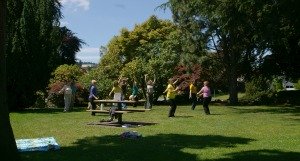 LATE JUNE - Summer Nia group activity in Anacortes' stunning Causland Park: I was at the Anacortes Farmers' Market to interview and photograph farmer vendors for an upcoming article in AcresUSA when I remembered my friend and Nia teacher was holding Nia at Causland Park today.
It was just a few blocks to the park, so I walked there in the warm late June sun after photographing and interviewing the farmers. The group consisted of three teachers and a good handful of participants -- one of whom not only had never tried Nia before, she didn't even know what it was! A friend had told her to "just show up," so she did. And seemed to have a good time.
This photo is of the stairs that lead to Causland Park
Any romantic movie director would be insane not to use this park as a setting. The stonework is awe inspiring. The layout as you walk through is of another world.
The photo below is of the park's amphitheatre. I got to sing there once with a women's choir. And have sat on the stone benches as a member of an audience while watching other performances. There's something both storybook yet Roman empire about this type of theater and seating experience.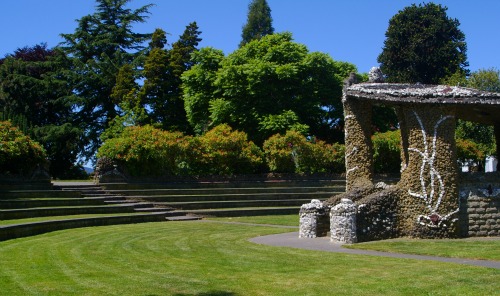 ---
MID JUNE - Waterfront walk

It was warm enough to eat out in the sun on tables set up on the sidewalk downtown today. A friend and I eventually made our way to the waterfront (see photo below). The sun felt great and the water the boats were floating in was like a mirror. Happy people were walking the waterfront path and I couldn't help enjoying the site of an older couple walking hand in hand.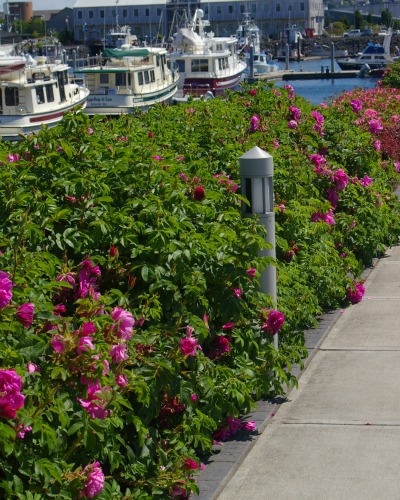 ---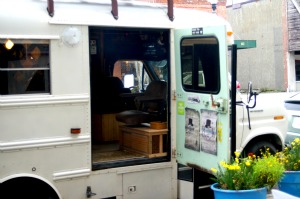 LATE APRIL - A traveling free tea bus came to town!: Today the Free Tea Bus guy came to Anacortes. He parked on the main street during Anacortes' monthly Friday art walk downtown.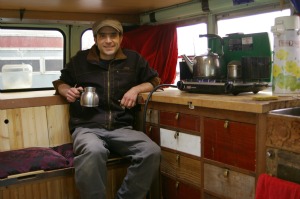 Here's a photo of him when I went inside the bus before the crowds started gathering and heard his story. He decided it would be fun to drive around the country offering free tea to anyone who came by.
He lives off his own savings from a previous job and occasional donations, but he wants the tea to be free. Notice the photo below right of the sign: Tea: 0 cents!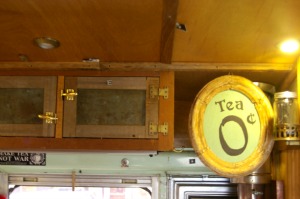 He purchased a used special education school bus and painted the outside white, then renovated the inside to both be a place people can come in for tea, as well as a place where he lives while on the road from place to place. He has a tiny woodstove with a chimney that leads to the outside. His water gets heated from the power that comes when he's driving. He uses discarded restaurant grease for fuel. He has a camping showerhead hooked up to the tiny indoor sink that goes through to the outside where he showers outdoors.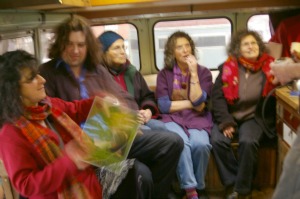 He has drawers full of tea: exotic, herbal teas, all kinds. He simply heats up the water, asks people what type of tea they want, gives them their brew while they make conversation. To the right is a shot I took while a bunch of us were inside. There was also another lady and a 13-year-old boy next to me you can't see in the photo.
---
LATE JANUARY -- Anacorte folks gather to support local singer's send-off for national audition: In my hometown of Anacortes, Washington, we have an "Anacortes People' Facebook page. Only locals are allowed to see and use it. It's here where we ask about suggestions for good plumbers or state that we have a used piano for sale.
It was here where I read about a married mother of two older teens whose family was supporting her desire to audition for The Voice television show.
She wanted to get more practice in front of a live audience, as well as possibly raise donations for the trip.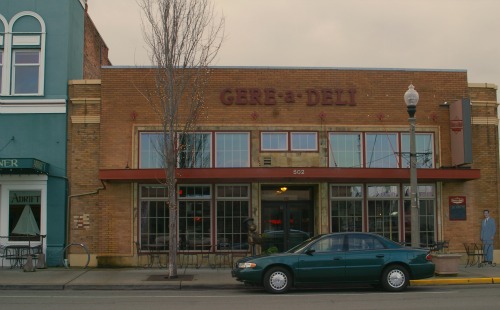 So, Gere-a-Deli, a local family owned Anacortes deli since 1981 that's usually closed on Sundays, opened its doors for this event one Sunday afternoon. Coffee, tea, and light snacks of crackers and cheese were served. There was a basket for donations, and soon fives and tens were filling it up. About 30 people attended.
Once we were all settled, the singer and her guitar-playing friend went up to the microphone area set up in a corner of the deli. She told about her life history. Of how she was raised and the mistakes she'd made in her life, and what led up to this moment of auditioning.
Then she sang about 6 songs for us, including the two songs she had picked out for the audition. Since it was a "real audience" yet more casual, it seemed to be very good practice for her to experience being in front of an audience but not as nervous as she'd be had it been a formal audience for the first time. At one point, an error occurred between her and her guitar player, so she started over a few times. This was a valuable chance to work out the kinks before the real thing.
It was a great group activity and a unique way to spend a Sunday afternoon.
---
Custom Search