Unique life coach courses

(and more ways to earn income as a life coach)



Copyright National Lilac Publishing, LLC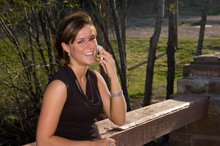 Whether completing formal life coach courses or simply being self-taught, here are some unique twists on turning this career into a profitable activity, as well as a unique twist on the life coaching course itself.

Life coach courses often teach you how to work one-on-one with an individual, kind of becoming his or her cheerleader, guide, and motivator during various life situations. Sometimes the life coaching course is general, other times it teaches you to focus on your chosen niche within the field, such as working with CEOs, people over 50, divorcing women and so on.

But "group life coaching" is a new twist added to the other niches within this popular career. For those who prefer group activities to one-on-one situations, the group life coach may work with families, with businesses, or other entities where a group oversoul is having a disconnection somewhere within the group that makes up the entity. The business community, in particular, is reported to be seeking group life coaching more and more often. If you plan to take actual life coach courses (vs. being self-taught), you may want to check into whether the life coaching course includes information on this possibility.

Another group activity twist on becoming a life coach is not so much whether the service is for individuals or groups, but how the coaching business itself is operated. A life coaching cooperative can operate in a manner that several coaches with different but complementary niches work as a group business. For example, four life coaches who specialize in parenting, new careers, divorce and healthy lifestyle pool their resources to find promotional opportunities for the whole group. Then, each "member" chooses one important extra aspect of operating as a group business. One may offer to be the phone and e-mail correspondent, setting up appointments and leading callers to specific coaches in the group. Another may take care of promotion and advertising, and so forth.

Innovative life coach courses

In most cases (check your own local regulations), neither life coach courses nor certification are required for operating a life coaching business. But they can do the following: A life coaching course can help give you credibility when seeking clients; it can teach you many things you'd have to otherwise learn on the job – sometimes the hard way; and the best life coach courses will guide you on the business and marketing end of being a life coach as well.

But Amy Rose, one of our editors, found a unique method for becoming a certified life coach without doing the traditional life coaching course. Essentially, she created her own personalized life coaching school by paying for a service she was using, anyway.

She was using a life coach for almost two years and found herself thriving from his service, then eventually drawn to becoming a life or personal coach herself. When she revealed this desire to him, they both agreed that this would become the next thing he coached her in. He coached her through her marketing, her first clients, billing, and so forth and they agreed that after she reached completion with her first paying and satisfied client, he would certify her. In her case, her life coach was in a different state and she was choosing a different niche, so there was no competition felt between them.

He had been a professional personal coach for years, was extremely successful, and most would agree he had far beyond the credentials to certify someone. They devised and printed out their own certificate together, and she became a privately trained certified personal coach without the usual life coach courses. As time went on, he continued to answer her specific questions on the topic, in essence becoming a continual ongoing customized life coaching course for her. His name and business were on the certificate, and anyone interested was welcome to search for him online, which would reveal him as one of the best coaches in the country, bringing credibility to the certificate.

Free business mentoring with S.C.O.R.E. non-profit

Throughout the Great Group Activities site, whenever we're discussing group activities that can become a stream of income or a full career, we often mention S.C.O.R.E. These are retired business people from across the country who will give you free business advice either in person or online. You can find one near you and find one who's had a business similar to yours by searching their website.

---
You may also enjoy
---
Custom Search