This kids' craft project is another great group activity that can be used for many purposes:
The Children's Tablecloth Bee
Copyright National Lilac Publishing, LLC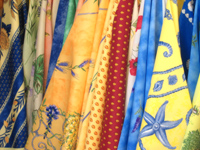 This kids' craft project uses cooperation to create a useful, beautiful craft that can be brought out again and again years down the road, or given away as a loving handmade gift.
With this craft activity, both genders feel the group unity that quilting bees offer, but a different art is brought to the table. All kids can generally participate in it without knowing how to sew. For this kids' craft project, kids gather around blank fabric to make a group tablecloth.

How to:

Like many group activities, this one leaves participants with a sense of satisfaction that a common community goal was successfully achieved.
Step one: Prepare the cloth for this kids' craft project
Determine the finished size by deciding what type of table you'll make it for. Most tablecloths are about 10 inches larger than the dimensions of the table to allow "drop" around the edges.
Purchase fabric in the dimensions you need plus an inch or so more for hemming and possible shrinkage (see below about hemming if you don't know how). Most people choose bleached or unbleached muslin, but even a white cotton twin bed sheet will work if it's the right size, then you won't even have to hem it.
When purchasing the fabric, find out if it's already pre-shrunk. If not, or if you can't find out for sure, then wash and dry the fabric in the drier to preshrink it, iron it. Next, either hem the edges in the traditional sewing manner, take the cloth to a seamstress to hem it, or purchase special tape that can be ironed on the edges to hem it without sewing. Fabric store workers will usually know of a local seamstress and can also instruct on hemming tape.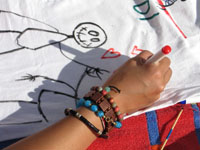 Step two: Obtain fabric markers, fabric paints, and other items for decorating the cloth
Craft stores and in some cases, fabric stores can lead you to fabric decorating items including fabric markers, fabric paints, stencils, materials for rubbings (such as putting a leaf beneath the cloth and rubbing over it) and so on. For this kids' craft project, you won't want bumpy fabric decorations such as glue-on sequins or rhinestones because the cloth needs to stay smooth for use as a tablecloth for setting on dishes.
Step three: Very important: Choose a theme or determine each child's contribution ahead of time
Kids' craft projects and art activities are very healing, and in some cases, kids use art and crafts to release inner aggressions (which can be healing in a different setting -- not this one). Kids also sometimes simply imitate commercial art, such as cartoon or video game characters.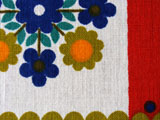 For group activities like this, you don't want a finished tablecloth full of autumn scenes or flowers marred with one black and red violent scene that can't be replaced because kids were told to "draw whatever you want." Either guide kids with a theme (beaches, animals, flowers, mandalas, fun times with grandma…) or have each child clear his idea with you first (or both). Kids can do a rough sketch on a piece of paper first, which teaches them patience and how to take the time to think things through before jumping in. And remember that it's also very healing to contribute something valuable to a group project.

If you think kids need even more guidance, use stencils, or either trace clip art such as the art you see to the left or just draw art on the tablecloth ahead of time with a black fabric marker, and turn it into a coloring project.

Step four: Divide the cloth into the appropriate number of sections
Depending on the cloth size, kids will either gather around it on the floor or sit around a table to decorate it. Using either a light pencil, chalk, or a fabric marker, divide the cloth into the number of sections you need for the kids involved to decorate.
You don't need perfect squares, you can draw on swervy freehand variable sections if you want. Each child should have a large enough section to not be crowded by the other kids near her trying to decorate their own setions.
If it's a large tablecloth that's hard to reach in the middle, it can be useful for each child to have two sections. That way, you can fold the cloth in a manner that kids can reach the first, say, eight sections as they sit around the table to draw, then refold it for them all to reach the second eight sections.
Step Five: Hold the tablecloth bee
Gather the kids for the tablecloth bee. Lay protective newspaper under the cloth so no fabric markers damage anything beneath it. Teach kids to really saturate their artwork with color. Future washings can diminish light, wispy strokes. Depending on the directions given with the paint or markers, the finished cloth may need to dry and then be "set" by ironing or putting it in a dryer.
For the kids who will finish ahead, be prepared to offer other quiet but individual activities that don't compete with the main kids' art project, such as color books or a stack of library books to look through.
Make an issue of the finished kids' craft project. Hold it up for all to admire, take photos with the kids and their tablecloth, and if it's a gift, have them help wrap it and deliver it if possible. If it's for a current project such as a cousins' group activity for a family reunion or a camp craft for serving parents a feast when they come pick up their kids, set the table beautifully with the cloth. For family reunions, center a large flower bouquet in the middle, for camps, set on a centerpiece with a rustic bowl or vase with evergreen limbs and pine cones.
If the kids who made it will see it used for a feast, try to have the food be items less likely to cause stains and dark messes. That will happen eventually, but it's more fun if the very first time it's used is more for sandwiches, cookies and finger foods than red Kool Aid and spaghetti sauce.
Options: For an outdoor tablecloth, metal washers can be sewn to each corner to help hold it down in the breeze.
This tablecloth bee can be part of an even larger intergenerational group project where the tablecloth is just part of a gift basket being made that includes handmade table candles and non-perishable edible items.
For a similar but smaller project for kids, have them make a table runner instead of a full tablecloth.
---
You may also enjoy
---
Custom Search