Choose a great kids' activity from our selection
Copyright National Lilac Publishing, LLC

A great group kids' activity is more than just fun. It fulfills the child mind's quest to discover and achieve new abilities, build self-worth, and experience being a valued contributor.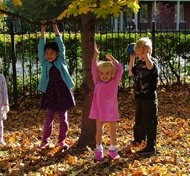 You may find the perfect kids' activity here

This hub presents ideas that may be considered educational activities, purely fun, or especially great for discovering the joy of inner talent amidst a group or the value of cooperation. But they are unique in helping kids discover life qualities that an instant gratification mainstream society rarely nutures.

I've witnessed the Fun Writing Activities, for example, which is also under our educational hub, turn an angry boy into an inspired wordsmith, as though he'd gotten unplugged from something dark and shallow and plugged into a stream that poured from a happier place.
Certain kids' activities can make home life, classrooms, even parties come alive with new meaning
Whether you're a parent, teacher, camp facilitator or anyone looking for an effective kids' activity, you may find just what you're looking for here, or at least one you can easily adapt for your situation. While it's important for kids to spend time in kids' outdoor only activities -- and we have a special hub just for that -- the children's group activities here may be indoors, both indoor and out, or your choice – such as with Lost Worlds Treasure Hunt Ideas

Our current list of great children's activities:

---
Custom Search