Enjoy making jewelry at home with friends, and even turn it into a jewelry making business
Copyright National Lilac Publishing, LLC

A jewelry making business -- or even just making jewelry at home with friends -- is a great group activity.

Here we'll show how you or you and your friends can learn for free about making costume jewelry at home. We'll also offer a resource for learning "serious" jewelry-making at home, as well as ideas and resources to turn your skills into a hand-made jewelry business right from your own homes.
_______________

First, though, if you want to jump right into the more serious details of a jewelry making business:

Jewelry Selling Secrets even shows how to position your handmade jewelry with Hollywood celebrities, icons and sports stars for credibility, even if your handmade jewelry is completely unkown.
Learning how to make jewelry at home with friends for FREE
So many people interested in making jewelry at home forget this fantastic free resource. Don't roll your eyes until you've tried it! At your public library, there are incredible how-to books on how to make many kinds of jewelry – and don't forget the kids' section! Sure, there are some children's craft books on the types of jewelry you wouldn't be interested in, overly simple projects for very young kids to create "jewelry" no one would want to sell in an adult world.
But there are books for older kids that teach how to make beautiful, artistic hand-made beads, teaching using large images and instructions that make the process very accessible even if you're not into learning from books much. Choose one to explore with your group of jewelry-making friends or just on your own, gather the materials, and spend an evening or weekend afternoon trying the methods.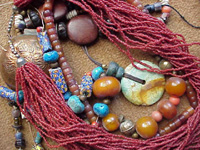 Another way to turn your love of making jewelry at home into a jewelry making business
Besides actually selling your hand-made jewelry with an online store or at fairs and festivals, you can teach it to others if you become skilled enough. It's a very popular group activity. Recently, a place that offers beginning jewelry-making weekend retreats was voted the best girls' getaway in the region! You can also offer the class to senior centers, your local Parks & Recreation, or to nearby inns and hotels if enough guests sign up. If you want to teach hand-made jewelry to kids, you can actually set up your own kids' day camp for jewelry making. Our affiliate on how to start a kids' day camp for profit tells how to start kids' camps for crafts or any theme you choose, including the legalities and how to really fill up your slots and make sure kids love the time they spend with you.
---
Custom Search