Jerome in Arizona -- be prepared!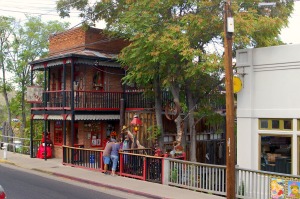 Copyright National Lilac Publishing, LLC
I find the tiny town of Jerome in Arizona to be hysterically funny, but I don't know if others would see it that way.

It's probably because before visiting I had a different image in mind as we too often do, but when I arrived -- the feel of the town of Jerome got me giggling with fun surprise.

I was told it was a mile-high desert historic copper-mining town now with a population of only 450 which has morphed into an artist and tourist community. So I pictured a sort of desert version of the Pacific Northwest's La Conner. That tiny town and many small towns I visit claim "rugged" pasts -- such as La Conner's fishing village history -- before becoming artists' havens.

And when those towns do become mecas for artists and subsequently those who seek out artists and their work, the community environment often settles from its ruggedness and infiltrates with a storybook, eccentric charm on the gentle, deeply aware side of life. Art is known to arise from the mainly right brain hemisphere of humanity -- whether male or female produces it -- and that often conjures up surroundings of quiet attentiveness to the beauty in life non-artists are less aware of, and can result in a quaint-serenity-without-trying.

Screw that, said Jerome in Arizona! Let's party!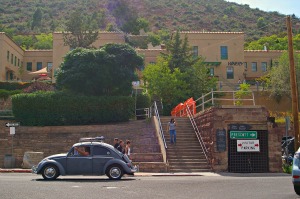 We arrived on a sunny, September afternoon. How I love that desert late summer days' warmth which reminds me of my desert childhood.

It was quite crowded with energetic visitors. One bar was lined all the way to the sidewalk with bikers, its doors open to release the blatant dance music coming from the darkness inside. This Jerome town's streets bustled with art shops (including those catering to copper, of course), hopping outdoor barbecue restaurants and under-the-building eateries. I've described the feel of Jerome to various friends as being part pagan, part redneck, and part artsy.

My camera that day just couldn't capture the immensity of the views from that 5200 height. Never-the-less I tried, and here's a shot with the town of Jerome to my back as I looked out over its lower surroundings.

As far as living in Jerome in Arizona, it is isolated yet other AZ towns aren't really that far away. You have to get used to vertical-ness -- as many buildings are built along its steep hills, so prepare a few days' rest after moving your stuff in.

And it just plain needs to fit your personality. I talked to a woman who worked in Sedona, AZ and lived in Cottonwood, AZ. She felt Cottonwood to be a "generic Walmart town" and Sedona a bit on the serious side. But Jerome? "I would LOVE to live there!" she said.

In talking with another AZ friend who lived in Sedona -- we told him we were visiting Jerome and his response was, "Whoa!" then to back off a little from us as though to get his bearings. He looked at me. Looked at my travel buddy and exclaimed, "Jerome is a WHOLE different energy."

---
Return from Jerome in Arizona to Small Towns in the US