Unique indoor camping tips and ideas
Copyright National Lilac Publishing, LLC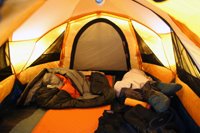 This indoor camping article is for families with adult supervision because some of the ideas involve ways to enjoy real fire even if you don't have a fireplace.

Gather the main indoor camping equipment
You don't need a huge indoor tent, although they are fun. Otherwise, move furniture out of the way and gather sleeping bags, pillows and flashlights. Place extra blankets, air mattresses or other padding down if you don't have soft carpet. The rest of your gear will depend on which other activities you choose from below.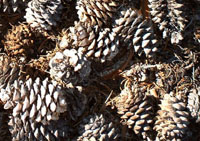 Indoor camping must have the scent of the woods and mountains
Natural food stores often carry true essential oils of pinewood, pine needles, cedar bark, fir needles, and so on. Purchase one or two of the real essential oils (not artificial fragrances) and sprinkle a few drops on some pine cones or wood chips from craft, pet or garden stores (or steal from your own garden). Place the pinecones or chips in a bowl near where you're camping. But seal it with plastic and don't release the scent until the indoor camping has officially begun.
True essential oils can change the indoor air ions into that of outdoor mountain air, so no artificial fragrances allowed. But easy does it and don't get any in eyes, open skin or other sensitive areas.

You can also purchase or make incense that gives off woodsy (vs. exotic) smokey scents into the indoor atmosphere.

Indoor camping must have exploration adventures
- Obtain polished stones, beautiful feathers and seashells from a craft store, usually very reasonably priced in bulk, and hide the items to be found like an indoor Easter egg hunt. Count the items first and either set a limit as to how many each child can find, or give them each their own indoor territory, to make sure it's not a competition, but rather a thoughtful exploration.
- Read or peruse an image-filled book on the moon and stars by flashlight.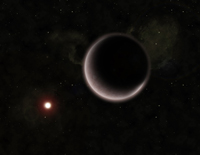 - Play some of the usual campfire games: cards, telling ghost stories (point the flashlight towards the ceiling and slowly make a hand shadow that looks like a giant's hand about to grab the little people out camping,) singing folk camp songs.
- And once it's dark and the lights are out, it's flashlights only, even for trips to the indoor outhouse.
- Go to the library to see if they have a nighttime nature sounds CD, such as the sound of crickets, to play once it's bedtime, or birdsong sounds once it's morning.
- If possible, turn off all heat, even crack a couple of windows unless it's far too cold for that. This can also be a night to save electricity and add fresh air to a winter home. A brave adult can close the windows and turn on the heat towards morning.

Camping indoors must include a real flame
For those without a fireplace, place a few sturdy candles in a fireproof pan or dish surrounded by stones. Use either beeswax or soy candles to keep your indoor camping air clean. (You can also use shorter votive candles and pile rocks up almost to their edges.)
For a non-fire version of flame, bury a flashlight or a few battery operated candles with preferably orange/gold bulbs up to the bulbs' edges with smooth stones. For warmth instead of glow, pile smooth stones on and around a heating pad on low.
Campfire cooking is a must for indoor camping -- no 'kitchen' food!
Everyone knows how life-threateningly dangerous it is to light camp stoves or charcoal inside, right? (RIGHT?)
To create the feel of cooking and eating outdoors and away from a regular kitchen, set up a camp kitchen in the camping area in the following ways: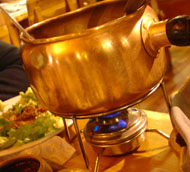 Set up a fondue pot in a safe supervised place in the camping area to dip and cook your own hot dog franks. Cut the franks and buns in half (and eat twice as many) so they'll fit inside the pot. If you don't have a fondue pot buried with the rest of your past wedding gifts you thought you didn't want, some party shops have them for rent, and second hand stores often carry them… test for safety and workability first.
Set up a crock pot in the camping area and fill it with hearty soup, baked beans or oatmeal to simulate cooking in a cauldron over a bed of coals. You can even put fire ring stones around the pot. Use tin camping bowls or soup cups, not regular household dishes.
Pack items ahead of time -- picnic style -- to open and eat in the indoor camping area. Spread out a picnic tablecloth onto the floor in this area. Bring edible items already made -- just as is done for a picnic, or bring the necessities to actually make cold foods as is done with real outdoor camping, such as sandwiches or those miniature boxes of cold cereal, to eat in the camping area itself.
---
You may also be interested in
---
Custom Search