Hot yoga in Anacortes
When it comes to yoga, Anacortes has numerous options in private yoga studios, yoga classes at the health clubs, and gentle yoga at the senior center. But I was thrilled to find out my home town of Anacortes offered hot yoga as well. Previously I'd thought I had to drive to a town about 20 minutes away for this heated version of stretching and inner body health. I wasn't so much interested in it in the summer, but it seemed like a great way to bake out winter chills.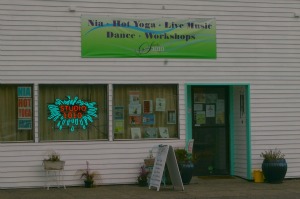 The hot yoga in Anacortes is held in the old town section of downtown. It's offered morning and evening, and lasts for an hour. I went at a 9:30 a.m. class. It was the first such hot yoga class I'd attended, but from what I've heard from other people who've attended it elsewhere, I'd almost call this a warm yoga rather than a hot one. Steam was shooting out into the room when I entered and it felt cozily warm. It's a very nice studio with hardwood floors, large bathroom, big mirrors on the wall behind the teacher, and a backroom where your personal items including shoes can be stored (they don't want you to wear street shoes in the actual room.)

I brought my own yoga mat, towel, and water bottle, although at the time I was there, they had mats there for you, and a water cooler and cups if you forgot your own.

I was expecting to be exhausted and dripping in sweat after the workout. As it turned out, we did mild stretches and poses, including a lot of downward dog, and I was just mildly moist by the time the class was over.

I'm only slightly familiar with yoga terms, so when the teacher called out for us to do specific poses or stretches, I usually looked over at the other participants to imitate what they were doing. The teacher didn't always stay up front and do the poses as she called them. Sometimes she moved to the side of us to demonstrate poses.

Hot yoga (or warm yoga) is new to me, and I felt a touch of queasiness at about two thirds of the way into the class, so I just rested in child pose while the others continued. It was nice in that we just listened to our own bodies and didn't feel a competitive need to keep up with anyone.
I was surprised at the choice of music. I'd describe it as soft rock, which I love, but there were words in English being sung which, with my somewhat ADD mind, made it hard for me to not bounce back and forth between focus on the instructions of the teacher and words of the song. Most other types of yoga I've taken part in in the past used soft flowing music without a beat and without words in English. The teacher said that each class was different, so I'm not sure if the music choices change as well.

The studio for hot yoga in Anacortes is on 6th street, but they prefer you walk to their back door and come through that way (I didn't -- not knowing this at first, but of course I will next time).


---
Return from Hot Yoga in Anacortes to the Living in Anacortes, WA hub