Seasons and holidays activities that deepen whatever meaning you attach to life
Copyright National Lilac Publishing, LLC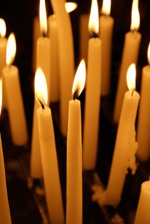 You'll find year-round holidays activities here for mixed ages, grown-ups only, kids only, and those that can adapt to any age. Many of our activities are presented in ways that allow you to attach any spiritual or philosophical viewpoint you choose.
For example, our article entitled Kid's Spring Activities: A Wholesome Twist on the Candy-Filled Basket helps bring nature and meaning back to a fast-paced society. But, you decide what spring holiday or deeper meaning in the spring season you attach to the basket hunt.

Enjoy our Great Costume Themes and Costume-Related Group Activities – but you decide if it's for Halloween, a church Harvest Party, or Octoberfest.

Our Christmas Child Tradition is also adaptable. It was profoundly moving for some Christians, yet was invented and celebrated by an adopted family as a bonding ritual, and they had a non-traditional viewpoint of who Jesus was.

Seasonal festivities and holidays activities were once more an extension of real life, rather than a disjointed burden to add to it. Celebrating the march of seasons was like a soothing and energizing grounding rod amidst the unpredictable lightening bolts of life.



Our new society is reviving these treasured seasonal and holidays traditions by combining both ancient and visionary insights. For example, our Valentine Ideas: Historic Valentine Assembly Line does several things. It celebrates forgotten contributions of women in history, it restores our human need to make something with our own hands, and it celebrates group energy with the end result being beautiful products to give away, or even to use as fundraisers.
We feel more connected to the rest of humanity when our holidays' activities are similarly enjoyed by many others.
As the seasons pass, we see pumpkins or hearts or decorated evergreens everywhere, and know we'll be part of those activities in some way. We see nature more closely, and we know that some things will always return.

Seasonal celebrations from this hub include:
Custom Search