Historic costumes for events, theater, or just plain fun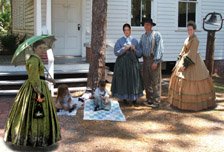 Welcome to the Historic Costumes section of Great Group Activities. Below you'll find 2 methods for obtaining historic clothing (all include children's historical costumes as well):

1. Fun, less expensive historic costumes from our business partner

Costumes 4 Less
for all genders. Great for costume parties, classroom historic re-enactments, hometown theater, fun dress-up play.

2. And a how-to on putting together period costume-look clothing from second-hand stores.
1. Favorite less expensive historic costumes:
Costumes below are examples from our
Costumes 4 Less
source that supplies the period costumes. Once there, you can continue to look through their pages of more retro and historic costumes, as well as just about every other type of costume imaginable!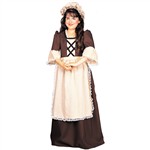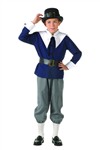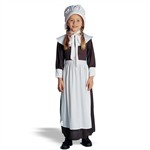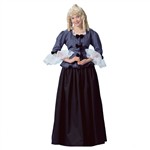 These costumes are in the "colonial" category of the Costumes 4 Less site. There are even more colonial costumes at the site.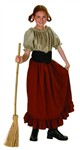 The two costumes right above are "peasant child" and "baroness girl." Both ends of the historic financial spectrum!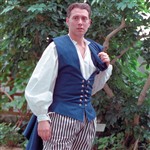 The costume to the left is "Victorian cape" and to the right is "sailor." Click on either photo which takes you to the larger site where you'll find even more men's historical costumes.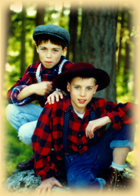 2. Fun way to put together historic clothing from second-hand stores:
I have helped dress dozens of children and adults in historic costumes completely from second hand stores. Here are some tips:

Boys can be transformed back in time as were these boys in the photo quite simply. Look for "scally caps" (in the photo of the two boys, the boy to the left is wearing one – also called men's golf caps). Our second-hand store carries many of these. Masculine straw hats work well, also. Then look for plaid flannel shirts, suspenders, non-designer (& non-Grunge) blue jeans or cords and leather work boots. Kids didn't always get perfectly fitting clothes back then, they had to grow into them or got leftovers, so if shirts appear a little too large, all the better.

For girls, you can "make" pinefores with sundresses, sleeveless or cap-sleeved smocks and full-body aprons. Then hunt for feminine straw sun hats and high-ankle lace up shoes in brown, black or navy. Wear pinafores over puffed sleeved blouses or puffed sleeved dresses. If using blouses, you'll need a full cotton skirt of some sort to wear beneath the pinefore. Use tights or leggings with lace at the bottom for stockings or pantaloons.

For more casual Victorian dress costumes for women, look for feminine lacy blouses that button up to the neck or higher with long puffed sleeves, and a floor-length relatively full skirt. You may be able to find lace up boots with heels and if very lucky, a Victorian hat. But the hat will really top off this historic costume, so perhaps just the hat would need to be purchased from a costume supply store.

You'll occasionally find actual costumes at a second-hand store, also. We found prairie sun bonnets, a school-girl sailor dress and authentic antique lace up boots.

For girls' hair choose from: Two braids on each side of head (French or "Indian"); left long but two front sections pulled back into a bow; ringlets; one low ponytail in the back; one low braid in the back.
AVOID: two pigtails high or low; one high ponytail; long hair left down in front without pulling it back; or piling hair up high and formal as only the women over age 18 did. You'll see children's historical costumes where the girls posing for the costume have their hair piled up high, and it just doesn't quite look right.
_______________

Be sure to see our article on the many ways to have fun-with-costumes year-round.
Custom Search
---