Here are Amy Rose's healthy school lunch food ideas,

plus her at-home family lunch-making assembly line how-to



Copyright National Lilac Publishing, LLC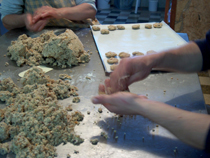 Spend fun time together and gain free time on weeknights by making everyone's healthy school lunch in this cooperative assembly-line manner. (Parent's work lunches can be included.)

Families can even trade "lunch factory" nights with close friends, extended family or neighbors, each taking their turn at making a week's worth of wholesome school lunches as a group.
Kids contribute to their own lunch, and studies show this makes them feel valued and more faithful to eating their healthy brown bag lunch.

(For more healthy recipes kids really love, including those for packed school lunches, you might enjoy one of our affiliate e-books, Healthy Eating for Kids

Or, if you want your kids to get more enzymes with healthy raw food treats, snacks and desserts that also taste very good, here's an affiliate cookbook with fun, easy-to-make uncooked recipes like Almond Cookies, Caramel Dream Bars, Coconut Fudge Bars, Gogi Lemon Bars, Ginger Snap Bars -- a total of 100 recipes you might enjoy 100 Healthy Raw Snacks & Treats)


Healthy Lunch Assembly Line How-to
This is done once a week. So, choose the one morning, afternoon or evening each week for the event to take place.

First step: Set aside a tub for holding non-perishable single-portion lunch ingredients. (See below).

Second step: Bake, cook, and/or purchase bulk or large boxes and bags of non-perishable lunch food items fit for healthy school lunches for the week such as whole grain crackers, nut mixes, baked veggie chips, homemade oatmeal raisin cookies, organic cheese puffs, roasted sea-salted pumpkin or sunflower seeds.

Third step: Gather multiple airtight single-serving lunch box sized containers. Examples include recycled and cleaned lidded food containers such as yogurt cups, recycled plastic bags, small purchased reusable eco-friendly brown bag lunch containers.
The healthy school lunch assembly line: Assign jobs depending on how many are involved. One opens a larger food container and hands it to the stuffer(s). The stuffer puts the appropriate amount in each container and hands it to the deliverer. The deliverer takes the filled containers to the school lunch tub. Adjust jobs according to number and age, expanding or doubling up some duties when necessary.
- Then, put the upcoming week's appropriate number of non-refrigerator fruits such as apples and bananas into the tub that now holds the non-perishable healthy school lunch items for the week.

- Repeat the assembly-line process for turning refrigerated perishables such as cheese, fruits, veggies and dip, celery and peanut butter, homemade applesauce, yogurt, and so on, into enough single-portion units for the whole week. Put them in a tub in the refrigerator.

- Optional: Pre-freeze boxes or bottles of water or organic juice as part of the lunch ingredients. They can be put in the brown bag or lunch box in the morning to keep foods cold (they melt by lunchtime). During the assembly line process, someone can have the job of counting the appropriate amount needed for that week, and putting them in a specified lunch box area in the freezer.

Enjoying the fruits of your labor Kids can now put together their healthy school lunches easily and quickly on busy week nights. They just grab one each of the ready-made non-perishables from the tub, then drop in refrigerated and/or frozen perishables in the morning. It becomes a recurring, soothing but easy routine.

Don't judge it too quickly. The first time you try the project, it may seem like more work than just doing it by yourself. But as time goes on, the process smooths out, helping kids learn to stick with something and solve problems, not giving up if gratification isn't instant and easy. It's a great family group activity.

---
You may also be interested in
Home Food Preservation as a Group Activity
---
Custom Search