Guemes Channel Trail gathering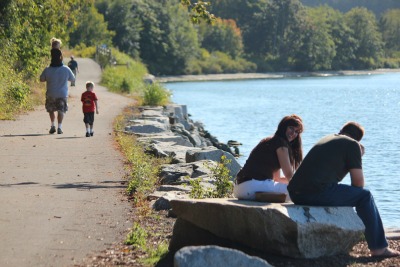 Anacortes, WA is located on two islands: Fidalgo Island and Guemes Island. Between the two islands is a waterway called the Guemes Channel. This provides a beautiful view of water, evergreen islands, and various boats and ships that pass through. In December, this is the channel where the Christmas ship parade floats by spectators watching from their view homes or along the shores around bonfires.

From the east side of Fidalgo Island to the west side, our town is creating a walking trail that will edge the Guemes Channel -- called the Guemes Channel Project. Citizens have donated to it and it continues to get closer and closer to completion.

On a recent Sunday morning there was a great group activity to generate word-of-mouth awareness and gain photos to use in promotional campaigns. They put out notices to have people show up at 10 a.m. to walk the part of the trail that was complete. Meanwhile, they ran a boat just offshore of the trail to take photos of people strolling and enjoying it. They also had a pedicab going up and down the trail to show the completion of it.

They got some good shots and videos of the trail project.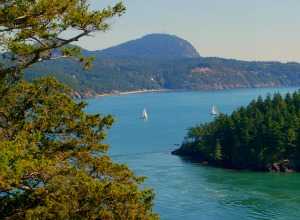 The east side of Fidalgo Island is where the bustling marina and beautiful flower-strewn waterfront walkway are. The west side is where the ferry and stunning Washington Park are. The photo to the left is just one of the views you get in Washington Park. We're all very excited to have a walking trail to connect both sides of the island and to show off Guemes Channel to pedestrians.

---
Return from Guemes Channel Trail Project to Living in Anacortes, WA

Custom Search