Unique plan for ongoing group fundraisers
Copyright National Lilac Publishing, LLC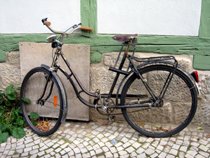 Here's one of my favorite group fundraisers for adult or intergenerational groups from Amy Rose. It's an ongoing group project for a group with recurring funding needs. It can even be turned into a for-profit business down the road if you choose. Just make sure funds are handled legally, tax and otherwise.

For other adaptable shorter-term group fundraising ideas, see our article on group fundraisers for youth.

From Amy:
You can earn quick cash withOUT selling items around your home and NOT doing any work for hire.
Many group fundraisers call for selling items in garage sales or doing work for other people. Those can work short-term. But this article shows how to safely rent out items to others, such as a rarely used bike or chainsaw, so you can earn cash over and over from others doing their own work with the items, while you still get to keep them.
Your group may have funds just waiting to happen
First: Take inventory of what you have to rent out to people. For example, antique costumes, a rarely used chainsaw, a human powered push mower, a silver tea set for a special gathering, unusual costume jewelry, a designer bag you got for your birthday and secretly can't stand, a carpet steam cleaner, a set of golf clubs, a tent, sturdy outdoor kids' toys or games for one-time use at kids' birthday parties, large wall paintings, a portable dog pen, a cat carrying case, your old guitar, a post hole digger...

…and so on, even your unused stationary bicycle. There are people who want them just to get in shape for a one-time event, then don't want to keep them around after that.

Get a free renters' account online

Second: Most group fundraisers, even ongoing ones, can't take the time to design their own website. Instead, your group can go to Zilok online and set up an account. At this writing, this site will find renters for you in your group's area, it requires security deposits and has liability protections to help put your group's mind at ease. Read their rules thoroughly, though, as they're subject to change at any time without notice.

Some group fundraisers fall into the category of businesses, even if they're non-profit

Third: If yours will be operated like a business, make a business plan and get a business license. Call your Small Business Administration or local Chamber of Commerce to see if you need to obtain a business license for the amount of renting out you hope to do and for the cause it will be for. If so, in many cases, you can get a business license online in minutes for very little cost.

Even if you don't need a license, go to SCORE.org and fill out their free template for the shortened version of a business plan. This will help you get focused and see (and therefore reach) specific group fundraising goals. The quick business plan is fast, and your fundraiser will earn even better for having your group be organized from the start.

The group fundraising begins!

Last: Spiff up your group's rental inventory as a shared group activity, then begin renting. Replace a string on the old guitar, remove the rust and get the old chainsaw going, make sure the stationary bike doesn't squeak when peddled.

You'll want to maintain a good reputation and re-rent your group's rarely used items over and over again for as long as you're involved in group fundraisers. Gather regularly as a group to clean and tune up items that have been rented.

Eliminate any items that cost more to maintain than the rent income they produce.
---
Custom Search