Group camping on the farm, rural outbacks, or in the wilderness
Copyright National Lilac Publishing, LLC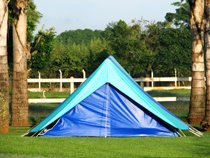 There's nothing like group camping in the country or wilderness. Here are some tricks to group rural and wilderness camping with family or groups of friends, and even resources for earning income via camping.

First, here's an affiliate resource:
Vanabode Camp: Travel & Live Forever on $20 a Day. If your group wants to camp for an extended time, a year or two (or even quit their jobs and camp forever!) this unique camping guide shows how to camp across the USA for very little money per day, and even earn income while traveling.

Tips on camping with a group
- Water supply: One suggestion for water is about a gallon of water per day for each camper's consumption and use. Supply each camper's own personal gallon jug if campers will be filling up their own personal supply from an outdoor water source. That amount doesn't include things like group dish or clothes washing.
- Group tent camping: Dome tents are easy to set up and resistant to wind and rain, but you need more than one for a group. If you want the campers all together at night, choose a family tent and for comfort, use one that's designed for a couple more people than will actually be sleeping in it.
- Group camp stove cooking: A two-burner camp stove is usually adequate for up to four or five people. There are also inexpensive foldable pocket camp cookers if you want each camper to have their own stove or just need an extra small burner if the double-burner isn't large enough.
- One professional camp planner suggests supplying one first aid kit per every five people, but adjust this if there are special needs in your group, such as more walking across sharp rocks or more times the group might split up into several smaller groups, each needing their own kit. And, add tweezers to the kits if they don't already contain them. A sliver isn't usually life threatening but can really spoil the fun for the person in pain.
- If there is money for the camp trip that all are expected to contribute to, collect it upfront -- all of it. I've been in too many situations where people just didn't want to pay for something they'd already experienced (kind of like not wanting to pay back credit cards for goods and services already used up). It caused nagging, bad feelings, resentment and strains on relationships.
- Set strong ground rules upfront, including rules about avoiding fire hazards including from matches, candles, and smoking once inside tents.

Group camping on your own or friend's rural property
Camping comes naturally when lucky enough to live on acreage as we do. Yet landowners can sometimes forget how different their own land feels when they actually camp on it. Like a vacation without leaving home. My son and his friends lived in a tent in our orchard all summer long while growing up. My daughter and her friends loved to set up camp in the back of our pick-up truck when we had a canopy on it. Camping on your own property is a great way to enjoy family reunions, overnight birthday parties, to entertain friends, or even earn a stream of income (see below).
Camping as a form of for-profit agritourism for your farm or rural community
The owner of Mary Jane's Farm in Idaho saved her farm with a new stream of income by offering group tent camping. Originally setting up tents in an old orchard for wedding guests, they decided to make them more permanent and turn them into "tent B&Bs" where people sleep in tents and use the nearby outhouse, out-building shower and outdoor kitchen. Customers enjoy collecting eggs and otherwise witnessing and experiencing a real working farm, with a country breakfast brought to them each morning.
There's more about Mary Jane's Farm, using camping as a form of rural income, and many more ways to earn rural income with agritourism from the book, The New Agritourism: Hosting Community & Tourists on Your Farm

Finding other farms or rural areas that allow group camping
Most readers most likely don't own their own farm nor have friends who do. For those seeking other locations for camping with a group on a farm setting, visit agritourismworld.com. It lists farms in the USA and other countries that allow visitors in various capacities, and you can search for ones in your chosen area that allow group camping. Outdoorplaces.com leads to all kinds of campgrounds, including rural and wilderness locations. If you especially want to do rural camping in France, visit rural-camping.com. 
---
You may also enjoy
---
Custom Search