Gifts kids can make:

great for a children's gift-making workshop



Copyright National Lilac Publishing, LLC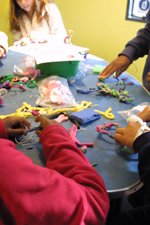 There are many gifts kids can make (our favorites below), but creating them from within a bustling children's gift-making workshop brings on a very satisfying feeling.

Maybe it's partly because of the sense of magic it brings from growing up in a society with legends of elves' toy workshops, or that our ancestors once worked cooperatively in village workshops. But if you choose, you can turn the great kids' gift-making ideas below into a group workshop. It's just a great fun interactive children's group activity that can be set up near winter holidays, Mothers' and Fathers' Days, or even as a kids' party, camp or retreat project.
I facilitated a full Saturday afternoon children's gift-making workshop at an elementary school for about 20 children who signed up and paid for the class. But the "workshop feeling" can be created with just a handful of neighborhood or homeschool kids, or even a small group of siblings.

The gift-making workshop itinerary
I chose a collection of gifts kids can make both on their own and cooperatively with others (see below). This allowed children to experience both being an individual within a shared interest group, as well as being a valuable contributor to an important single unified group goal.
As the first unifying group project for our kids' gift-making workshop, kids mixed four large batches of play-dough in four different colors, then formed a human assembly line to measure out and fill plastic re-sealable containers and put four containers in attractive berry boxes we'd purchased wholesale as the finished gift. Each child took one container of 4 different colors of play-dough home. After cleaning up, they then broke off and rotated around the room to make a variety of individual gifts.
Gifts kids can make as a group unit
When kids make gifts as a unit, they can either make one large gift (such as the quilt below), or make multiple gifts as a unit, as with the workshop described above where the whole group made enough play-dough gifts to each have one to give away.
Kids' quilting bee

You can get a kids' quilt-making kit divided into 24 canvas squares kids can decorate with fabric paint or markers from Oriental Trading Company. Kids then tie their decorated squares together with provided ribbon using pre-cut holes. For fewer children, each can decorate more than one, or just leave some squares white and layout an every-other pattern, which makes a very attractive quilt. Another quilting project from HearthSong is a 24-piece quilt also with fabric patches that can be pieced and laced together without sewing. For kids aged 10 through teen, they offer a tie-dyed quilt kit with far more pre-dyed pieces kids lay out in pretty patterns then actually sew with a simple stitch. Finally, for kids six and older, they offer a kids' quilting kit with brightly colored fringed squares. Kids tie the fringe together to create the quilt.

See also our Children's Tablecloth Bee Project
Making incense cones

The gifts kids can make sometimes need to be items teens or adults appreciate. Kids can mix, make and package incense cones similar to how my group described above mixed and made play-dough. Here's a basic handmade gift incense recipe


More gifts kids can make as a group assembling project: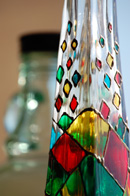 A kick ball gift collection. Each child decorates a white kick ball which can be purchased in bulk. The decorated kick balls are then put into packages of several as single gifts. Oriental Trading Company sells 50 blank white kick balls for around $20. They also sell fabric markers.
A gift bubble bath assembly line. Good for a smaller group activity. Kids are divided into jobs for making bottles of gift bubble bath. A favorite recipe is two parts castile liquid soap plus two parts warm distilled water plus one part vegetable glycerin, a mild natural fragrance, and "lustres" or vegetable-based glitter for sparkle. Some bodycare product glitters are micro plastics very bad for septic systems and oceans since they never bio-degrade. And some glitters are created in distant countries using child labor. So search online or locally for biodegradable and non-child labor glitter appropriate for adding to liquid soap products. Once you have all your ingredients, jobs include mixing while another child adds drops of fragrance, and then another pours in glitter (about 2 teaspoons per cup), others pour the mixture into sterilized recycled bottles. Add more jobs by having kids decorate the bottles with glass paint or stickers. Tell the bubble bath gift recipients to shake it just a bit before pouring into the bath, so the glycerin (which helps it make bubbles) remixes, but doesn't over foam from too much shaking before pouring.

Gift baskets. Choose several related gifts kids can make on their own from the list below to be later assembled as a group into gift baskets.
Gifts kids can make as individuals:
Tons of gifts kids can make at your public library
Go to the children's non-fiction section of your library and find the craft and science areas. You'll find inspiring books with easy visual instructions for gifts kids can make that actually look quite impressive.

Easy melt-and-pour gift soaps, birdfeeders (grandparents often love these), blooming potted flowers and houseplants, refrigerator magnets, pet treats and toys, blank journals, and so on.

For example, the book "Beads 'N' Badges" shows how to make very attractive marbleized looking beads with a simple process using ordinary modeling clay. It has many other projects, including hand-painted beads from homemade salt dough. The book "Easy Carpentry Projects for Kids" shows how to assist kids in making a nice wooden desktop rack, and other projects.
Items to hand decorate
Kids can hand decorate blank pre-made backpacks, travel mugs, totes, baseball caps, pinwheels, and even umbrellas and other items from Oriental Trading Company if it works for you to buy at low cost in quantities, often by the dozen.
Gifts kids can make as a longer term project
Kids experience and nurture their ability to persevere, delay gratification and see connections when gift-making is a long term project.

For example, pick and press flowers in the summer and store them. Then take them out in November to make bookmarks as winter holiday gifts.

Grow birdhouse gourds in summer, cure them and carve them in fall, and turn them into hand-painted birdhouse gifts in winter for the recipient to put out in spring.

Go to a u-pick apple orchard in fall, make applesauce, freeze it, then thaw it and make applesauce sweet breads as gifts in December.

Plant nasturtiums or marigolds in peat pots in early spring, give as gardener gifts in late spring.
---
Custom Search