Fun group activities for grown-ups or mixed age groups to create

(or make current ones even better)



Copyright National Lilac Publishing, LLC

This hub focuses on fun group activities for adults and intergenerational groups. Though we all need healthy solitude to varying degrees, social connections are known to trigger inner motivation and mental well-being. And we grown-ups need time with just our own ages, as well as a village of other adults to help raise the kids when they are involved in the activities.
You'll find how-tos and ideas for shared interest or friendship groups such cooking clubs for grown-ups. Also covered are intergenerational gatherings that don't fit into other categories in this site, such as walking club fun (including Nordic walking) where kids might participate, but don't have to. Plus, you'll find creative child-care ideas for use during adult only group activities.

Where appropriate, we show how some of these can become sources of home based income or fundraisers, such as the women's kitchen cosmetics club for fun or profit .

Some articles are about starting from scratch, including the delicate art of finding interested people you get along with if you don't already have an interested group. Others offer simple ways to enhance groups you already have going.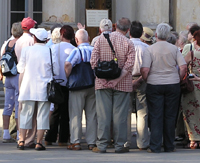 Here are some fun choices:
---