Fun cycling activities
Copyright National Lilac Publishing, LLC

Bicycles and people add up to some great group activities. Here are some favorite fun cycling activities you can especially enjoy in a group:
-- Join or start a bicycle tourism group. Bicycle touring groups such as People for Bikes www.peopleforbikes.org are sometimes all about the adventure, seeing the country through the eyes of a bicyclist, connecting the country and people together with protected bicycle trails and bicycle stop-offs. Or, others, such as Bike and Build http://bikeandbuild.org/cms/, are set up to earn money for a good cause while they take cyclists through historic and other beautiful routes. The latter is focused on younger adults helping with the affordable housing crisis. Start by searching either of these groups to see if there's something you want to join.
Or, set up a bicycle tour of your own complete with your own cycling group's customized t-shirts. Scope out a good trail, perhaps in an historical district or a nearby rural setting. Ride it once on your own to make sure it's workable. Check to see if any desirable stop-offs such as coffee houses with bathrooms for patrons will be open during your chosen date, then create a group event on Facebook or just via your e-mail list.
-- Take to the forests and long-ago railways: Hidden and beautifully woven amidst our country are trails for pedestrians and bicyclists that connect forest lands and other natural areas. As more and more are built and supported, it's getting more and more possible for people to bicycle from city to small town, even from state to state, purely on a (mostly) uninterrupted trail just for human-powered travel. Check out www.railstotrails.org/ to see if there's a trail your bicycling group would like to explore.
Or, if your cycling group is into mountain biking and you live in the Pacific Northwest, look into the Pacific Northwest Scenic trail. www.pnt.org. This is a foot, horse and where permitted, mountain bike trail starting at the Continental Divide all the way to the Pacific Ocean. It crosses Montana, Idaho and Washington State. Tended by the non-profit Pacific Northwest Trail Association, connect with them for maps and more information to see where your bicycles would be permitted.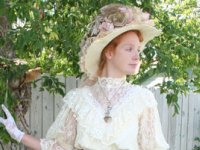 -- The Tweed Ride: Dress up in vintage clothing, polish your vintage bicycle, and have your group choose a cycling route while pretending you are living anywhere from the turn of the 19th century to the roaring 20s. Groups across the globe are sponsoring formal Tweed Rides, so you can do an online search for Tweed Rides in your area. Or, just gather your own bicycling friends for this improv form of street theater.
A hint from someone who's done many group costume activities: There really needs to be enough people in the group dressed in the period clothing for a sort of group energy to take hold. I disagree with some of the Tweed Ride sponsors that it's okay for some to show up without a costume. Even if just one shows up in spandex, the magic weakens and self-consciousness for those dressed up can sneak in. Find enough who are really enthusiastic about this old-fashioned time traveling bicycling activity.

---
You may also enjoy:
How bicycle tourism is boosting small town revenue

---
Custom Search