Tips for forming a group from scratch
Copyright National Lilac Publishing, LLC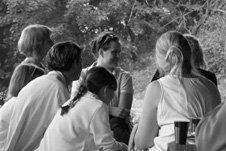 Thinking of forming a group of some kind? Is it a hazy black and white thought on the backburner of your mind because you're not sure how to start from scratch? This article may help.

Everywhere, people are starting and running real live knitting clubs and walking clubs. They're gathering in reading groups and cooking clubs, kids' activity groups and youth groups. This hub's home site, Great Group Activities, has many examples and how-tos for specific groups.

But because all of us don't automatically have enough friends or family who are interested in the topic of the type of group we'd like to form, here are some tips for starting a group from scratch.

Start hunting for two others to form a solid core for the group first
This means two others besides you interested in forming a group that shares your interest. Assuming you don't already know two others who are interested (or you wouldn't be reading this article), here are ways to find them.
You want to find those with whom the chemistry works for enjoying each others' company. When forming a group, shared interest doesn't always mean people will get along well down the road.
One way to find potential core members for forming a group is to put up fliers in places where your potential group members might visit that offer bulletin boards: health food stores, libraries, book stores, farm and garden stores, craft stores, cafes, churches, sports stores. Plus, advertise in local classifieds.

In your ad or flier, it's often best not to say you're forming a group. Instead, ask to meet only once, or for a short finite period of time. Let's say you want to start a walking club for women. Put up a flier in a health food store asking for other women to join you for Sunday afternoon walks at a very public place for the upcoming month only. From those who join in, choose two others interested in forming an on-going group to take walks with other women.

Another method for finding those of shared interest is to teach a one-time class or workshop on the topic of the group you want to form. For example, facilitate a one-time free meditation group, or a gourmet cooking demonstration, or hold a free-writing class or a local author's reading to find others interested in forming a group for writers. Contact your town's Parks and Recreation and offer to facilitate a one-time class or workshop for a very low price, or offer a class for free and have it listed in your town's newspaper's events section. From the people who respond, choose the two others to form the group's core.

A final method for finding core members for forming a group is at least temporarily joining similar groups already formed. Attend your community center's gym work-out night for others who may want to start a bicycling club. Go to authors' readings put on by book stores or libraries and strike up a conversation afterward to seek out possible members for starting a book or writers' group. Look for local events in your newspaper where possible core group members may attend.
Obviously, use intelligence to stay safe with strangers. Stay in public, charge your cell phone and let others know you have it, and have a plan B exit strategy.
With this core group, form some starter rules before formally starting the group

Decide on a maximum and minimum number. Stick with it so that future waiting list wannabes don't feel they're being left out for personal reasons. Most agree 6 to 10 are good numbers to ignite group energy and lively discussion. But allow more if yours is the type of group where busy schedules or very diverse choices of group topics or activities may keep more than the usual amount of members away on occasion. You may want your group to go as high as a dozen or so, ensuring at least five or six will show up each time.

Decide if and how future new members will be solicited. Once your group is at the maximum size, one member may move or drop out, or you may feel there's room for another member or two after all. How will new members be allowed in? Most groups start with recommendations by current members. After that, members can put out notices in various circles that there's an opening for one or two in your group.

Group guidelines: It's a fine balance between feeling like a snob that only invites a select few, and being careful not to find the group crowded or disrupted by a new member who's there more to preach personal beliefs, who can't be counted on when it's his or her turn to host, or who wants to steer the group into a direction the rest have already decided they're not interested in. To avoid any of this try to have some set, written guidelines about the type of topic and the behavior your group encourages and wishes to avoid unless you're starting out with a tight-knit group of friends who already know how to flow together well. These groups can often simply intuitively find new members via word of mouth.

But especially when forming new groups, if you have written guidelines, future invitees can see upfront that going off-target or non-stop complaining aren't what this group is about, and difficult people may be more likely to pass on the invitation before they ever set foot in your group. That way, you've headed future discomfort off at the pass.

Decide where: Sometimes, groups meet at the same place each time. There are those who love to host and are happy to always have the gathering in their own home. Some groups trade locations, going to a different member's home each time.

If all but one or two members are able to trade hosting, allow those who can't hold the group in their homes to feel they're contributing in another manner, such as being in charge of bringing herbal tea, sending out reminders, or searching out and compiling lists and descriptions of possible future books for a reading group or new places to walk for a walking group.

Your library, kids' school, grange hall, community center or church may offer a neutral place to hold a group gathering.

Decide when, how often and how long. Choose a recurring meeting day that works for your core group of three. For future members, realize there will always be some days that some members find inconvenient, so don't try to please everyone. Second Wednesdays, first Mondays and fourth Sunday afternoons are examples.

Once chosen, look way ahead on a calendar to really make sure that will work. If many major holidays fall on too many of those days, make adjustments ahead of time. Groups can even cooperate if babysitting is needed, perhaps going together to hire more than one sitter who will supervise crafts and a quality movie for all the clubs' younger children in another room or another's home. Once gathered, decide on and stick to a starting and ending time. You may want to start out with an hour or 90 minutes as your set time, try it a few times, then adjust if the group votes to make a change.

Keeping the group positive and enjoyable: It can really help to trade leadership duties during meetings to make sure the original goals of the group stay on task and to make sure no one over-dominates the situation.

Growing from here: From this foundation, your core group can begin to add more members, perhaps one at a time. The core group can be more casual and simply ask around at their other social groups, or advertise or teach a class again to find new members until the group grows to the size you desire.

---
You may also enjoy our main Great Group Activities site

---
Custom Search