Make fishing with kids an adventure they'll never forget
Copyright National Lilac Publishing, LLC

Fishing with kids is one of the all-time traditional outdoor group activities. Adults involved with groups of children often want a way to create such time-honored memories, even if fishing isn't, well, their thing.

But here's an adventure for making memories of fishing with kids from Amy Rose whether you're experienced at fishing or not. It works both for those who don't want to harm or kill their catch, and also for those who keep their catch.
It's similar to something I did with my own kids, and it is far more rewarding for both without using expensive fishing rods.
Kids make the rods themselves and fish for crayfish which are abundant in freshwater lakes and rivers, often dwelling near the edges.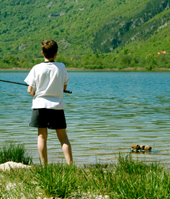 Even more fun than just fishing...

By making their own poles, children experience how patience and process are connected to rewards that come a little later. That makes the ultimate gratification -- the fishing trip, even more meaningful.
And, it's been discovered that kids who learn to delay gratification are the happiest and most successful. Who'd have thought a crayfish could contribute to that?
This is fun as a group activity theme for birthday parties or summers when the cousins come to visit.
And it's both old-fashioned and visionary -- with bamboo considered a very green eco-friendly resource. Huck Finn would surely approve.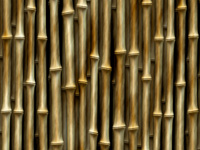 Here's how from Amy Rose:
1. Garden stores sell bamboo poles for garden trellises. Take the children to a garden store and have each choose their own pole close to the size of a fishing pole (exact length isn't important).
2. Guide children to cut a piece of string close to the length of the pole.
3. Have the kids tie one end of their string to one end of their pole.
4. An adult should reinforce the string to the pole with tightly wrapped duct tape.
5. Then have the group of children tie recycled, water-proof metal shower hooks to the other end. These are dull and safer than real fishing hooks, but be careful. If needed, get new replacement shower hooks (pretty cheap) at hardware stores. I suggest avoiding the bright plastic ones. Fishing pole is complete!
6. For bate, help the group of kids cut five by five inch squares of cheese cloth. You'll need one for each crayfish you hope to catch, and a few extras in case some get away. Drop a ping-pong ball sized chunk of very well-drained tuna in the center of each square. Tie each closed with a piece of string long enough to have loose ends that can be tied to the "fishing hooks."
7. It's time for actually fishing with kids. Put the bate into a plastic tub with a lid, pack up and go to the fishing site. Bring hand sanitary wipes and do not let anyone eat the now unrefrigerated tuna.
8. Show the children how to tie the bate onto their poles, and drop the bate into the water's edge. Kids should keep it relatively still until a crawfish comes along to grab the bate.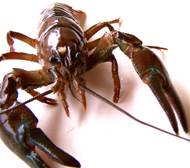 9. When the crawdad grabs the bate with its pinchers, kids should very slowly move the bate away as though it's trying to escape the grasp of the pincher. This makes the crawfish grab hold even tighter. At this point, they can lift their catch out of the water and bring it to shore.
10. Adults may need to release the crayfish. Grab it at the middle – not too close to the eyes or the tail. When you grab it here, it will release it's grip in an attempt to pinch you instead, but it can't reach back, so you'll have it safely.
Options for crawdad fishing with kids
If keeping crayfish live for a while to clean them from polluted water, or for a kids' home science project, keep them in clean, cold water no more than 3 days, feeding fresh vegetables including corn and lettuce. Make sure they can't escape the container… crayfish can walk on land (and floors!).

If kept longer, the water will lose oxygen and they'll die. But part of the fun of fishing with kids can be releasing the catch back into their native underwater home. So plan this after a day or so of observing them.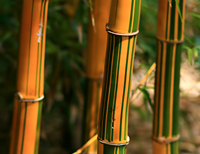 To really make fishing with kids an adventure with further-reaching  connections, look for a bamboo farm to visit before making the poles so they know how it's grown, even if you still have to eventually buy the actual poles at the garden store. The American Bamboo Society can lead you to farms and nurseries that allow you to visit.
---
You may also be interested in:
Find fun farm activities for kids in your region,

Fun and unique beach activities to enjoy with kids,

Fun, creative children's gardening activities.
---