Top 22 farm wedding inspirations from actual weddings
Copyright National Lilac Publishing, LLC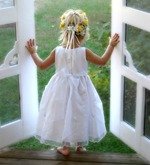 Planning a wedding on a farm? Maybe you're choreographing your own farm wedding or are looking for a pre-arranged rural ceremony package. Either way, here's inspiration from on-farm weddings across the country.
___________________

Find country wedding invitations here!
___________________
- Here's a great farm wedding rehearsal dinner idea from Wood Acres Farm in Connecticut: They offer a horse drawn wagon or sleigh ride through wooded trails, then a pizza dinner either around a bonfire or heated room, depending on the season. The package includes one hour for the rehearsal, half hour for the ride, and one and a half hours for the pizza picnic which includes utensils for the meal.
- As a wedding party group activity for a vintage outdoor wedding, the group scoured second-hand and vintage shops for unique whimsical bridal attire, accessories and ceremony decorations.
- Wedding cake alternative or wedding food alternative: Set up a table that looks like a country bake sale. Another wedding couple had a frost-your-own cupcake table.

- Farm wedding favors: This couple offered a choice of fresh locally grown organic apples or caramel apples also made out of the same organic local fruits.
- One professional farm wedding destination offers cheese and fruit platters at the reception which are produced by local and artisan farms.
- Fun pre-wedding and wedding reception farm activities from Mountain Meadows Lodge in Vermont include a marshmallow roast (s'mores) at the fireplace, a hike to waterfalls, and farm animal feedings.
- Couples have brought their own horse(s) to their wedding and made them part of their ceremony!

- One farm wedding bride wore faded blue jeans and work boots with a lacy white Victorian bridal blouse and hat.
- Fun farm wedding activities offered by Riverside Farm in Vermont include hot air balloon rides, fireworks, outdoor barbeques, horse rides, cozy fire-side wine tasting, catered dinners, dog-sledding, snow shoeing and sleigh rides.
- Fun farm wedding decor we've seen and especially like: Rustic candles previously hand-made by wedding party, shallow wooden crates filled with wedding cupcakes, calico cloth covering straw bales for seating, bushel baskets holding the take-home wedding favors, galvanized buckets filled with cut dahlias and sunflowers, galvanized washtubs filled with ice and drinks in vintage-style bottles, mason jars filled with oversized wildflowers.

- An engaged couple visited a Friday farmers' market the day before their wedding to choose fresh bouquets together for the wedding decor and the bride's bouquet.

- Also! Another wedding party went to local u-pick farms the day before and did their own wedding flower arranging.
(You may enjoy our affiliate instant download tutorial for beginners on creating their own wedding flower arrangements)
- Wedding ceremony entrances: Besides the flower-strewn row-boat or elegant country horse carriage wedding entrance, farm wedding couples have entered by restored antique car, hot air balloon, as mentioned above -- their own horses, dog sled, hay ride, back of an old pick-up truck and tractor.

- Admittedly this isn't just for a farm wedding, but we liked it so much we wanted to share it here. Bride affixed a floral, nature-themed temporary tattoo in a hidden area on her body before the ceremony. New husband had to find it during their first intimate moments together as a married couple before further intimacy continued. He knew this ahead of time and his guessing and desire to hunt for it began spinning in his mind way before the honeymoon. Just one of many ways to make the bride feel sexually desired -- the ultimate aphrodisiac for women. Gets marriages off to great starts.
- Great rural wedding ceremony exit: One couple held their farm wedding on their vegetable farm during peak growing season! They had to hold their wedding on Sunday because they sell produce at farmers' markets on Saturday. After the ceremony, they drove off on their tractor together for some private time before returning to the celebration.
- One couple made their wedding a genuine potluck inviting in-town guests to bring a side-dish that reflected local in-season flavors. Wedding party provided in-season wild barbeque salmon, local wine and of course the wedding cake homemade by the family baker.
- Photo booth areas: Besides the usual flowered arch or gazebo: Decorated hay stacks, flower-strewn tractors, and sweeping pasture backgrounds.

- Fun wedding favors we've seen that fit well with farm weddings include: miniature homemade jars of jam, clam shell or other rustic hand-poured beeswax candles, bagged polished stones for kids, tree seedlings, wildflower seed packets, vegetable or flower garden starts.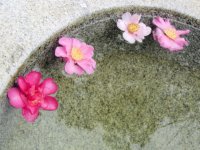 - At one wedding, fresh-picked wild and farm-grown flowers were floated in various outdoor vessels including the birdbath, water troughs, and other rustic containers.
- Drinks we've seen that seemed particularly suiting: Ginger ale, lemonade, root beer with iced mason jars to drink from, and a locally-grown and fair-trade exotic tea bar.

- Homemade ice cream made as a group activity at the reception using local dairy and locally grown berries and maple syrup.

- Country wedding send-offs: Tossing sustainably produced dried herbs (jasmine, lavender, rose petals, rosemary, bachelor button heads) after the ceremony. ________________________


You may also be interested in reading:


Barn Dance: Great for a country wedding reception
May Day Celebration: Adapt the traditional May Day celebration for a springtime wedding
Bonfire: Adapt this bonfire activity for your wedding -- an autumn wedding would be especially suiting
Second Wedding Ceremony Treasure Hunt: This article tells how to put on a great treasure hunt for kids, but you can adapt it to your country wedding. Want the kids to find the wedding favors treasure hunt style? Want the guys to find out where to crash the bachelorette party treasure hunt style?
DIY Wedding Flowers: Take your wedding group out to the country to pick your own and assemble your own wedding flowers
Country Weddings: Reflections on what makes three ceremony ideas work so well
Custom Search