Farm activities for kids on your farm (or your neighbor's farm)
Copyright National Lilac Publishing, LLC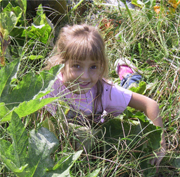 For rural readers who need ideas for kids' farm activities for a variety of reasons -- perhaps you own a farm or work with a farmer, and want meaningful field trips for schools or simply fun farm activities for your kids' visiting friends or cousins.

(Don't live in the country? Not a farmer? See also: Find fun farm activities for kids in your region. )

Other folks interested in kids' farm activities are more business-minded. If your CSA or other direct-selling farm wants to please potential customers, entertain and educate their kids. It can work like magic. It can be one of the best forms of agritourism to generate promotion and added revenue to your farm.

A great source of farm revenue:

Some farm owners (or friends of farmers) have even earned exceptional extra income by setting up farm activities for kids as a paid summer (or other seasonal) children's camp or workshop. (If you want to turn on-farm kids' activities into a profitable day camp business, you may be interested in our affiliate How to Start a Kids' Summer Day Camp. It's for all kinds of camps (swimming, nature, dance, etc.) but explains the entire process from necessary legal logistics to making sure your camp/club/school is profitable and filled to capacity).
Favorite farm activities for kids 
While the pumpkin patches, corn mazes and farm animal petting zoos are all great, over the years I've come across some incredible and unique kids' farm activities on authentic working farms. Use them to inspire something very unique on your own farm.

Home Sweet Farm in Texas has a thriving small-acreage CSA. Among their many farm activities for kids, they invite them out for ladybug releases, learning how ladybugs help organic farms. And, the kids and their families love the summer heirloom u-pick melon patch.
The Living Farm in Colorado raises dairy sheep. Because they will be milked, dairy sheep authentically need to be handled to get used to humans while young. Children are invited out to pet and hold the lambs as part of the lambs' actual spring training.
Lattin Farms in Nevada is a fifth generational family farm that just happens to have some certified teachers in the family. They've created a series of farm tours that are very beneficial to school children, and they work directly with the schools. They include lessons in pollination, measuring, an alfalfa unit, and various uses of plants. In my own farm's case, I teamed up with a certified public school teacher and we created many farm activities for kids that benefited my farm's own promotion as well as his class's curriculum.
In Washington State, WoodBee Christmas Tree Farm has numerous farm activities for kids, but my favorite is a twist on the typical petting zoo. They put antlers on a (very willing and happy) pony and name him "Randolph, the phony baloney pony who thinks he's a reindeer." He's quite a legend, and children who grew up with Randolph return years later with their own kids to visit the (new) Randolph.
On Prairie Pedlar Farm in Iowa, the owner has planted theme gardens including a "Kinder Garden" with a plant for every letter of the alphabet. The owner also has a program for kids aged 8-12 called Green Team where they work in their own gardens in the morning, learning about planting, weeding, dead-heading, soil, harvesting, and so on, then break for a snack before they enjoy a farm-related craft.
Owners of Terhune Orchards in New Jersey have set up an outdoor classroom and have seasonal farm activities for kids. For example, in spring they have a gardening program where kids dig for subterranean creatures (earth worms) and learn how valuable they are to the farm. They visit the beehives and plant a miniature garden they can take home and nurture. In summer they walk the "Farm Trail" exploring for bugs, and learn the good guys from the bad guys.
Salt Creek Farm in Washington State grows many heirloom potato varieties. During potato harvest, they hold a potato digging fest for children. The kids absolutely love digging through the soil for potatoes. They have as much or more fun as during an Easter egg hunt.
---
Custom Search