Family activities for bonding, learning and loving
Copyright National Lilac Publishing, LLC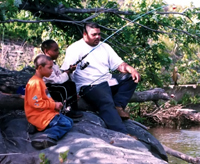 This hub leads to unique family activities for the immediate family, including traditional, blended, adopted or chosen (a group that informally chooses to live as family).
Linked below, we'll share the cream of the crop that help us raise families in a new world -- a world that is advanced in technology, but which has eliminated some of the ways we once bonded and benefitted from family.
You'll find a number of 21st Century ideas and how-tos, such as setting up backyard movies. And you'll also find ways to restore older family traditions, such as Old Time (and new) Radio Shows Tradition for 21st Century Families , in ways that make them work in an exciting new global, green and electronic age.
Most of the other Great Group Activities categories you see in the navigation bar to the left also include some family-oriented activities, or can be adapted for a family. But if you're a family or plan to have one, this hub is just for you. You may be surprised at how you can tweak a simple family meal into something that opens communication, bonds, unites, and gives the family valuable qualities they'll use for a lifetime.
Enjoy them as we continually update and add new ones:
---
Custom Search