From doll collectibles on sale to an adoptive mother's expression of love
Copyright National Lilac Publishing, LLC

Doll collectibles as props (not gifts) for a Christmas tradition? Though many devout Christians and traditional families loved this story, at the time the story happened, I was neither a conservative Christian nor part of a traditional family. Here's how it went.

I adopted my kids as toddlers, and somewhere in my past (from the Bible? From a minister?) I'd heard the story of Jesus saying something like, "When you look at any child, even the lost and abandoned, there I am."
What was a Christmas child, anyway?
I felt Jesus was saying that all children were cherished -- all were Christmas children, and all are equally precious regardless of their beginnings – even stables! I wanted to express how much I saw that perfection in my kids on Christmas in a symbolic way. And at the time, several Christian friends had told me that Jesus' birthday wasn't actually on December 25th and I wanted to celebrate the message of love vs. getting into when the actual birth was. Yet I knew my kids would grow up with images of a newly arrived child as a symbol of the holiday, so I wanted to bring meaning and magic to that symbol while my kids were young.
Then I saw one of those inexpensive "porcelain doll collectibles" at a department store -- a boy -- and got an idea
I'll never forget the phone calls from the adoption agency that told me my child was waiting for me. So I started a Christmas Eve tradition based on that joyful moment that we took part in until my kids were young teens.
A child waits in the night
Every Christmas Eve, my kids would prepare a bed for the new Christmas Child. You never knew quite when, but eventually the phone would ring announcing the child was ready and waiting. I'd answer and get all excited. "Our child is waiting!" (I had secretly dialed our own number to make the phone ring.) Then my kids would take a small lantern we used just for this tradition, and an infant blanket, and go out into the night to find the child.
Every year I hid the chosen doll collectible for that year in new places: out in the woods, in the ponies' manger, and various other locations near our house. I alternated from porcelain boy dolls to porcelain girl dolls. The porcelain doll waited with just one small electric candle to help the kids find the child in the dark.
The homecoming
My kids brought their child inside and put it in its bed and welcomed it to its new home. They'd kiss it, rock it, and otherwise affectionately let it know what they needed to know themselves. "You are home now."
Other families might choose collectible baby dolls if that fits their family better. Some might even want limited editions or custom dolls. I chose older child porcelain doll collectibles because my kids were older when I first brought them home. Porcelain ones seemed more like keepsakes than toys, and I didn't want these to be seen as one more among the other toys they'd receive.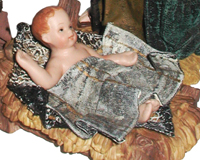 Kids need all kinds of love – direct and indirect. This Porcelain Doll Collectibles Christmas Child Tradition was one of my ways of sending love symbolically.

It was a "right brain" message that maybe can't be verbally explained, but instead is like a warm, subtle stream of light that goes past the verbal critic, and deep into the heart to help light up pre-adoption hurts that did not need to stay alone in the dark, but instead could be found and lit up with love.
---
Custom Search