A dog walking business is a great home small business idea for a group of friends who love dogs
Copyright National Lilac Publishing, LLC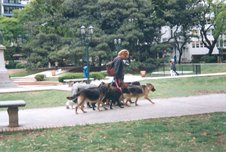 Dog lovers, you can start your own dog walking business (or improve a current one) either as a second stream of income or a full time small business. One of the best examples of a group of friends starting a dog walking business is Brighter Days Collective in Washington, D.C. It's a great democracy group business model for a small home business idea. They say either they're all the boss, or they have no bosses, however you want to look at it.
If you're at the beginning of learning how to start a dog walking business, remember you can get business advice for free from score.org. You'll need mentoring on business licenses and insurance in your particular location.
Now, Amy Rose has some tips on becoming the best dog walking service in your area:
Impress your customers like no other – train dogs on the leash easily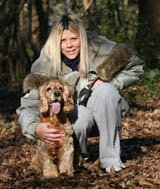 Dog owners want to know their pet is safe and that it won't come back with new bad habits it picked up from its dog walker. And, what if it came back with even better habits than before?

If that were to happen, your dog walking service could become highly desired with word-of-mouth alone generating new customers. Eventually, you'll be able to pick and choose the best customers and charge your chosen price. If you learn dog training online or from a local workshop, you can become highly sought after if you're able to stop dogs from pulling on the leash, from barking at other dogs, from jumping up, and from suffering with separation anxiety, and so on.
Another way to improve your credentials for starting a dog walking service may be with your local Humane Society. I've volunteered for ours many times. Even if you already have a knack for walking dogs, if you get training from a large established organization, your business will be more impressive because you can state this training and experience on any of your promotional material.
Call your local Humane Society and see if they have a volunteer opening for walking dogs. They may train you with at least some dog walking tips, and you'll gain wonderful experience at walking many different types of dogs. Be sure to put that you've been a Humane Society dog walker in your promotional material, such as your fliers.
Add complementary streams of income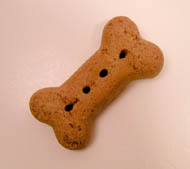 Can you bake healthy homemade dog treats and biscuits using proven dog health recipes? How about build custom or eco-friendly dog houses? Check out our affiliate link on dog food recipes provided here, or look at library books on these topics, and see if this is something you'd like to explore as an additional service to your customers. While selling food meant for pets may have fewer regulations than a human homemade food business, be sure to check into this upfront.

Get free advertising, more experience, and start generating word-of-mouth promotion
Word-of-mouth is considered the best possible promotion for many businesses, including the dog walking service. Contact your local senior center, and offer a drawing for one month of free dog walking for one lucky winner as a way to give back to the elder community. Your dog walking business name and contact information will be on the box where people drop in their names for the drawing, giving you free advertising for the many senior citizens who have pets and need a dog walker.
Once the winner is drawn and you walk his or her dog, you'll have gained even more experience with working with the general public (a dog walking business is as much about dealing with different types of pet owners as it is about different types of pets). Plus, if you do a good job, the winner may hire you for additional dog walking, and be sure to give this person a stack of your business cards so he or she will start telling others about your trustworthy and professional dog walking business.
Get even more customers
Now with your training, experience and the beginnings of word-of-mouth promotion, create fliers and a website for your dog walking business with this new information and take the fliers and your business cards to any vets or pet stores that allow you to set them out or put them up.
Go back to the senior center as well and see if you can leave your promotional material there. You may want to consider a yearly drawing at the center as a form of good will ongoing promotion.

Invest in your dog walking business and continue to improve
As soon as you can afford it, consider taking a pet first aid and CPR class from your local Humane Society or other animal organization. Often costing between $35 and $75, these skills will be very impressive to your clients and could even warrant higher fees for your dog walking business. You may also want to become a member of the National Association of Professional Pet Sitters either right away or as soon as you can afford the fee and time commitment, which will help out with business forms, insurance, promotion, credibility and so on.

---
You may also enjoy our hub on starting other types of real home businesses

---
Custom Search