Country Wedding Invitations
(or any wedding with a natural or eco-theme)
Copyright National Lilac Publishing, LLC
Country wedding invitations herald a cherished group activity: the marriage ceremony of two people in love held in the countryside or on the farm. Making or embellishing invitations can also be a fun pre-wedding group activity.
______________
Click here to see a huge collection of customizable and very unique country wedding invitations from our Zazzle affiliate.
_____________

Whether your invitations promise a ceremony held in a barn or country lodge by the fireside, or outdoors amidst trees, fields and streams, the country atmosphere is inviting in more ways than one.

Hi, Amy Rose here. I hate to say it, but regardless of how much others want your new marriage to be happy, there are usually at least a few people on your wedding invitation list who just plain don't like attending generic mainstream weddings. However, if your wedding invitation tells them about an outdoor barbecue, barn dance, local farm potluck, farm tours or hay rides, now you've created an irresistible destination.

Regarding the invitations themselves, even if you purchase them, you can further enhance your country themed wedding invitations and create an invitation-related group activity in numerous ways, three of which are: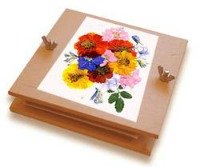 1. affixing pressed flowers to your invitations

2. embellishing the envelopes with sealing wax and/or

3. making hand-lettered or rubber stamped "refrigerator reminders" with your own handmade paper that contains wildflower seeds embedded (see more about this below). When the wedding is over, the paper can be "planted!"

Pre-pressed flowers can be affixed to the invitation by using a toothpick to dot a tiny amount of white glue to the invitation and placing the pressed flower gently over the area, then laying a flat weight over the invitations while they dry. Be sure not to use too much glue so it doesn't seep out while the invitations are under the weight. Clear contact paper can be placed over the flower to help protect it while its drying under pressure.

Want to hand-make all your cards from scratch using pressed flowers (for your own wedding or even for profit)? Our affiliate e-book teaches how.

Handmade paper, sealing wax and other fancy stuff

Paper and stationery stores sell sealing wax and various stamp designs that can pressed into the wax as it's drying on the sealed envelope.

Handmade paper is a somewhat elaborate (but fun) process. If it's new to you, you'll want to experiment first and perhaps take a local workshop or check out books on the topic at your public library. There are online tutorials as well.

Choose flower seeds that are very small and non-toxic once they bloom (you may want to avoid foxglove, for example). Add a small notation with directions for planting within your regular wedding invitation. Although it can be elegant to apply hand calligraphy on handmade paper, the bumpiness of the paper can be difficult for that process. You may want to rubber stamp the wedding reminder on the paper instead.

Customized country wedding invitations can be completely pre-printed, a combination of pre-printed and handmade, or completely handmade. Whichever you choose, they'll reflect your uniquely shared love and describe the country ceremony location that symbolizes and represents the first steps of your journey together.

---
You may also enjoy reading:
DIY Wedding Flowers: Take your wedding group out to the country to pick your own and assemble your own wedding flowers
Barn Dance: Great for a country wedding reception
May Day Celebration: Adapt the traditional May Day celebration for a springtime wedding
Bonfire: Adapt this bonfire activity for your wedding -- an autumn wedding would be especially suiting
Second Wedding Ceremony: Great ideas that work very well for a wedding on a farm.
Treasure Hunt: Adapt a treasure hunt to your country wedding. Want the kids to find the wedding favors treasure hunt style? Want the guys to find out where to crash the bachelorette party treasure hunt style?
Top 15 Favorite Farm Wedding Ideas from Real Countryside Weddings: Reflections on what makes three country ceremonies work so well.
---
Custom Search